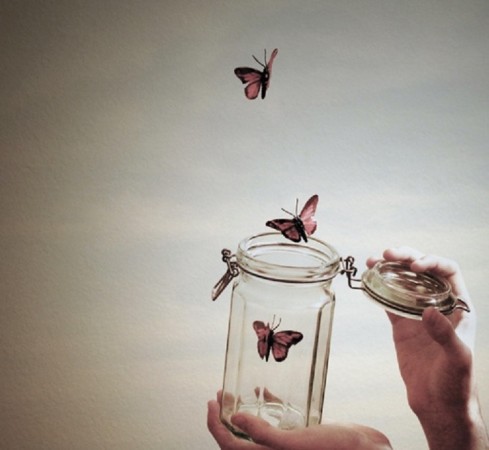 [divider]
LAST UPDATE: 8.3.13
[divider]
Related Article(s)
4.12.13 "Can We See $100 Again on $BIDU"
5.6.13 "My Bullish Trade Story on $BIDU"
6.9.13 "$BIDU New Life is Born"
[divider]
7.11.13 Thursday
[divider]
Ready 2 be Free Again?
$BIDU has been beaten down pretty badly since the April of 2012 but recently though we saw some light as it was trying to find its way back up again.  As I have mentioned on my earlier article that $102 level which coinciding with Fib. 61.8% level (measuring $115 highs (1/14) and $83 lows (4/5)) is going to be the level to break higher to possibly inaugurating new bullish trend. Well since then $BIDU struggled again falling back down to about $88ish level.  But last several days, it seems that we are finding some shed of light here.
Let's talk technical and see what we got going on so far. (I have been holding August Calls since 7/9/13 Tuesday and my next target is around $103. If we can break above $103, I think $116 is possible but still very early to assume that $116 possibility just yet).
Weekly MACD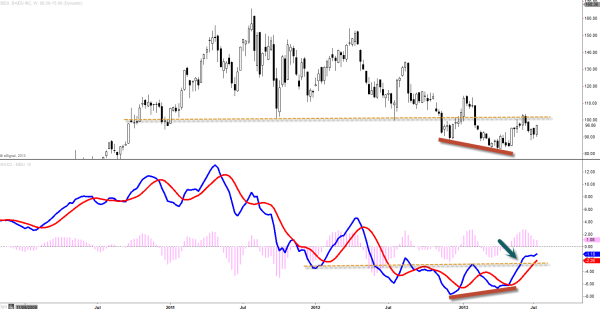 I have been talking about this weekly MACD bullish reversal for sometime now. This was the main focal point of my previous article that $BIDU is finding support at this level.  What we have to watch out from this level is that MACD seems to be breaking out of the resistance level (see arrow) but $BIDU stock isn't.  Still trading below $103 pivot level as I have drawn yellow dotted line.  That $103 level has been served as major pivot level since mid 2011 so this is the MUST break level to order to find some new strength and truly be free.
Looking at the Daily Chart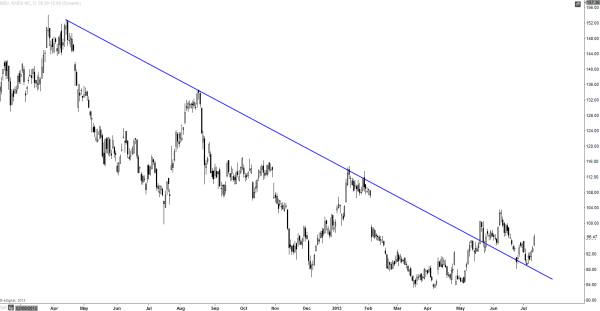 "Old Resistance New Support"
This support alone isn't enough to say that we are completely bottoming here but as far as short term is concerned, this was the level that the bulls needed to hold and they did and bouncing.  If you look at the chart below, this is also coinciding with recent uptrend support which is a double confirmation of support.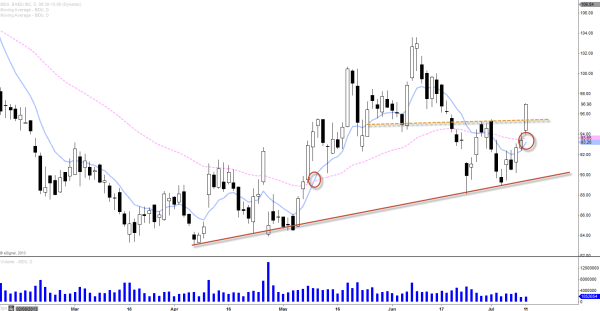 Several things to note here
10 & 50EMA cross is coming up soon (see red circle)
Uptrend support and bounced
Developed double bottom formation at uptrend support and currently broken above the neckline
Making higher lows since April
These are all great signs for short term bounce to about $103 level.  Again as we have discussed on the weekly chart, $103 level is a 'must break' level to see the primary trend to change to bullish.
Fibonacci 61.8% Retracement Level 2 Overcome
August 2012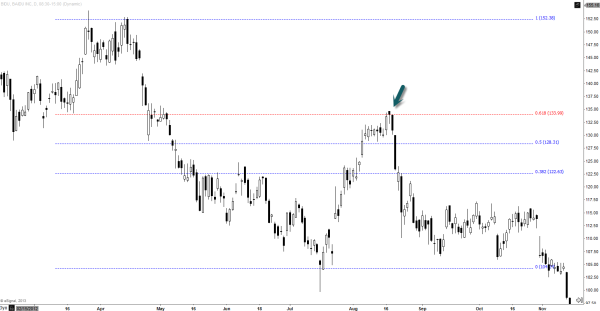 January 2013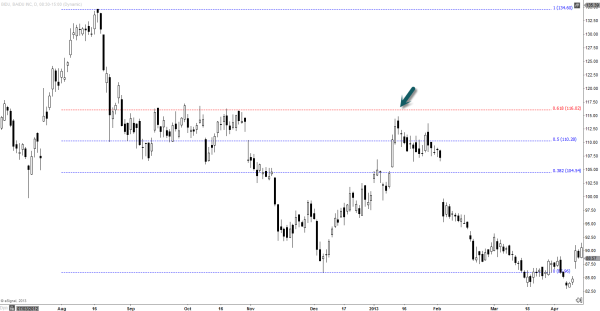 Today 2013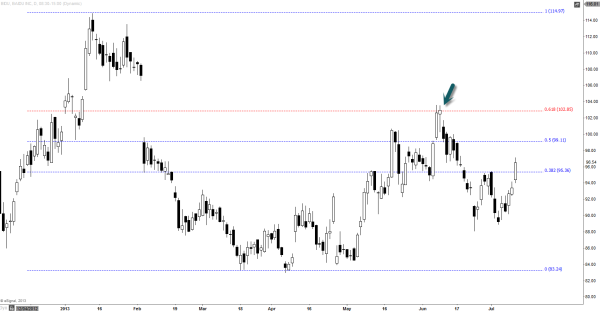 The difference of today is unlike last January and August, $BIDU bulls are trying again to get up to that 61.8% as you can see we are now above 38.2% currently.  So you can see the sentiment here that bulls are not just simply giving up after hitting that 61.8% retracement level.  Again that level is a 'must break' level before continuing further to the upside.   61.8% level has been that devil bulls can't defeat for sometime now so let's see if we can break it this time.
Upside Targets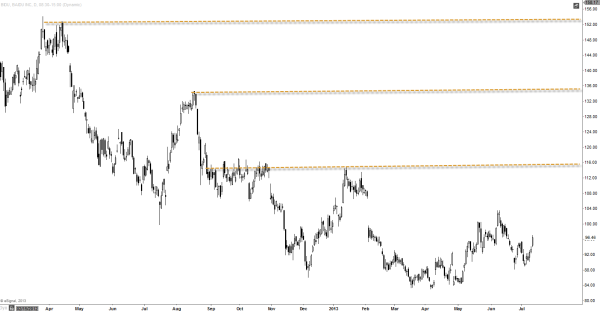 Can $BIDU turn things around?  Again it's still early to say but I am watching to see if we can break above $103 level. If we can do that, I have to say we are that much closer to turn things around.
[divider]
8.3.13 Saturday
[divider]
Next Target $153 & $165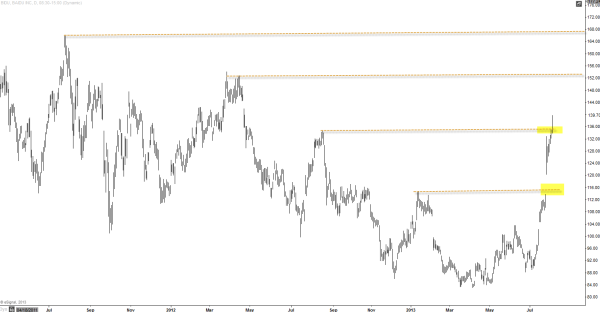 This is the most amazing run I've seen this year! We've already passed through my target price of $114 and $134 just like that! Next targets are $153 and $165.  We recently broke above the resistance and prior target of $134 with huge bullish candle yesterday with volume.  I think at this point, as long as the market ($QQQ) continues to move, $BIDU will continue to move as well.  I would like to see some slow down such as consolidation or short-term pullback to give bulls to have chance to rest before thrusting higher but from the looks of it, I think we might see grinding higher action to the next target of $153 (as long as $QQQ market continues to move higher).