[divider]
Last Update: 7.8.13 (Added charts from Market Anthropology)
Related Article(s)
5.26.13 – "Patterns $SPY $DIA $QQQ $IWM $MDY $IYT $SMH $$XLF" (Part 1)
[divider]
7.4.13 Thursday
[divider]
$INDU DOW JONES INDUSTRIAL AVERAGE
Trend starts to slow down with early signal of reversal when they put in two lows (see arrows)

After 2nd low, it attempts to make higher high but fails to do so and creates right shoulder (of possibly H&S reversal)
Today, $DJIA is just trading at the right shoulder level
For this possibly H&S reversal to be nullified, it needs to push higher and close well above that level
As you can see last three occasions when these patterns do appear, its a huge warning signal
It rolls over at this level, fast move to the downside could be commenced
$SPX S&P 500 INDEX
Same situation here as to $DJIA, two significant lows (see arrows) after uptrend

Currently trading right at that right shoulder level of possibly H&S reversal
When the pattern appears, it's a huge warning signal for a correction to continue
It happened last three times and resulted in correctional move
$COMPQ NADAQ COMPOSITE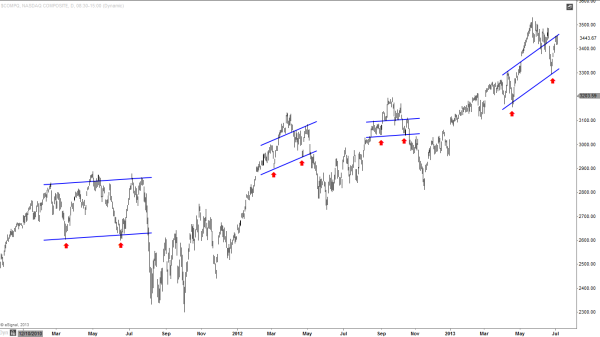 I would have to say that $COMPQ does look little bit more bullish because how high the 2nd low is on the recent pattern

We did have pretty similar pattern back in April of 2012 compare to today's
If or when $SPX and $INDU falls, it can drag $COMPQ with it
$RUT RUSSELL 2000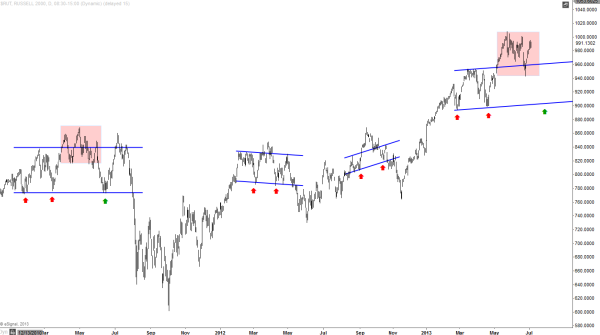 The most bullish pattern of all indexes today because we are trading near the highs

Ironically, $RUT looked very bearish last April (2013) but $SPX took $RUT with it to the upside and not $RUT taking $SPX down
I believe today's pattern looked very much alike to June 2012 pattern though it is still at early stage
If $RUT puts third bottom (see arrows) at around 900 level, its pattern going to look almost identical to June 2012
$TRAN DOW JONES TRANSPORTATION AVERAGE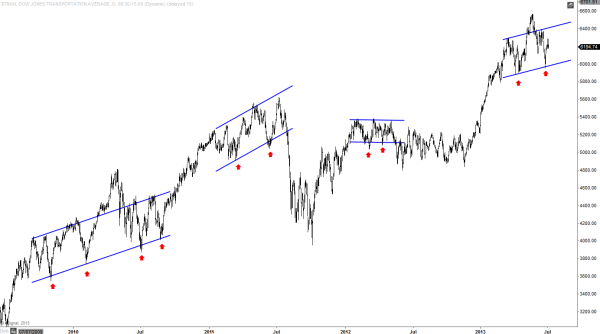 2010 July, possibly H&S reversal never played out

Today, we have what it looks like possible H&S reversal forming with defined lows (see arrows) which is a early signal of its formation
We break below the neckline (arrows) level, that's when the H&S reveral is confirmed
$NYA NYSE COMPOSITE INDEX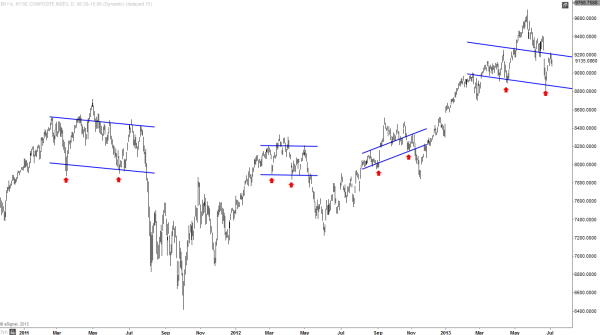 This is the most bearish looking index because of the lower lows that have been put in (see arrows)
Currently trading right at the right shoulder level
We roll over from this level, huge corrective move is expected
Last three occasions, once these kind of pattern appears, it was inevitable that it was going into "tankage" mode
$XLF FINANCIAL SECTOR ETF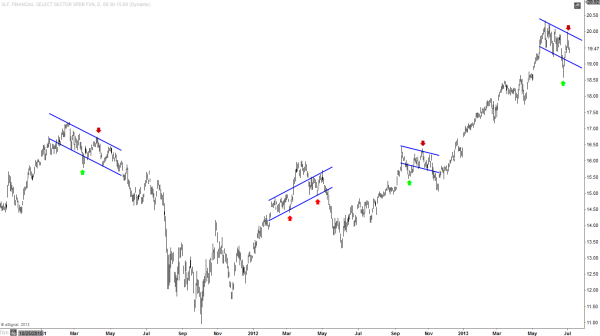 Today's pattern starting to look much like back in April 2011 (*Alarming)

It came down and put a dip and went right back up back in April 2011
Today, we did the same as it came down and put a dip (See green arrow) and right back up
April 2011, found resistance top of it's channel
Today, finding resistance top of it's channel
We continue to range bounce in this tight down channel, huge warning signal looking at the April 2011 pattern
[divider]
[divider]
Final Thoughts
As I observe indexes and the stocks on my watch list, I do see mixed signal in the short term.  I do see bullish looking leaders such as $AMZN $GOOG but also see $GS $IBM really breaking down. Also sectors like Homebuilders ($XHB), Materials (XLB), Consumer Staples ($XLP), Utilities ($XLU), and Health Care ($XLV) showing much weakness. In my opinion, even if we get short-term bounce to the upside next week, still very much cautionary signal remains in the overall market.  If, however, we start going down on Friday or early next week at these pivots (most indexes are right at that right shoulder level), I would have to say that this correctional phase will resume with fast move to the downside.
As I examine the patterns (which I have presented to you in this article), I have to lean more to the downside because these are the signals the market fumes before any major move to the downside is expected.  I think short-term long or short trade could possibly work if you are closely monitoring but I think in longer term sense, I don't think this is the level to start accumulating long term positions to the upside.   I am currently short on some of the indices and weak sectors and stocks that are showing weakness.
Have a great 4th everyone!
[divider]