[divider]
Last Update: 6.20.13
[divider]
6.13.13 Thursday
[divider]
Entered Long Positions @ $876.47
Found support at 50EMA (pink dotted line) on 6/6/13 and had few days of follow through to the upside but met with resistance of $890ish.  It pulled back as the market started to have its volatility swings  and it was no surprise to see $GOOG pulling back but the question was, can this uptrend support (red) hold?
Once it started to find good support at that level, I've decided to go long about 30mins before close.  Next task is to break above $890ish resistance and after that $920 then ultimately $980 is what I am eyeing for.  But first things first.
Let's break above $890ish.
[divider]
6.18.13 Tuesday
[divider]
Broke Out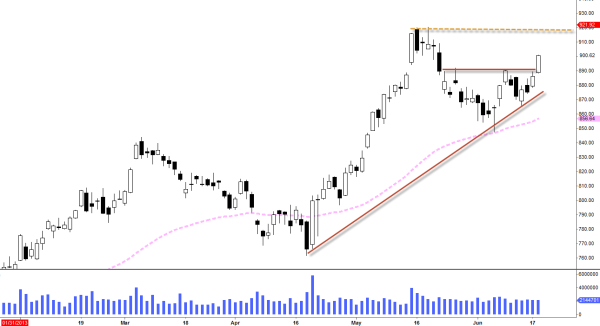 Broken above $891 resistance level that I have been watching closely since Friday.  This was the level that bulls must break before continuing another run up and today we did just that. Next target at around $920.
[divider]
6.19.13 Wednesday
[divider]
Gravestone Doji!
Gravestone doji appeared with high volume which could be served as early warning signal of a pullback.  But as strong as $GOOG is, I think it is holding up well and not cracking like $SPY.   If we can hold $890ish level (yellow highlighted) and form some kind of bull continuation/consolidation pattern, I think we can see higher prices. If $890 horizontal support breaks, uptrend support is next level and 50EMA next.  If $890 hold, I still think that we can see $920.
[divider]
6.20.13 Thursday
[divider]
All Positions Closed Out @ $885.45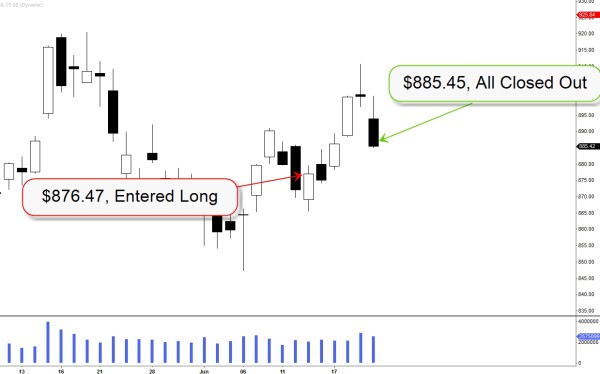 Everything is breaking down right now.