[divider]
Last Update: 6.19.13
[divider]
Related Article(s)
6.14.13 Comprehensive Analysis "$AMZN Ready 2 Be Free? ($310 Target Price)"
[divider]
6.14.13 Friday
[divider]
Entered Long Positions @ $ 274.71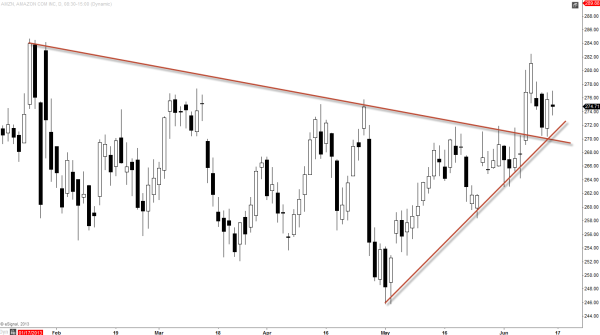 This is one of the reason why $AMZN can be difficult to trade at times.  It breaks out and soars for two days and gaps down and tanks for two days and then finds support and goes right back up next day.  This kind of movement could really play with traders mind and paralyzing them from pulling the trigger again.  Well that is one of the reasons why I do not like getting into a trade on breakout because of these kind of situations.  Obviously if you are a day trader, it won't matter but for someone like me (swing trader: like to hold positions at least 1 week to a month), it's always a good idea to wait for the pull back before getting in.
I entered long positions (call options) this morning after it bounced off of that uptrend support and the downtrend resistance (old resistance new support) yesterday.    $285 level is the next resistance but as long as the market continues higher, I think we can see $AMZN $308 as I state the possible in this recent article.
[divider]
6.18.13 Tuesday
[divider]
Nice Follow Through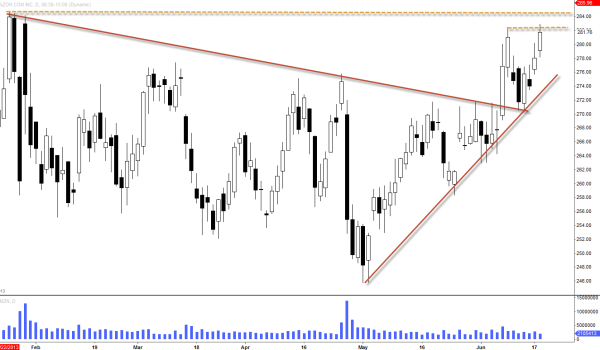 So we are bouncing nicely last four trading days here and now we will have to deal with the potential resistance levels of $282.90ish and all time high of $285 level.  We do have low volume today so that's concerning to me as to if we can have enough fuel to push higher. I do think it's going to be totally up to the market next several days. If market higher, $AMZN can definitely follow that.
[divider]
6.19.13 Wednesday
[divider]
All Positions Closed @ $279.71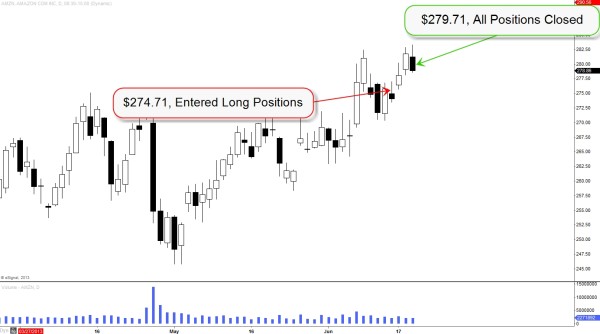 Well some gains here but I was looking for more higher prices.  After $SPY starting to breakdown after the FED meeting, I got out before it takes more of my gains.  Uptrend support is still intact and I would watch that level to see if it's going to hold or break for possible re-entry.