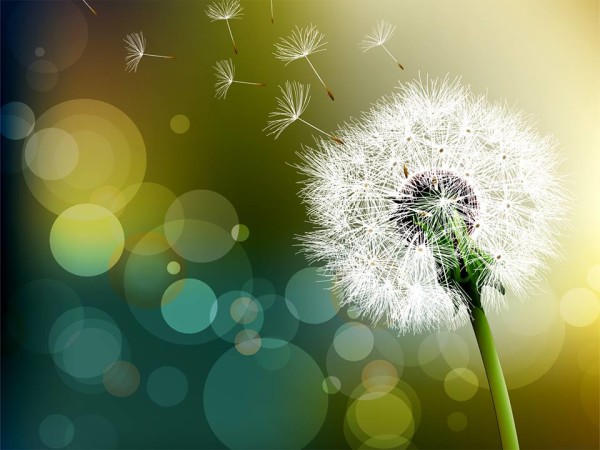 [divider]
Last Update: 8.3.13
[divider]
6.14.13 Friday
[divider]
Broken Out of the 6 Months Channel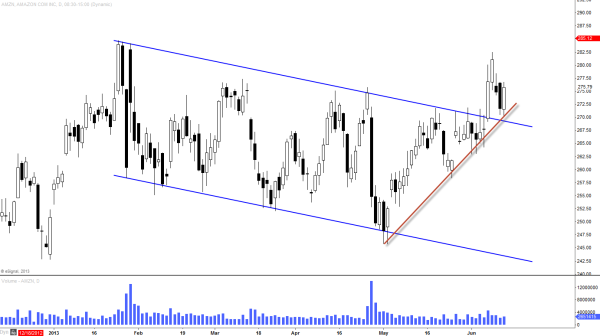 [Daily Chart]
For the first time in 6 months, $AMZN was able to take a leap and breakout of this massive channel binding activities.  And now we are finding support at the top of it's channel resistance ("Old resistance new support").  As long as it stays above it's upper channel band, I would have to say that it has high probability of making higher prices
Weekly Candle in Focus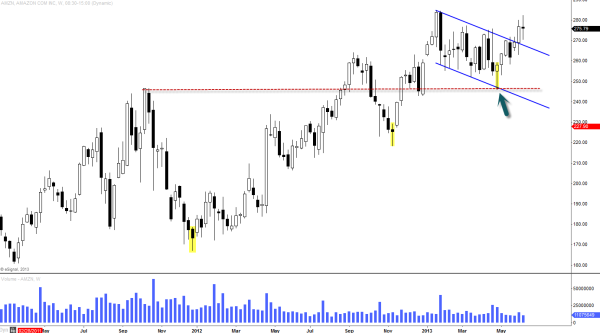 [Weekly Chart]
"Old Resistance New Support" Around $245 level, we found great support with hammer reversal candle on this weekly chart.  Here are few key things to note here.
It seems that Hammer candle is how it likes to have it's reversal before another leg up (yellow highlighted)

Last 7 weeks, this hammer has already shown what it can do by supporting the bullish move
6th week, after hammer appearances, $AMZN broke out from it's long drawn channel
The Good and the Bad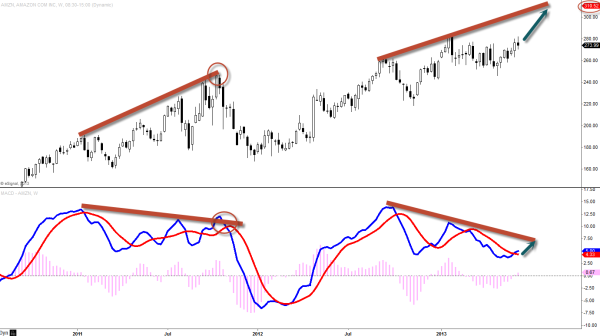 [Weekly Chart with MACD]
The Good
Looks like we are going to create grinding bearish divergence and because of that we have plenty room to move to the upside

Looking at the MACD, last time we formed this bearish divergence in about 1 year period of time (2011-2012)
If so, the recent bearish divergence started September of 2012 so it can continue to grind until September of 2013
To make multi peaks divergence (like it did back late 2011), the price will have to hit about $310 area to inaugurate this bearish divergence
The Bad
Negative divergence still in the picture and no-one truly knows when it will play out.

Just like we did back in 2011 July, we could have these grinding bearish divergence that could lead to a steep correctional move and it can happen before it reaches $310 price tag
Target Price was $285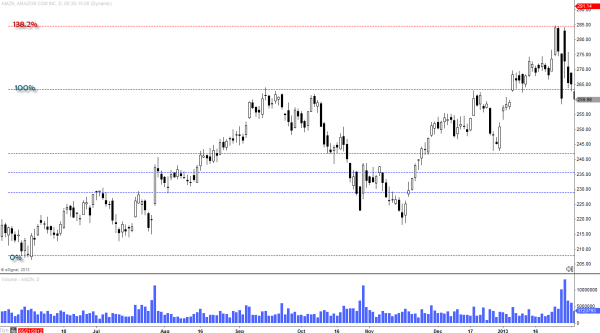 (Daily Chart with Fibanocci Expansion)
Measured swing low of $208 (0%) to swing high of $264 (100%) and Fibanocci Expansion suggested that $285 (138.2%) was going to be a strong resistance level back in December of 2012.  And indeed it was the strong resistance level that pushed this stock to go into a massive channel for about 6 months.
So what does the Fibanocci Expansion level telling us today?
Target Price is $310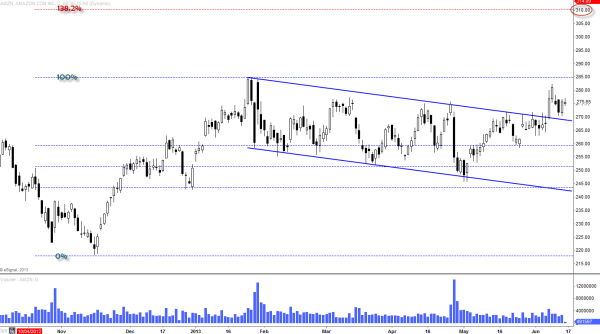 (Daily Chart with Fibanocci Expasion)
Measured swing low of $219 (0%) to swing high of $285 (100%) for possibly price forecasting the target which Fibanocci analysis suggests $310 (138.2%).  I like this target and I want put much weight on it because for the fact that it worked like a clock work last time Fibnanocci measured the move back in December of 2012.  Today, it might be different or it could be exactly the way Fibanocci analysis suggests.
Level 2 Overcome = $285 Pivot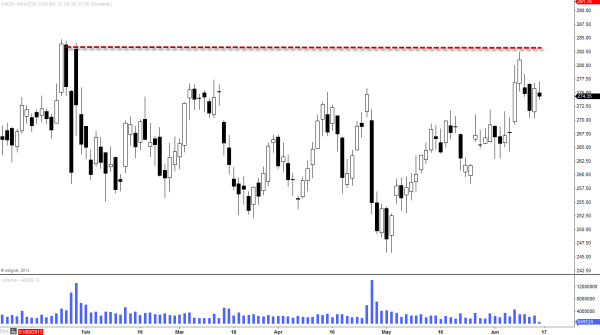 (Daily Chart)
If we can't break above this major resistance level, all the analysis I've done in this post will become useless and invalid.  This is the major pivot bulls need to break so that we could see the target price of $310. One can try to get in long aggressively with tight stops at the current level (like I did) or for more conservative traders, its probably best to wait until the break above $285 level for confirmation.
[divider]
8.3.13 Saturday
[divider]
Reached Target Price $310 but Struggling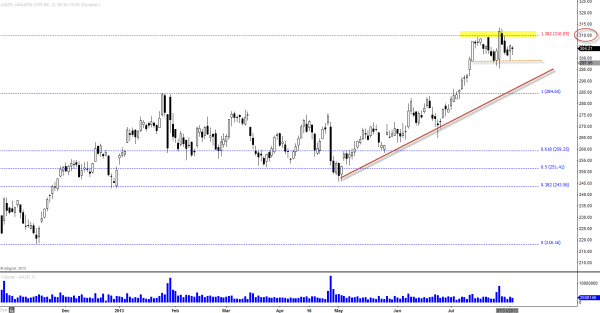 As you can see $AMZN having hard time to break above $310 at this point.  If we start breaking below $299ish level, I think $AMZN is coming back down to test that uptrend support (red) at around $290.  Also looking at last three days candle, it looks more like a bear flagging pattern than bullish reversal to me.
Take a look at the weekly chart with much weakness in showcase.
Weekly 'Hangman' is a Concern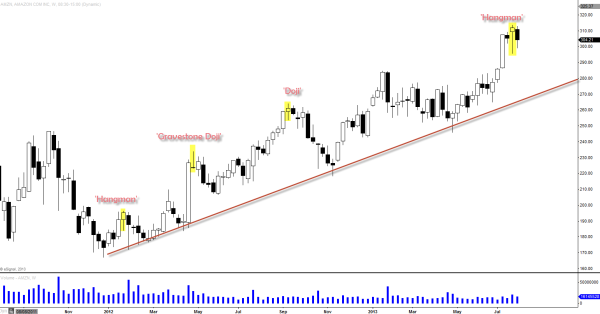 This is a weekly chart and as I have annotated, these are the candles you don't want to see after a uptrend move.  We are seeing various of reversal candles in this chart and two weeks ago, 'Hangman' candle showed up and with this week's week ending bearish candle, it starting to look more bearish on the weekly chart.  However with the tech being so strong as of late, I think maybe that would help but looking at this chart, the worst case scenario would be that we might get few weeks of bearish pull back.
This is not the level I would go long unless we break above $310 but also this is not the level that I would short because the market is too bullish.  This is the level I would watch for more confirmation.