---
New Life is Born
[Daily chart with 200SMA]
As you can see on this chart, 200SMA has been a problem for $BIDU back in January as we had decent breakout on 1/28/13 but next day, upon meeting up with 200SMA, $BIDU had to bow down and kept slipping away which I talked about possibility in this article back in Janury 11th.
Eventually, after the Earnings call, it gaped down big and that was the catalyst of this whole bearish move for several months. But after finding some base through April and May, $BIDU really started to find some momentum to the upside very fast. And we decided to consolidate forming similar tight triangle pattern like we did back in January.
Difference is, this time, $BIDU did not bow down to 200SMA, instead, it blew right through it (closing above 200SMA with long bullish candle that has been confirmed with volume) thus new life was born.
Let's look at some bigger time frame to analyze longer term possibilities here.
Bottoming Signal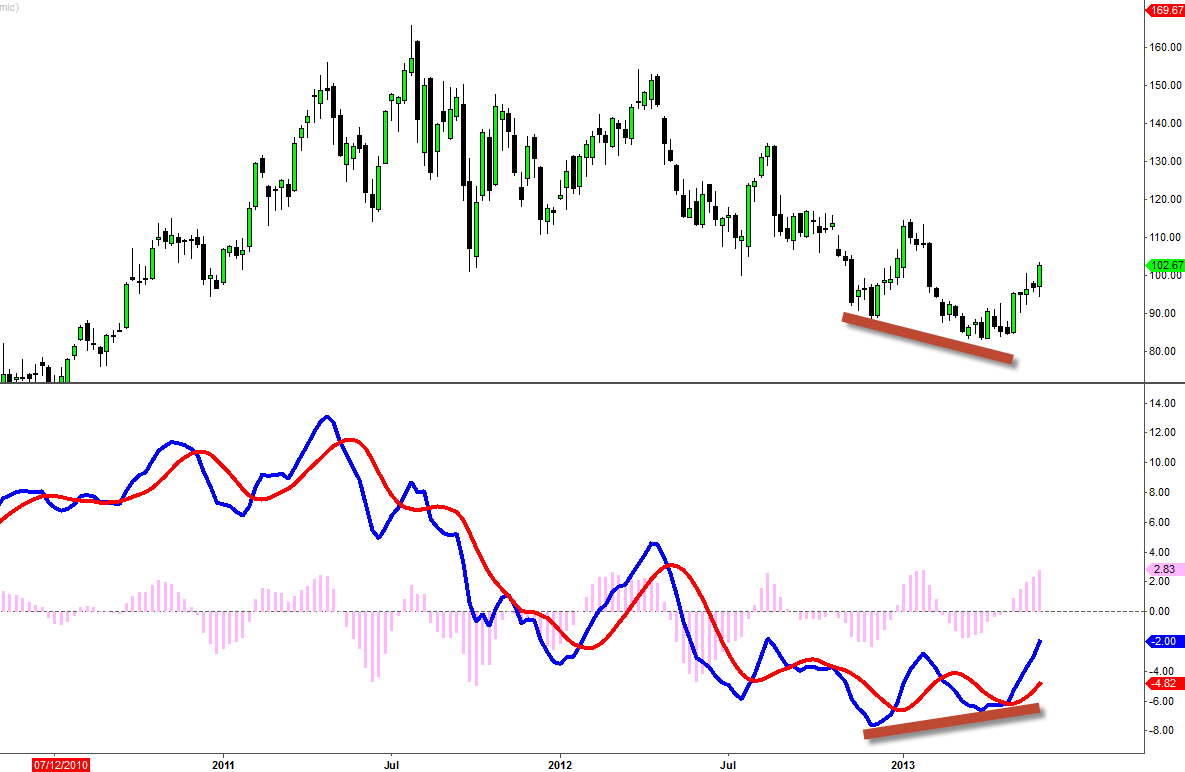 [Weekly Chart with MACD]
Weekly bullish divergence has been confirmed and it's been playing out very nicely

We are still below zero line on MACD and ultimately we want to cross over
For this being a weekly chart, it carries that much more potency
Level To Overcome I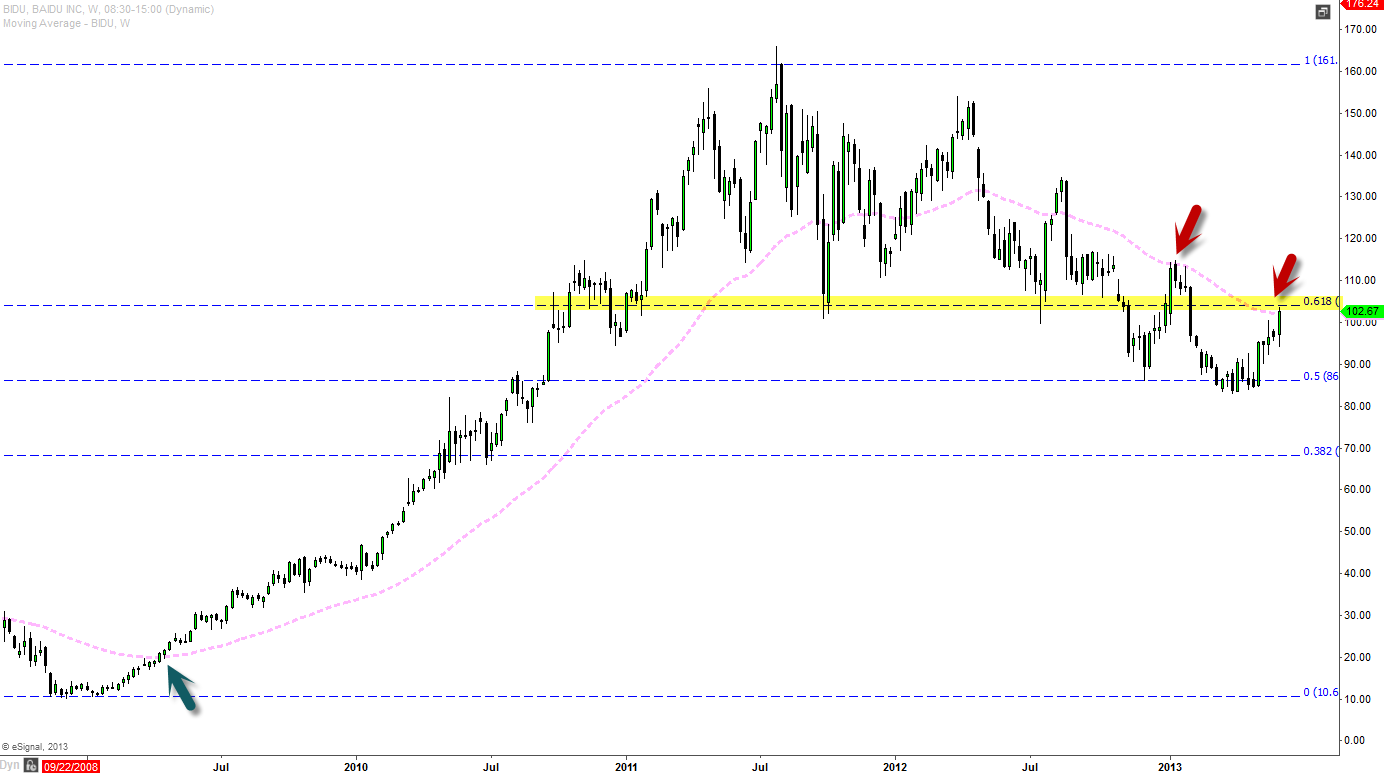 [Weekly chart with Fib Retracement Levels and 50EMA]
"We are not completely out of the woods yet."
Must close above 50EMA because 50EMA did act as resistance last time looking at this weekly chart (see arrows)

Currently trading just below the last level of this retracement level. This is the level that it needs to break for higher prices
"Old support new resistance" can still be applied here as September of 2011 and July of 2012, this level acted as strong support so it could act as resistance still
Level To Overcome II
[Daily Chart with Fibanocci Retracement Levels, Chart Added on 6/14/13]
This is where $BIDU has to prove itself to the investor that it has what it takes to come out of this bearish trend. You are looking at Fibanocci Retracement zone (highlighted blue) and this is the final stage before it can really thrust to the upside.  As you can see it is currently caught in between 38.2% and 61.8% level.  As long as it does not close above 61.8%, we have to assume that the bearish trend is still in effect, however if $BIDU close above the 61.8% level, that's a significant sign that this bearish trend has been reversed and we can look for higher prices.
Long Term Price Targets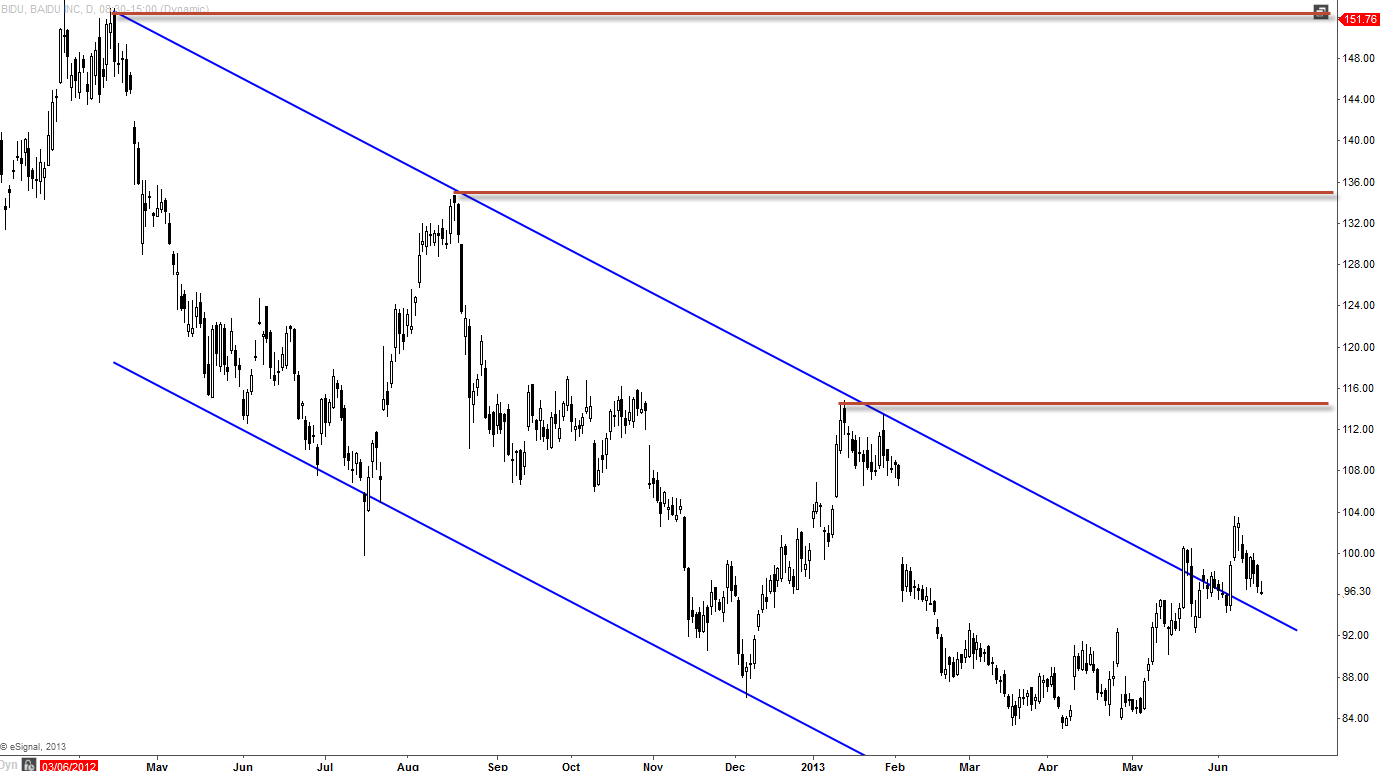 [Chart added on 6.18.13]
Possible targets to the upside if we can break above $104 level.
$112

$132
$152
These are possible long term targets in about 1 to 1 year and half time frame.  It's still very early to say that this is a MAJOR TREND REVERSAL to the upside but as I have shared in this article that we do have some good indication of that argument.  Obviously, I would need to reassess the situation as it progresses to see if it can sustain but for now (with the data that has been given to me) things are looking good for $BIDU.