[divider]
Last Update: 6.6.13
Related Article(s)
5.26.13 "Patterns $DIA $SPY $QQQ $IYT $IWM $XLF $MDY $SMH"
[divider]
5.28.13 Tuesday
[divider]
Entered Short Positions @ $99.10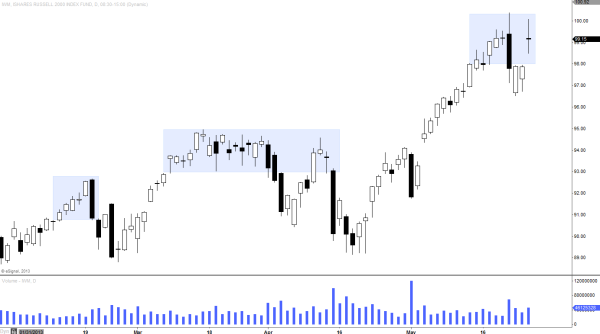 Very simple strategy here. If it fails to break above the recent highs (above blue shaded box), short-term pullback is imminent.
[divider]
5.31.13 Friday
[divider]
Holding Full Short Positions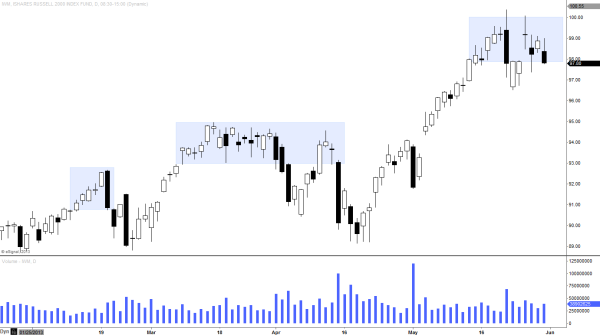 $IWM didn't break down like $DIA or $SPY and to be honest, this one looks more bullish than bearish as of today possibly forming a bullish pennant pattern (not drawn in this chart).  But I am wondering though if $IWM will soon follow $DIA and $SPY and confirm mini double top by breaking below $96.50ish level.
[divider]
6.4.13 Tuesday
[divider]
Uptrend Support Broken
Still holding full bearish positions on this one and today it seems like we have broken this uptrend support here with convincing volume to go with.  Bears did try to break it yesterday but failed and bulls rallied with high volume. Today, the 2nd attempt by the bears,  it seems like we are below the support as of today close.  If we can stay below for another or two, I think we can find some momentum here.
$96.50 is going to be the next support (from 5/23) to break to see if $IWM could come down to about $95.00.  Volatility continues last and this week and that just tells me that once this thing cracks, it could move very fast to the downside.
[divider]
6.5.13 Wednesday
[divider]
Closed 1/2 Short Positions @ $96.32
$IWM starting to look more and more like mini double top formation with neckline at $96.63ish.  We did puncture below that but I am not totally convinced we have broken it so I must say it is not confirmed.  But if we trade lower tomorrow these are the levels to watch.
50EMA @ $95.44

Previous high from late March @ $94.71ish
Gap fill action @ $93.30 or lower
[divider]
6.6.13 Thursday
[divider]
Closed All Short Positions @ $97.21