[divider]
Last Update: 6.7.13
[divider]
6.3.13 Monday
[divider]
Entered Short Positions @ $136.49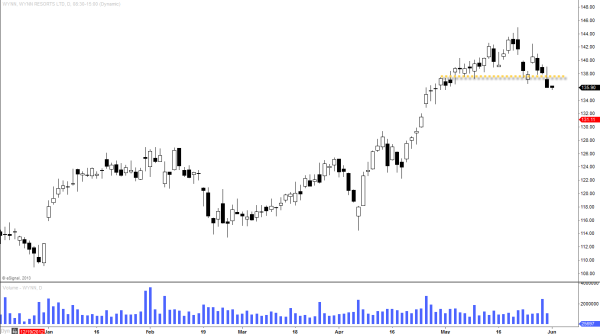 Simple methods can be used here.
Weekly bearish engulfing candle as of last Friday which could lead to Three Black Crows on weekly chart
Broken below recent support of $137.50ish (yellow dotted line)
[divider]
6.4.13 Tuesday
[divider]
Added More Short Positions @ $137.41
Trading below 10EMA (see arrows) = "Old support new resistance"

Bear flagging
[divider]
6.5.13 Wednesday
[divider]
Gap Fill?  50EMA to Watch
Pink dotted line is the 50EMA. and it was served as support back in 4/18/13 so I will be paying attention to that tomorrow. Question is are we going to fill the gap tomorrow or bounce on 50EMA?  We had a good bearish candle today but volume is ok but not great so I am wondering if we are going to just grind lower tomorrow to taste some of that rainbow (gap). My ultimate target for this trade is $128 (this is the price level where 100SMA is also coinciding) and from the looks of it so far, I think we can get there.
[divider]
6.7.13 Friday
[divider]
All Out of Short Positions @ $137.73