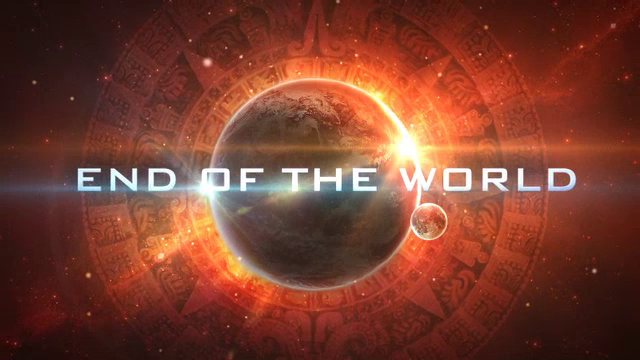 [divider]
5.29.13 Wednesday
[divider]
$SPX Monthly Chart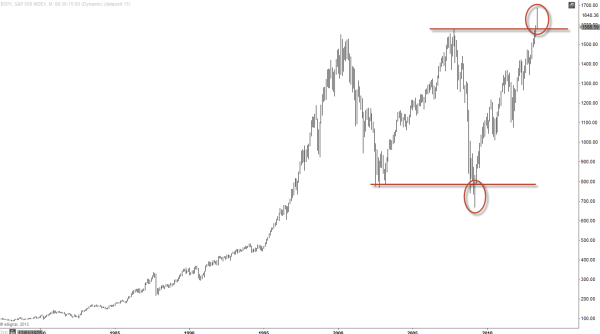 (This chart is the remake of the chart originally tweeted by @stealthytrade today)
This Chart Made Me Think..
Yes, I understand that this chart doesn't tell us anything about where the market is going but it's a speculation at best. Through this article, I am not trying to argue or make statement that market is heading to certain direction but I am merely trying to point out the fact that we can be overly optimistic or pessimistic when we are at a extreme levels.   And please note that I am being sarcastic about the title "End of the World is Near??" and not trying to prove that because of this monthly chart, $SPX is going to collapse and we are all going to file for bankruptcy.
I just wanted to share my thoughts on today's overall sentiment of traders/investors responds to the overall market as this chart made me think. Because I remember what people were saying back in 2009 when market had crashed and global bank like Lehman Brothers were filing for bankruptcy.  But it's funny because what I heard back in 2009 is in some ways relates to what people are saying now in this bullish market.
2013, "S&P 500 Should Reach $2,000 in No Time"
Today, I hear how so many people are bullish on this overall market.  The other day I watched as this prominent fund manager came on TV and said that we should have 2-3 years of strong bullish market from this point on. And few weeks ago I remember hearing that $SPX should reach $1,800-$2,000 and $DJIA (Dow Jones) to $17,000 in no time.  And I wanted to ask them, how do you know that?  And what evidences or reasons do you have for that statement?  And how the heck did you come up with that number $17,000??  Do you ever wonder how these guys come up with these numbers? Or are they just kind of guessing and just throwing out random numbers?
2009, "S&P 500 is Going Down to $300 in No Time"
I remember trading back in 2009 when market had crashed and global bank like Lehman Brothers and other prominent banks were in the brink of filing for bankruptcy.  I remember hearing and how so many were saying that we are getting into deeper recession in America and S&P 500 should reach about $300-$400 in no time when it was trading around $700 level back in 2009.  So I remember thinking to myself at that time because I was still a noob when it comes to the overall market, "wow these guys probably know what they are saying and this economy is doomed and we probably will go down to $300". Well we never did. In fact, it completely reversed and gained all of its losses back just in about 3 years time since the crash.
2012 September, "$AAPL is $1,000 per share Company!"
Well everyone was so bullish on $AAPL back in September of 2012 when it was trading around $650-$700 level.  Fundamental was great with iPhone 5 coming out and also iPad Mini in the line up to launch short after. And with Christmas seasonal sales and great ER report coming up, $AAPL should reach $1000 easy!, which we all heard from every source possible.  Well despite of great bullish debate and the fundamental argument, $AAPL fell hard since October of 2012.    Only well trained technical analysts were able to identify many warning signals that were floating around on $AAPL.  I remember writing an article back in late September of 2012 of why I think $AAPL was going to crash and nobody wanted to hear of it. Moreover, many thought (and confessed to me later) that I was crazy. Well $AAPL came down as low as $380 before it started to find some support to bounce.
So Why All These Extremities?
Emotions. Feelings. Greed. Thats it.  Great traders are always objective and assess the situation fairly and make decisions without being highly intoxicated by emotion of extreme optimism or pessimism.  But when everyone seems to shout out that this market is going to the moon, they want to believe that it will so they can sleep better at night.  And I am not saying this market can't go to the moon (obviously anything is possible and can happen in the stock market but remember great traders do  NOT go after jackpot trades guided by their hyped up emotions but they are after consistency with high probability setups with rational reasonings behind it), but rather, I am saying that why caught up in this hype and emotion and be swept away by your deceptive "feeling" that $AAPL could go to $1000 or $DJIA (Dow Jones) can reach $18,000 in no time.
Can S&P go further up and reach $2,000 in no time?  Yes.  Again anything can happen in the stock market but when S&P 500 was trading at around $700 back in 2009, did you ask yourself that S&P 500 can go further down to $300?  When $AAPL was trading at $700, did you ask yourself that it could go down to below $400?
[divider]
$VIX Daily Chart
How long until it snaps out of it?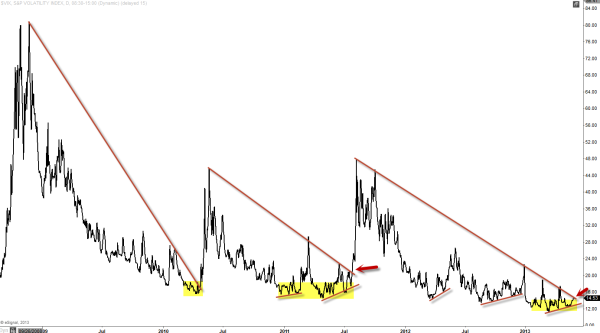 $INDU ($DJIA) Monthly Chart
1, 2, 3…