Last Update: 5.16.13
[divider]
5.6.13 Monday
[divider]
Entered Bullish Positions @ $86.93
As many of you know that I love to trade H&S formations.  As you can see we have inverted H&S bullish reversal formation here.  We gaped up on Friday breaking above recent downtrend resistance and now trading just at the possible neckline. There were other possible bullish signs I was able to dig such as weekly bullish divergence and weekly 1 White Soldier candle reversal pattern as well.  Along with Inv. H&S pattern and other reversal patterns, I had enough confidence to initiate long positions.  Also if you take a look at the volume, you can see that $CAT had unusually high volume on 4/22 (that engulfs few months of volume) which that formed at the Head level of this initial H&S formation. That volume was important because that was the signal that the possible bottom was in.
[divider]
5.7.13 Tuesday
[divider]
Bullishness Continues this Morning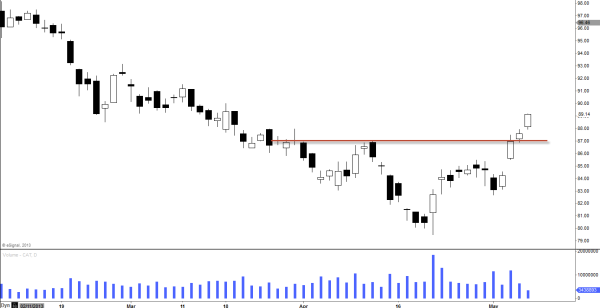 I am just looking for increasing volume at the end of the day because volume must confirm the trend.
After Close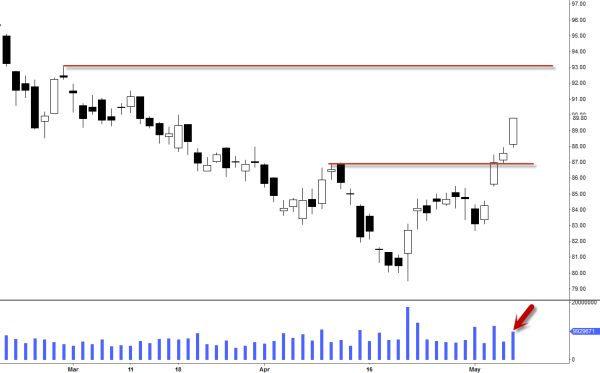 We got the volume I was looking for so looks good there. Full marubozu candle today and solid performance throughout the day. Around $93 is the next target
[divider]
5.8.13 Wednesday
[divider]
Moving Higher but 100SMA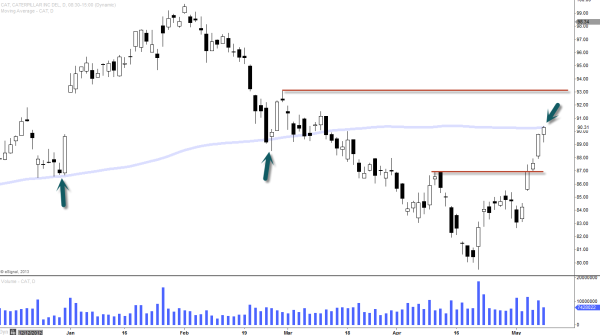 We are continue to move higher and $93 target is just in the horizon however it looks like 100SMA could become some kind of resistance here.  It has been served as support in the past so I am wondering if 100SMA is now working for the bears. If we can break above 100SMA and move higher tomorrow, I think we will get to $93 by Friday if not, we can expect short-term pull back.
[divider]
5.10.13 Friday
[divider]
Closed 1/3 of the Positions @ $88.28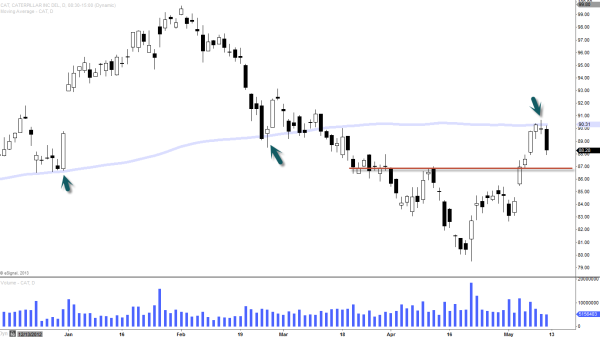 I should've closed out 1/2 of my positions yesterday when it threw doji. But with low volume doji, I didn't respect it. Well today it looks like we are forming evening star reversal right at 100SMA but with very low selling volume today and yesterday and I am not sure how much reversal power it has (or would it just be a pull back?). I am hoping that it could find some support at around $87 and if the bulls want this to go higher, $87 must hold and make sure that gap at $85 level is not to be filled to keep the bullish momentum.
[divider]
5.14.13 Tuesday
[divider]
Added More Bullish Positions @ $86.98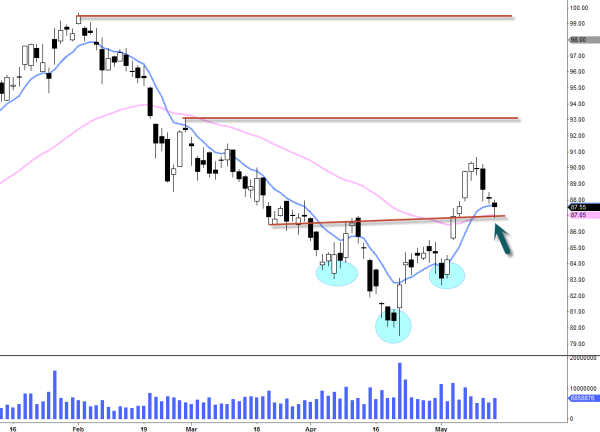 Currently Inverted H&S neckline + 50EMA acting as support here. Bulls really need to make sure to defend this level.  We did have hammer candle today at close with volume spike so looks positive for now.   We just need a follow through sometime this week and close above 10EMA (blue) with increasing volume.
My targets are still $93 and $100 in about a month.
[divider]
5.16.13 Thursday
[divider]
All Positions Closed Out @ $86.41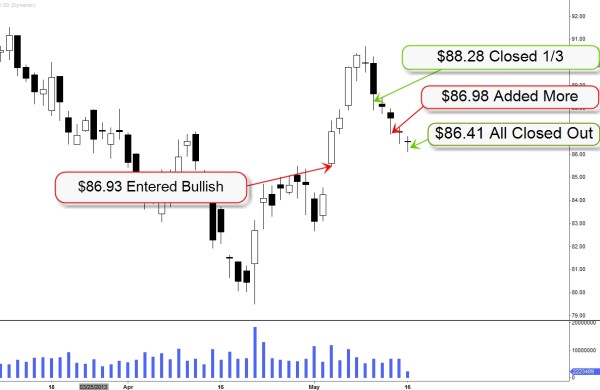 Pretty much broke even on this trade.  No follow through to the upside and now just slipping lower with declining volume.  Still bullish sentiment remains but will need to see some solid support coming in at these levels.