Last Update: 5.14.13
[divider]
Related Article(s)
Full analysis on $BIDU – 4.12.13 "Can We See $100 Again on $BIDU?"
[divider]
5.6.13 Monday
[divider]
Long Since 4.26.13 @ $84.63
(Chart screened on 4.26.13)
On April 26th $BIDU gaped down after ER result but I had reasons to believe that we had more upside potential from this level as I talk about that potential on this comprehensive analysis on $BIDU. So I decided to take action and made decision to go long on $BIDU at around $84.63.
Added More @ $86.34 Earlier Today
(Chart screened today hour before close)
Well it has been 6 boring days of sideways movement but seems like we are finding some upside strength today.  However despite of it's strong bullish move today, I do think volume is rather weak (looking at the size of it's candle and comparing it with 4/25's candle) so I won't be surprised to see some slowdown for few days before continuing.  $BIDU has been consolidating for a while now since mid March so it will be nice to see some volume coming as it starts to find momentum to the upside so it can break that 92.50 resistance (red upper horizontal resistance).
[divider]
5.7.13 Tuesday
[divider]
Added More This Morning @ $89.24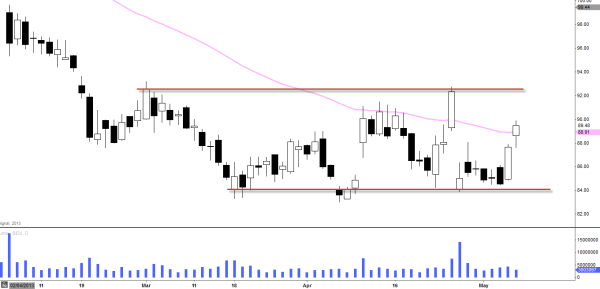 50EMA (pink) has been acted as resistance in mid April so I am hoping to see $BIDU close above 50EMA with good volume today.Bulls will need to find some momentum to break that $92 resistance.  So far looking great but it will be important to see which candle it closes with and if we can close above 50EMA.
[divider]
5.8.13 Wednesday
[divider]
Added More This Morning @ $90.09
(10mins after opening)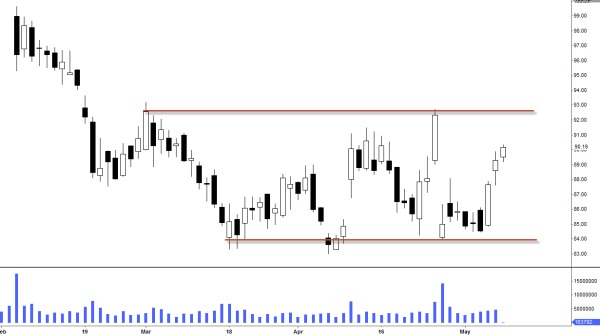 $92.30 (recent high) is today's target
Closed 1/2 of my Bullish Positions @ $93.00
(2 hours 15mins before close)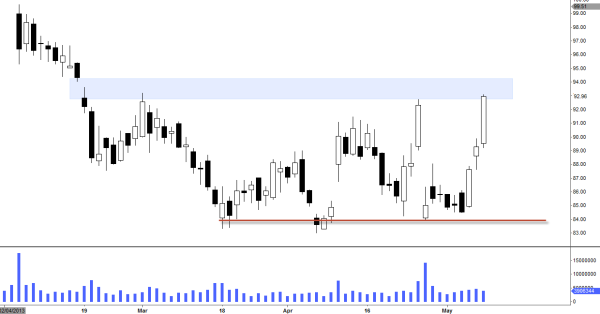 (blue box = gap area)
Closed 1/2 of my positions and riding the other half.  I do think $BIDU wants to taste that rainbow (gap) and it is gravitating towards it however I am concerned about the volume today because we have bigger candle today than what we had on the April 25th but volume is much lower.  We will need at least higher volume than yesterday to continue higher otherwise expecting some pull back here which I don't think it's a bad move.
[divider]
5.9.13 Thursday
[divider]
Closed 1/3 of my remaining positions @ $95.06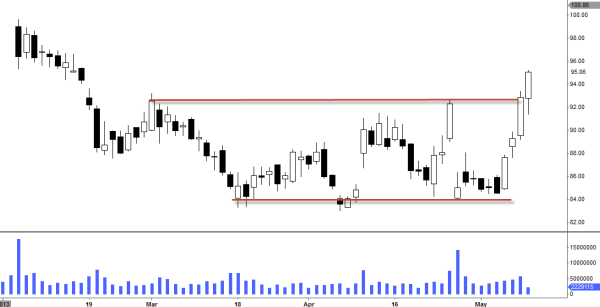 Still holding all of my remaining positions here. We did break above recent resistance of $92-$93 and now soaring and looks very good so far however there are few things I am putting into consideration.
$BIDU is now in contact with 100SMA so something to watch out for.  (On January 3rd, 100SMA caused $BIDU to form a shooting star reversal after a bullish rally and it pulled back for three days.)

Downtrend channel resistance from mid April of 2012.  Very solid resistance at around $98 level.
[divider]
5.10.13 Friday
[divider]
Closed another 1/3 of remaining positions @ $94.74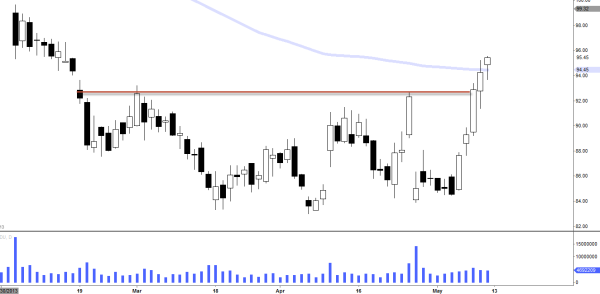 It is continue to grind higher and looks like it will continue given the fact that 100SMA hasn't been much of resistance yet.
[divider]
5.14.13 Tuesday
[divider]
Closed Out Remaining Positions @ $92.06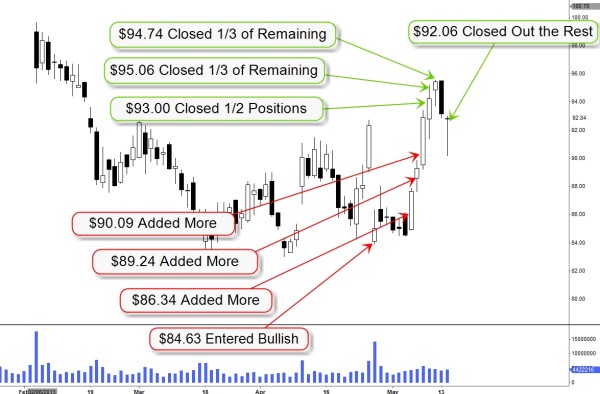 *Complete time table of swing trade 4.26.13 – 5.14.13.