Last Update: 5.22.13
Related Article(s)
Article from 1.11.13 "Suspecting $BIDU, At Best"
Article from 5.6.13 "My Bullish Story on $BIDU"
[divider]
4.12.13 Friday
[divider]
Closed Above Recent Resistance Yesterday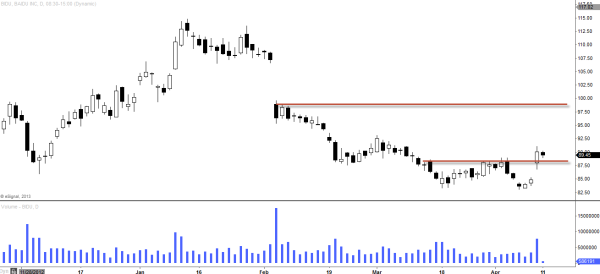 (Chart screened 4.11.13)
Yesterday, I entered bullish (Calls) at $89.32ish as you can see on this chart. I added more calls this morning at $88.94.  As you can see on this chart from yesterday that when we gaped up it closed above recent resistance of $88.30.  This is a good sign of possible bullish run to start. Many times stock grinds for a while until the gap happens to give it a jump start and in this case definitely helped by closing above the recent resistance,
My Bullish Argument 1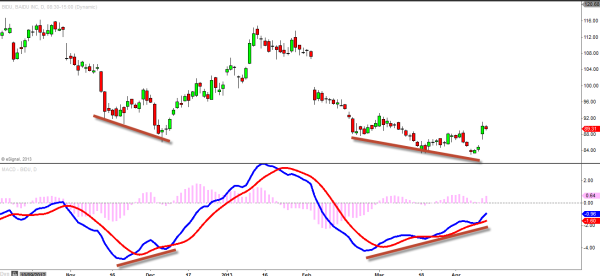 (Chart screened 4.11.13)
This chart was posted yesterday (4.11.13) for our On Air subscribers that the bullish move is expected on $BIDU looking at this bullish divergence forming on MACD. This time we have double valleys divergence which is twice stronger.
My Bullish Argument 2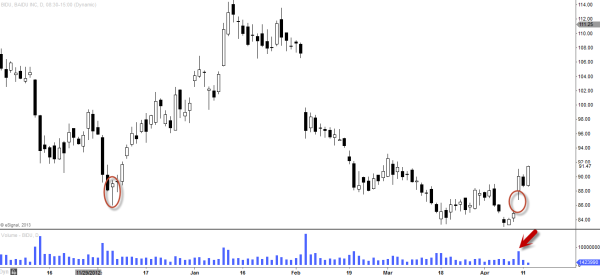 Last early December of 2012, it was the hammer (see left circle) with high volume which became the catalyst for that fast and furious bullish move.  Today I saw that gap up (I am classifying it as a Breakaway Gap) with high volume as a possible catalyst for similar move here.  That gap up can be very STRONG when it is fueled with the bullish divergence.
Also on 4/5, we had a exhaustion gap (gapped down) and three days later, it gapped up thus forming a Island Reversal.  This is one of the stronger bullish reversal signal and because we have so many bullish reversal pattern on top of that, it makes that island reversal that much lethal.
My Bullish Argument 3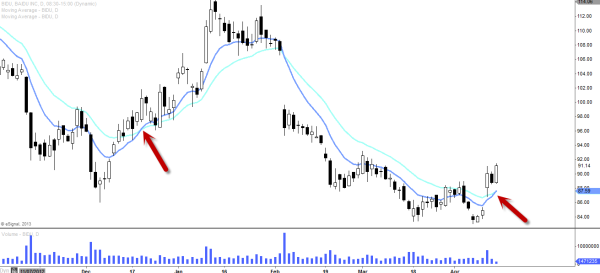 10 (blue) and 20 (green) EMAs are crossing.  We still need to see where it closes today but last time when those two were crossed, stock soared another 18 points.  Can we expect something similar?  Again when the moving average analysis fueled with gap, and the divergence, that's when this bullish analysis can be powerful.
My Bullish Argument 4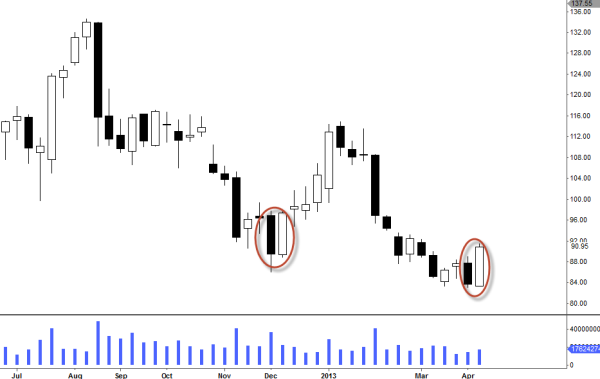 (Weekly Chart)
Today is Friday so we still need to see where it closes but if we close with the candle we are looking at currently, that's what the analysts call, "Bullish Engulfing" pattern.  One of the stronger bullish reversal candle.  Last December we had what it looked like a bullish engulfing but it was actually a bullish tweezer pattern which is weaker than bullish engulfing.  Today by end of the day, we possibly have bullish engulfing pattern on this weekly chart which could lead the stock to further bullish move next few weeks.  If this bullish engulfing is confirmed, it will only add fuel to the bulls as we have other analysis confirming the bullishness that possibly coming in here.
My Bullish Argument 5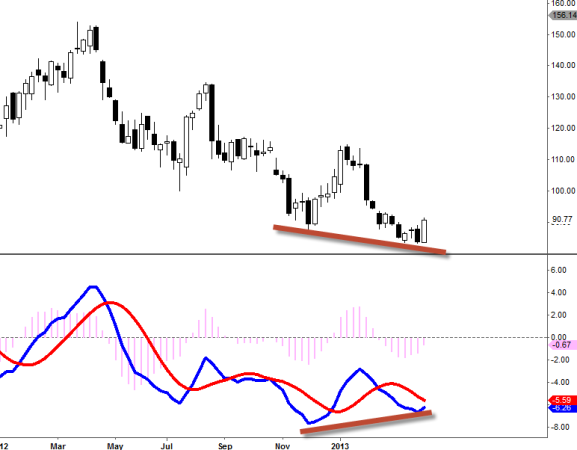 (Weekly Chart)
Weekly bullish divergence is NOT yet confirmed (we would need to see blue line crossing the red line to the upside for this to be confirmed).  If or when this gets confirmed, we might see the trend changing once for all for $BIDU.  But for now, this is a good sign of development.
[divider]
Target Price $100, Reason 1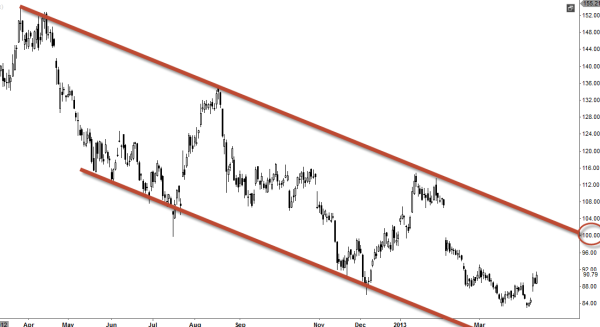 Downtrend channel resistance at $100. This is a very STRONG and a major resistance level.
Target Price $100, Reason 2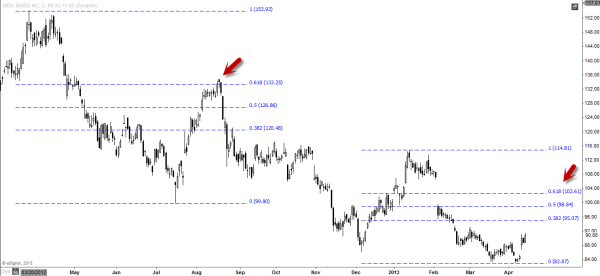 Last August, 61.8% (see the fibonacci lines above) retracement level was where it decided to turn things around after a huge bullish move. Today I am anticipating something similar as I have measured top of January move down to early April's move and sure enough around $100 level is where we are see 61.8% retracement which that coincides with downtrend resistance level.
[divider]
Obstacle to Overcome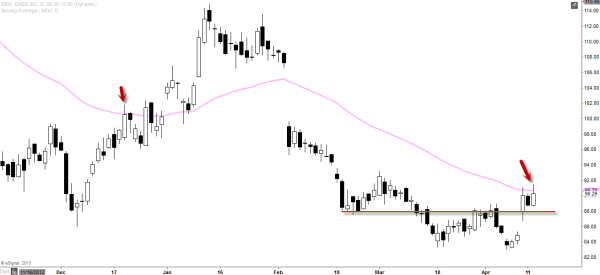 There always is a obstacle and currently 50EMA (pink) is acting as resistance. Last time 50EMA made $BIDU to stall for about 7 trading days and that's a long time for a swing trader! But inevitably it continued higher so I won't be surprised to see some struggle at this 50EMA level before continue higher however I don't believe we are going to struggle for 7 days here as we are just now starting to develop this uptrend move here whereas back then, 50EMA met with the bulls after about 2-3 weeks of bullish move (which at that point bulls were getting tired).
[divider]
5.22.13 Wednesday
[divider]
$100 Target Reached, Back Inside the Channel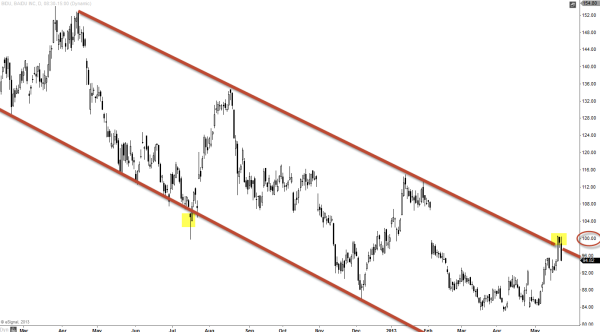 Just like we had fake breakout to the downside on 12/6/12,it could be that we had fake breakout to the upside on Monday. See the yellow highlighted areas.
200SMA Must Be Broken For Higher Prices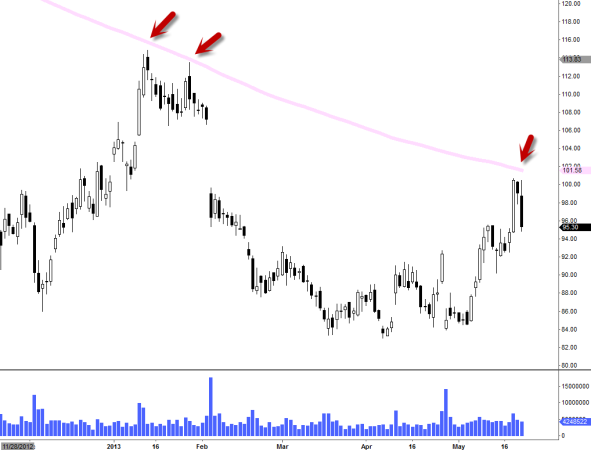 As you can see, on Monday, we had huge bullish day with large volume spike and last two days, it's starting to roll over on a rather lighter volume (compare to what we had on Monday).  So here are the few arguments for both sides.
Bullish Argument
Still trading above all moving averages including 100SMA
Declining volume last two days (Possibly just a pull back)
Weekly bullish MACD divergence is confirmed and could be the catalyst for a breakout
Bearish Argument
Still in a major primary downtrend

Today, $BIDU is back inside of the downtrend channel
200SMA and tankage