Last Update: 4.15.13
[divider]
4.3.13 Wednesday
[divider]
Entered Bearish (Puts) Positions @ $811.09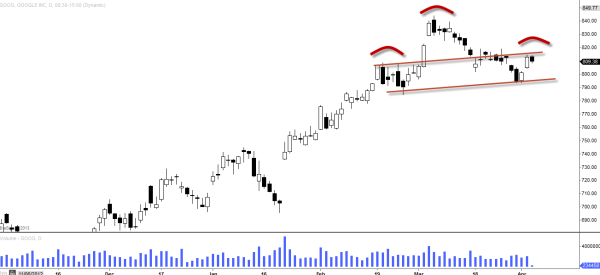 We are seeing possible H&S formation here and I am wondering if we are creating right shoulder thus creating resistance at $814 vicinity.
[divider]
4.4.13 Thursday
[divider]
Weakness Continues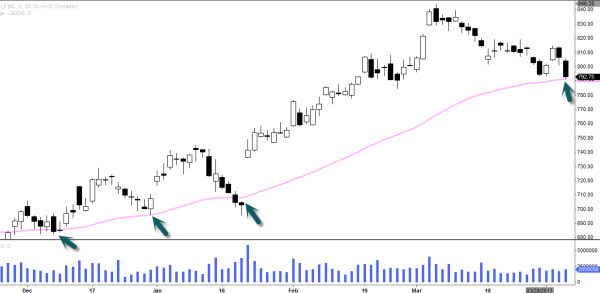 We did have slight gap down this morning (body gap) which means we are seeing very rapid momentum shifting here. Because we gapped up on Tuesday but we gapped down this morning so it has sentiment of Island Reversal though it is not a true Island Reversal but definitely it has that sentiment.
50EMA (pink) is where I will be watching tomorrow to see if we can break below that level.  50EMA has been strong support in the past (see arrows) so that's the level I will have to be cautious about.
(Weekly)
We have confirmed bearish divergence on Stoch, RSI, and MFI currently.  MACD (not in the chart) is not confirmed yet but close.  Again for this chart being weekly, it could take few more weeks to see if it's really going to play but from the looks of it, we are probably in the middle of this divergence playing out.
[divider]
4.5.13 Friday
[divider]
Still Holding Full Positions but Problem!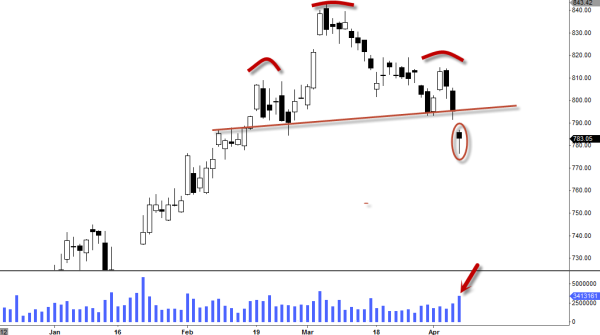 Problem 1: Gap down Hammer (could be lethal!)
Problem 2: Hammer with High Volume (could be deadly!)
Possible Solution: Early next week, $GOOG comes up to test that neckline resistance at $795ish and if that neckline holds, we could see $GOOG coming back down again which that could nullify the potency of that hammer.  But its definitely concerning.  Looking at the weekly chart and the oscillators, still looks bearish which gives me some comfort.   For that H&S to play out, the neckline must hold.
[divider]
4.8.13 Monday
[divider]
Closed 1/2 of My Bearish Positions @ $770.10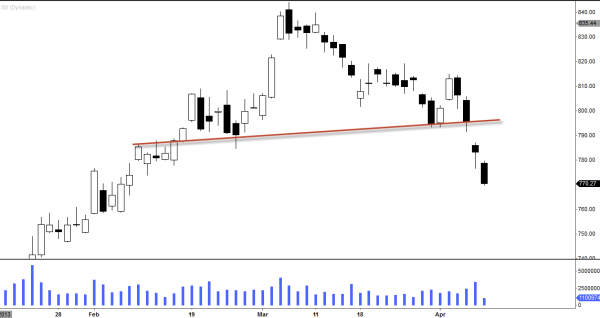 I wouldn't be surprised to see $GOOG coming back up to test that $786-$792 (gap area) as new resistance before another bearish run.
[divider]
4.11.13 Thursday
[divider]
Added More Bearish Positions @ $791.81 (at open)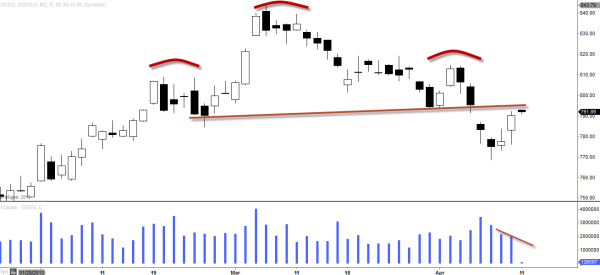 (Chart screened at open this morning)
We did have bulls coming back towards to the end of the day leaving long lower wick but the volume has been somewhat weak. They are not totally bad but seems little weak there.  I am currently looking at this H&S pattern neckline resistance to hold and possibly bring bears back for lower prices with target at around $755ish where 100SMA is hanging out.
[divider]
4.12.13 Friday
[divider]
Added More Bearish Positions @ $790.95
[divider]
4.15.13 Monday
[divider]
Holding All Positions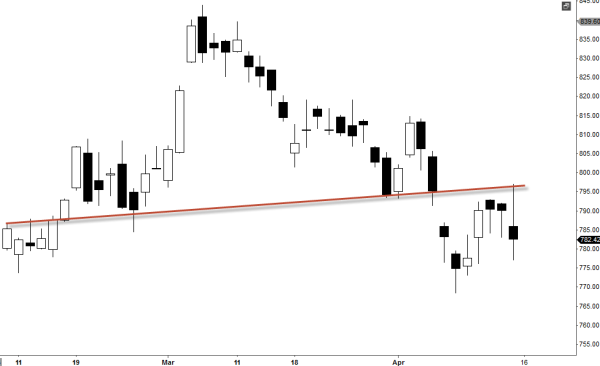 H&S neckline tested, rejected, and now trading lower.  I have three more days before the ER to get out of this trade. I am expecting few days of bearish run after looking at today's volatility and increasing in selling pressure.  $773-$770 is going to be next support to break to find some momentum to travel lower.  I am thinking about $755 by Thursday.
[divider]
4.17.13 Wednesday
[divider]
Completely Out of the Trade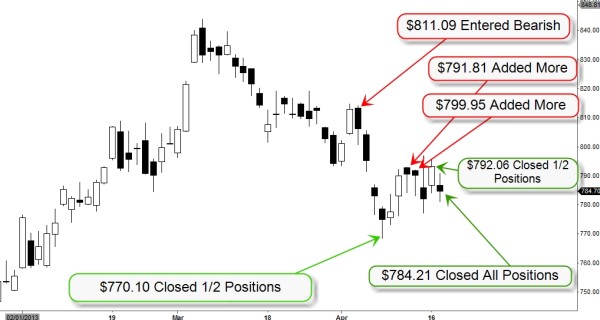 ER is tomorrow after close and I don't hold anything through ER so I decided to close this out today.  I probably could have waited one more day until tomorrow but I just didn't want to caught up in the volatility before the ER.