Last Update: 3.28.13
[divider]
Related Articles
9.28.12 – "10 Reasons of Why I am Extremely Bearish on $AAPL"
12.15.12 – "Why I Believe $AAPL is Headed $360"
01.1.13 – "Short-term Bullish Trade Idea Gone Rogue $AAPL"
02.12.13 – "Why I Entered Bearish Today on $AAPL"
03.27.13 – "Why I Entered Bearish Today on $AAPL (Part 2)"
[divider]
3.27.13 Wednesday
[divider]
(Video Added 3.28.13 – Watch it on 720p HD)
[divider]
Today At Market Open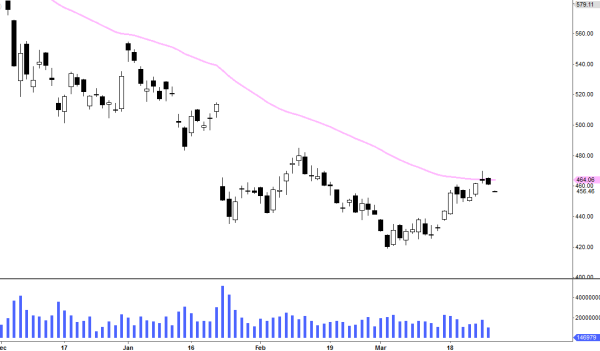 "Watch That Gap!" I entered bearish at open @ $456.57
Last Night Analysis 1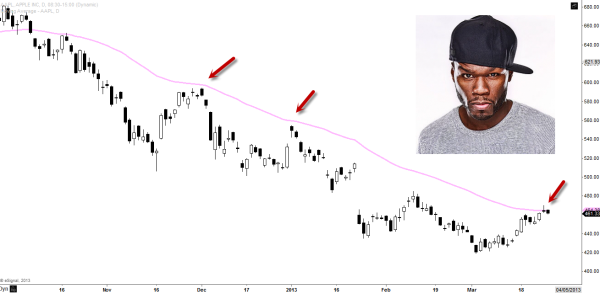 "Watch That 50! (ema)"
Last Night Analysis 2 (65mins Chart)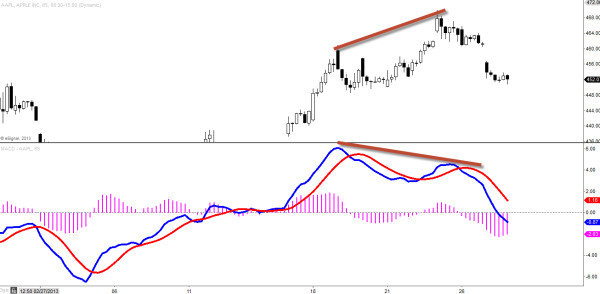 "Watch That Bearish Divergence!"
Tonight's Analysis 1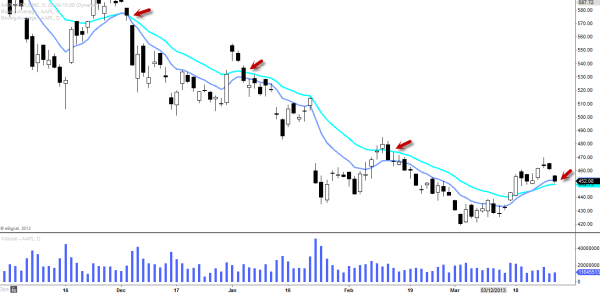 "Watch That 10/20EMAs!"
When $AAPL closes below 10(blue) and 20 (green) EMAs, intermediate downtrend starts as you can see in this chart (See arrows).  Today we are finding some support at this level.  This level is VERY critical next few days for the life of $AAPL for the next few weeks.  In the event that we break below this level, I believe we are headed to $420 and possibly break that level this time.
Tonight's Analysis 2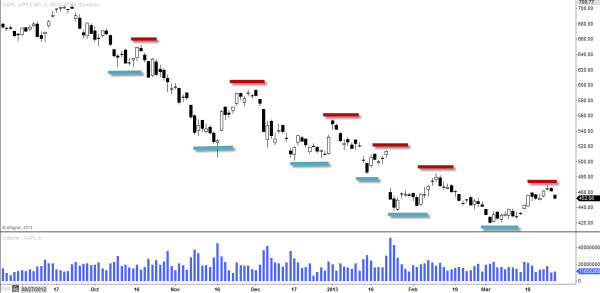 "Watch That Lower Highs!"
Continue to make lower lows and lower highs.  Current lower high is not confirmed as we are still trading above 10/20EMAs and current support of $450.  We break below $450 and 10/20EMAs next two days, we are putting in another lower high.  I believe this time around, bears are going to try to break $420 support. As you can see once it falls from the lower high level, it breaks the most recent lower low level and creates another lower lows.
Tonight's Analysis 3 (Weekly Chart)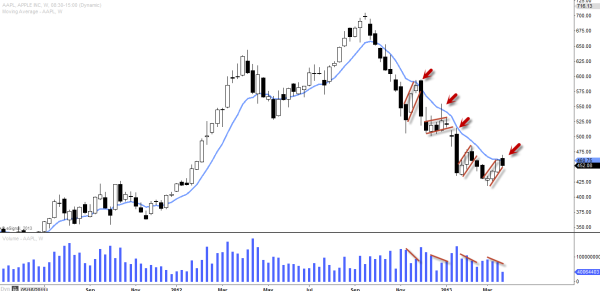 "Watch That 10EMA & Flags!"
Obviously the weekly candle is not finalized as today is only Wednesday. It's imperative to see where it closes by end of this Friday to see 10EMA is still acting as resistance and if the flag is continuing to play out.
Tonights Analysis 4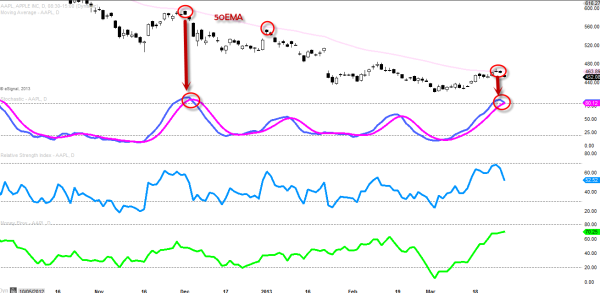 "Watch That Stoch While 50 Runs By!"
Stoch is starting to cross while 50EMA is running by.  Another bearish run tomorrow could cause this stock to come back down to $450 within few weeks and possibly even break that support level for bears to create another lower low.
Concerning Matter for Bears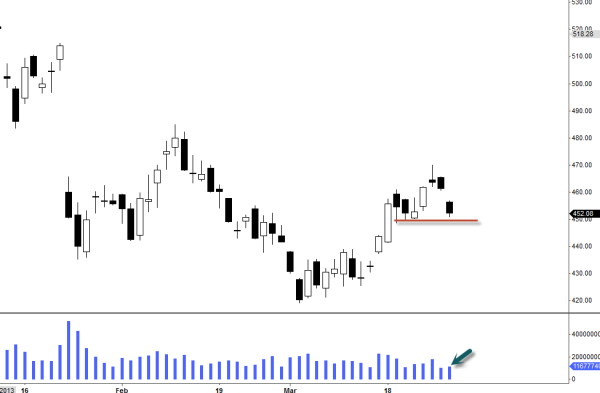 Despite of the gap down action today, we have significantly low volume today.  If we don't get some selling pressure volume tomorrow, it might come back up to test that gap level as new resistance and possibly form mini H&S pattern.
 Three Black Crows & 50 Teaming Up
(Chart added 3.28.13)