[divider]
Last Update: 4.17.13
[divider]
3.20.13 Wednesday
[divider]
Bulls Are Getting Tired
Watch it on 720p HD
[divider]
3.27.13 Wednesday
[divider]
$DIA Daily MACD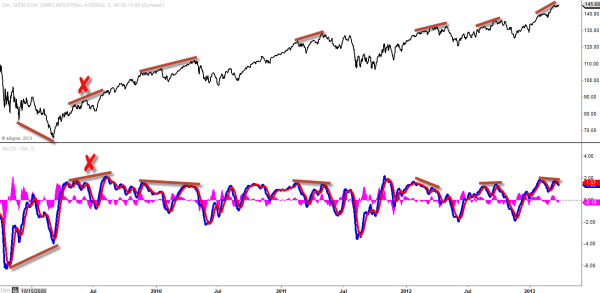 This daily MACD Negative Divergence reveals that before the steep corrective move, MACD is able to represent early indication before its corrective bearish move.  Looking at this roughly 3 years daily chart, you can see that when this divergence is formed, correction happens every single time without fail.  Does this mean it has to play out this time? No.  Nothing has to play out in the market but we can conclude that the chance of this corrective move happening soon is very high.  Take a look at the "X" market where we didn't form divergence (stock making higher highs and MACD making lower highs) thus the correction never came about.  That proves that the Dow Jones reacts very well to these divergence signs.
$DIA Weekly Oscillators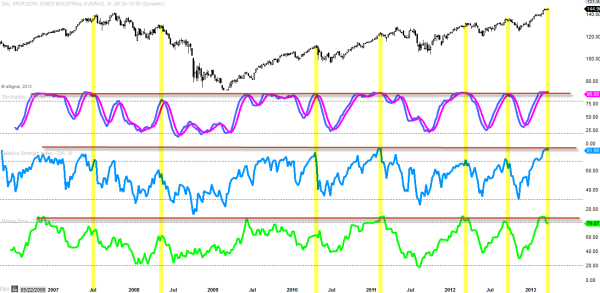 Obviously this being a weekly chart, it could take weeks before it starts to really play out but as you can see we are grinding the top of it's band which means the market is at "overbought territory".  This does not mean market HAS to roll over but it is very significant and early indication that it could if or when we have other analysis confirming that the possible correction is on it way.
$COMPQ Weekly MACD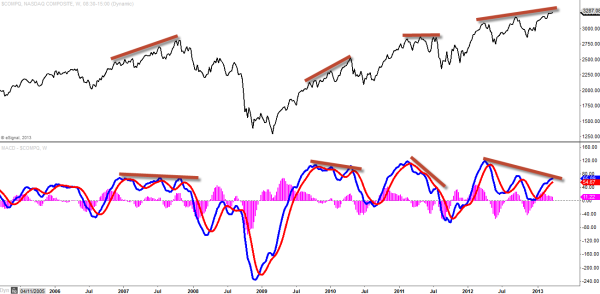 This is rather troubling signal because we are forming "Three Peaks Negative Divergence".  As you can see last three times when it was formed, it followed by very STEEP corrective move. This being weekly chart, it could take weeks before taking its place but definitely a warning sign that I wouldn't ignore. This is alarming because other market indices analysis also confirms that the corrective move is on it way.
$QQQ Daily H&Ss Within a H&S
(Chart updated 4.17.13)
Looks like we are forming right shoulder within a right shoulder.  As you can see once the neckline support is broken, this thing tanked.  It is more troubling because $COMPQ already had pretty significant signals with Three Peaks Negative Divergence and $QQQ is now just confirming the potency of that $COMPQ weekly chart above with this daily H&S patterns within a H&S.  In the event that we break below $67.50ish support (which could become the neckline for this recent H&S pattern), high chance we could fall pretty hard.
$SPY Weekly MACD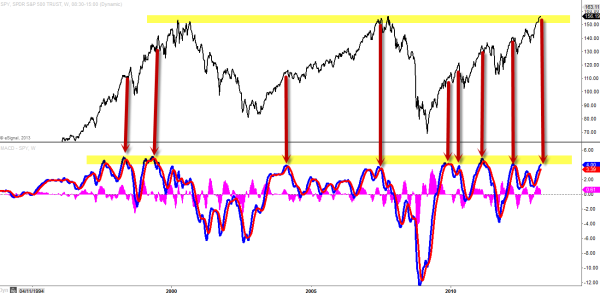 Topping signal at its best.  Again I have to emphasize that this being weekly chart, it could take another 2-4 weeks before anything happens that we can tangibly see but definitely a warning signal that I wouldn't ignore.  Last 13 years, MACD's 4 to 5 level reading is where it signifies topping signal as it was never able to travel higher than 5 reading on MACD.
[divider]
4.3.13 Wednesday
[divider]
$SPX vs $RUT (Daily)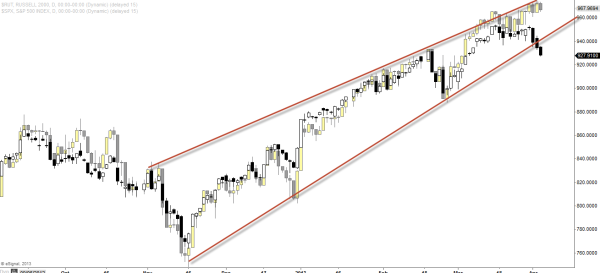 $RUT to lead $SPX to Bearish?
$DIA Bearish Divergences to Watch
[divider]
4.17.13 Wednesday
[divider]
$FAS Warning Signal on the Financials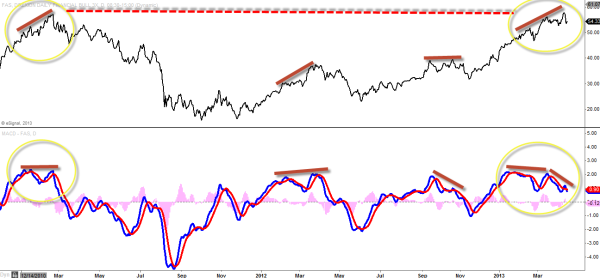 This chart was posted for our On Air subscribers on Monday as a warning signal that topping process is starting to play out on the financials which could be a indication that the market as a whole is also getting top out.
$INDU Dow Jones Avg. Weekly RSI

Warning signal at best.
$SPX vs $RUT (Daily)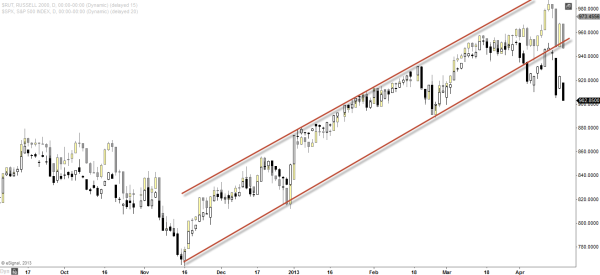 $RUT is leading $SPX to bearish