Last Update: 3.27.13
[divider]
3.12.13 Tuesday
[divider]
(Weekly Chart) Doji With High Volume Means Something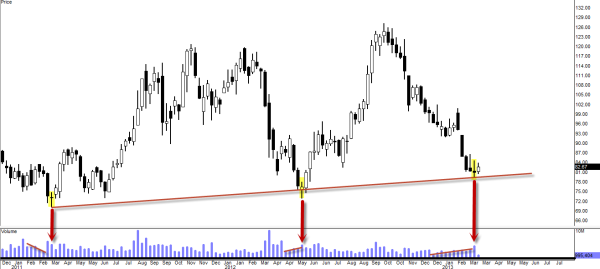 Take a closer look at those tiny Doji with high volume.  Many times when the Doji appears in the bottom or at the top of it's trend (especially it has been formed with unusually high volume), it usually means sentiment of the trend is changing. You can say it's a early reversal indication.  Of course we would need to make sure that we find some follow through before assuming the trend reversal but it's amazing (just from looking at this weekly chart) that how much it can absorb volume compare to so much bigger candles around them.  High volume is caused due to heated battle between buyers and the sellers but neither party was able to over power the opponent thus creating huge volume yet with tiny Doji.  This is where I start to assume that the bottoming process has been started.   Let's go to daily and see what we can find.
(Daily Chart) Island Bottom Reversal?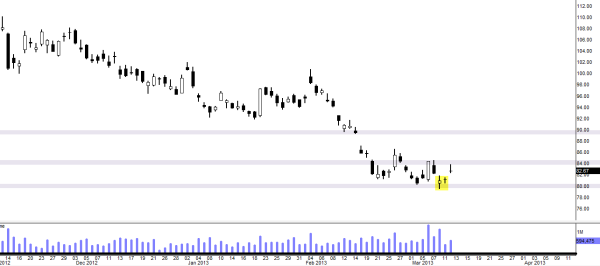 We are currently finding some support at around $80 level but I want you to pay attention to the yellow highlighted candles. It gaped down last Friday and after two days, it gaped up this morning.  As long as we keep those gap open, we can say that we have Island Bottom reversal in place here. Island Top or Island Bottom reversals are one of the stronger reversal formation but the gap must be kept open and the stock has to have some follow through at least next few days without blemishing the gap.  However looking at the candle today (Gravestone Doji), I am not that confident that the Island Bottom is going to survive but you never know so let's keep that in check next few days.
Closing above $85 level with the Island Bottom reversal in full formation would cause this stock to find some bullish momentum.  I am currently holding some Calls on this stock that I got in yesterday after seeing some early signals of reversal.
Here are few things I am looking for next few days.
Gap remains open thus maintaining that Island Bottom reversal without blemish

Close above $85 level with good amount of volume.
(On weekly chart) Close well above last week's candle's upper wick ($85-$86) by Friday closing
I am not sure how it's going to play out but if we can get those three by end of this week, I am pretty confident that we can have some good bullish run and possibly fill the gap above at around $90 next week however today's candle does not help me this process.
(Daily Chart) Bullish Divergence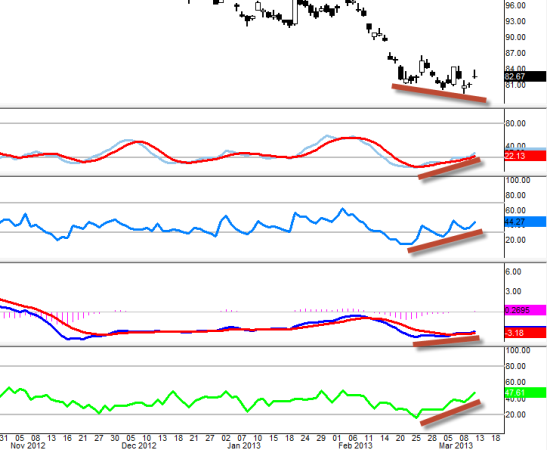 (Full Stoch, RSI, MACD, MFI)
$GOLD did have well played out Bullish Divergence last April 2012 – May 2012 in a bigger scale. Today however we have tighter range bullish divergence so the impact may not be as great as last April.  But looking at other possible bullish signals we have been looking at today, it's always a plus to get the divergence in the picture.
(Weekly Chart) Oversold Status with MFI Divergence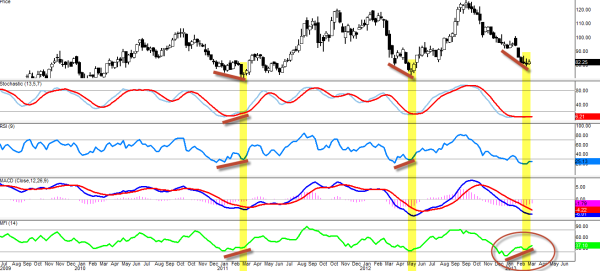 (Chart added on 3.17.13)
Stoch, RSI, MACD are currently indicating oversold status and in historical point of view, this is where these oscillators could change it's direction on this weekly chart.  Take a look at the MFI.  We do have confirmed bullish divergence this time but only on MFI. Because we don't have bullish divergence on the other oscillators, it is not nearly important as if we did have all other oscillator with confirmed divergence. However, last may of 2012, we only had RSI Bullish divergence which that worked out very well. Also I think with  MFI bullish divergence which that could suggest that the institutional buyers have already started to come in and we would just need to see some participation from the public .  With that said, maybe we are in the accumulation phase to prepare for public participation phase.
Nevertheless, we would need to close above $85.00 level by end of this week to see some buyers for the week after.
[divider]
3.21.13 Thursday
[divider]

(Daily Chart) "Go Go Power Rangers!"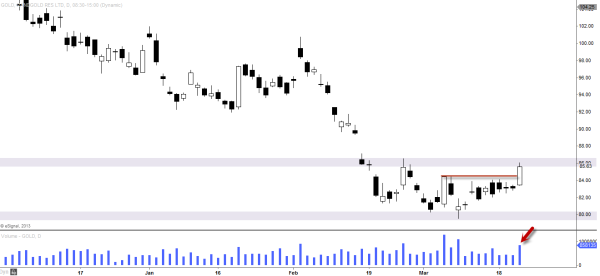 Volume is here and we have great looking candle today after a long consolidation days.  Tomorrow is Friday which means it is very important which candle it closes with tomorrow looking at the weekly chart.  With high volume today and coming off of consolidation period, I am expecting another thrust tomorrow and hopefully close above $86.60ish level to taste little bit of that rainbow (gap area from 2/15).  If we can get another thrust tomorrow, I think the Power Rangers can really fly.
[divider]
3.27.13 Wednesday
[divider]
Critical Resistance $86.50ish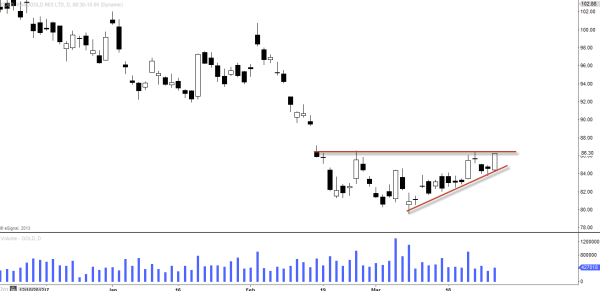 Today's volume is not the greatest comparing it to it's candle size however if we can have another thrust of bullish move tomorrow with volume spike, we could find some momentum to $92.