[divider]
3.7.13 Thursday
[divider]
Market Is Topping Out | Bulls Are Tired
[divider]
$SPY (black) vs $UUP (Red) | Comparison (Daily)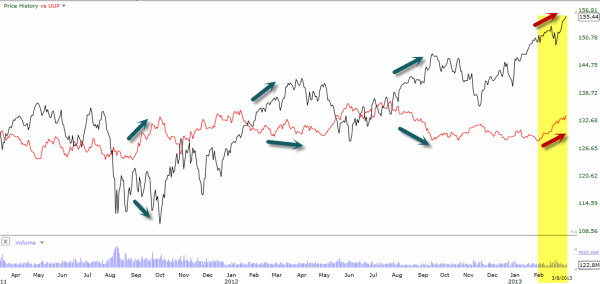 I can't help to think that market has been pushed beyond it's ability and it is continuing to grind higher. This is where I start to wonder what is continuing to push this market up but the dollar index is also continuing to rise with the market (and in itself is Divergence because they are suppose to diverge but is now converging) so is this a legit trend we are seeing in the market?  It's questionable at best.   I explain little bit further on why I think the market is continuing to push higher in the video.
$SPY (black) vs $UUP (Red) | Comparison (WEEKLY)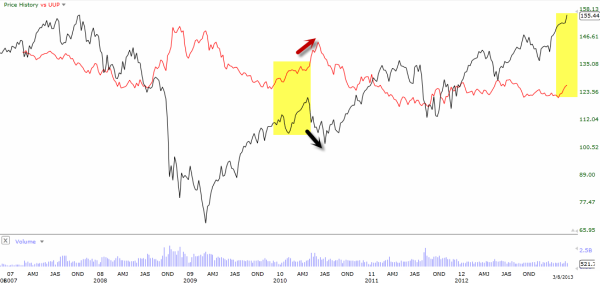 How far will they continue to travel higher together until the equities (black line) have it's correction?
$SPY (Daily)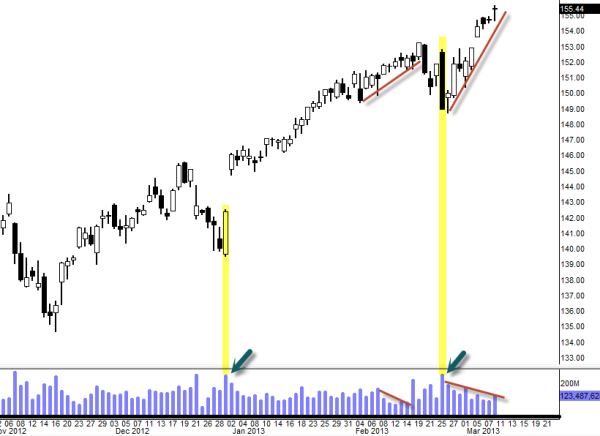 First take a closer look at what happened early January with that huge white candle with huge volume.  We all know that was the start of it all to really jump start this bullish rally. And let's look at the late February with same amount of selling pressure volume and equal size candle as it was back in January but this time it's sellers controlled candle and volume.  Difference about late February is that the bulls did not fall back but continue to push the market higher even after such a sell off we had late February. And I am wondering maybe the correction would've been better so that bulls could rest (to about $147 to test that highs from last October) and have another bullish run. But that did not happen. Bulls kept pushing and pushing.  So question is how far can they go?  Can they just keep going?  Answer is no.  It probably won't. There is just so much market can push.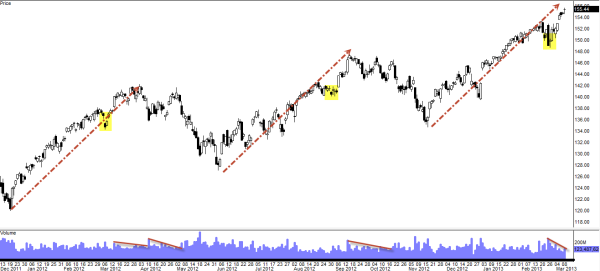 The long red arrows are the exact same size as you can see in this three bullish trends we've had since the 2011. I believe we are at the top of it's bullish run before the steep decline in the overall market (I am talking back down to $143 level).  Even the little pull backs (yellow highlighted) are similar to what happened before.  Just from looking at the recent run since the mid November, I can't help to think that we are very close to topping out here and start to move sideways with topping formation.
[divider]
$SPY to $143 in 3 Months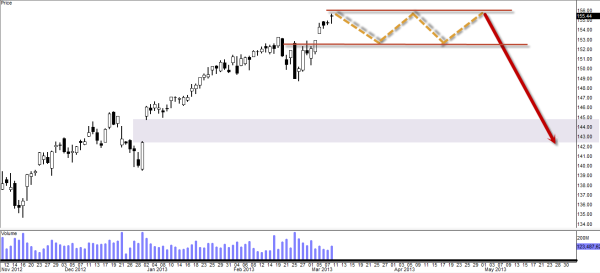 I believe the top is near as early as next week and we are going to move sideways possibly forming double or triple top formation for the next 1-2 months and then the market is going to roll over to about $143 level on $SPY to fill that entire gap (highlighted)