[divider]
Last Update: 3.5.13
[divider]

[divider]
2.28.13 Thursday
[divider]
I Saw It and I Entered (Bearish @ $140.74)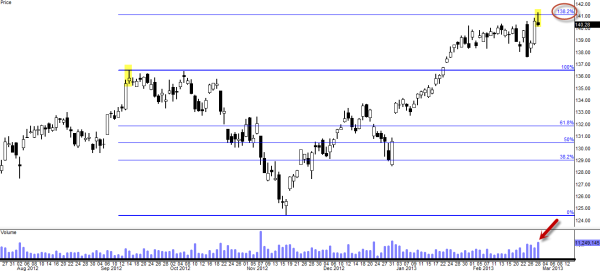 Currently got caught up at that Fib Extension level like a spider web trap and threw a shooting star reversal with HIGH (let me say that one more time, HIGH) volume.  Shooting star at the top, at a critical level, with high volume, TELLS ME SOMETHING.  I saw it and I entered bearish.  My next target is at around $136ish.  Let's see if we can get some follow through tomorrow and early next week.  Last early September (highlighted) when we threw a shooting star at the top of the move, Dow corrected itself pretty steeply.
[divider]
3.5.13 Tuesday
[divider]
Stopped Out @ $141.67
I lost more than I expected because of the gap up this morning.  I am wondering though if this is a exhaustion gap and even if it was the exhaustion gap, we wouldn't know to confirm it until 2-3 days.  Not shorting or going long at this point.