[divider]
2.21.13 Thursday
[divider]
8:50AM CT: Entered Bearish @ $11.69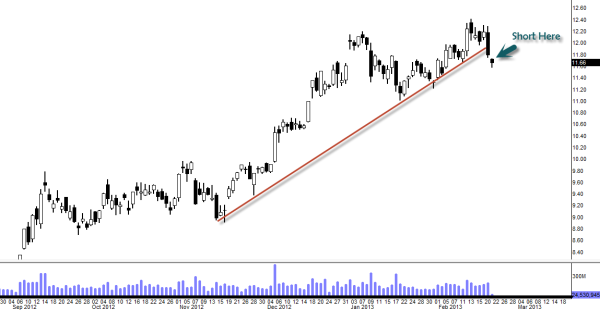 After Close
Increasing volume indicates that bears are making their case here also this uptrend support has been broken yesterday.  Currently sitting on 50EMA and I wouldn't be surprised to see some short-term bounce tomorrow.
Key Factor: Negative Divergence
We have confirmed negative divergence.  My bearish target $10.50 level where 100SMA is hanging out.
[divider]
2.23.13 Saturday
[divider]
Level to Watch (Daily Chart)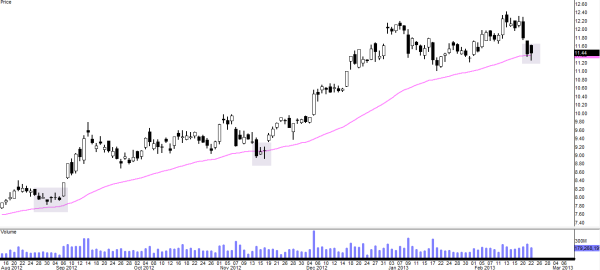 This moving average has been served as a catalyst to start a bullish trend on pull backs in the past but the question is can it do it again? This time the weight is heavier as we can see that last three days candles have engulfed almost 2 months worth of candles so the load is heavier but it's the level I will be watching early next week.  We do have declining volume (last two days) so I wouldn't be surprised to see some short-term bounce to $11.75ish before falling harder.
Candle to Watch (Weekly Chart)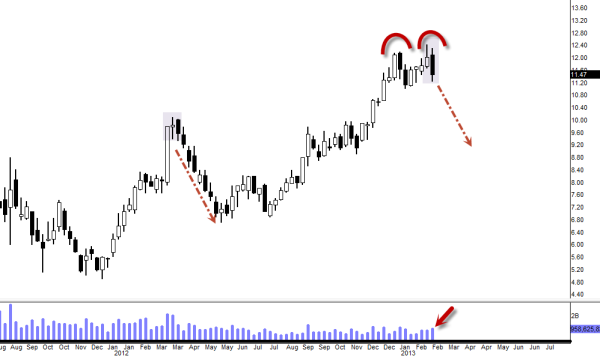 Last March of 2012, we had bearish engulfing which started two months of bearish trend until about May 2012 and last Friday (week ending weekly candle), bearish engulfing appeared yet again.  We know this guy. We've seen him do some damage last March but this time though it showed up with more weapon because we have formed mini double top at that $12.20 resistance level.  Looks like the volume is also supporting the engulfing candle so I am seeing another bearish candle end of next week.
[divider]
2.25.13 Monday
[divider]
Breaking Important Level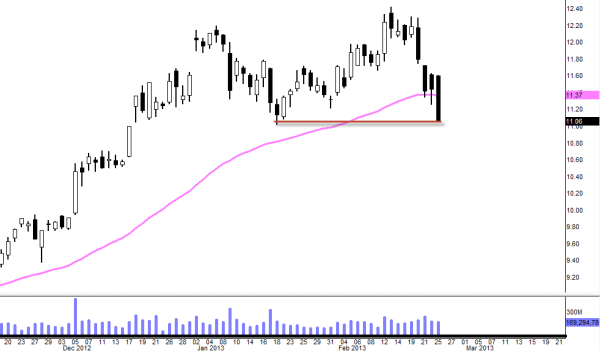 Currently trading below 50EMA and I do believe this is going to very important level.  As you can see, last 6 months, 50EMA level has been working as catalyst for the bulls and today we might be seeing shifting of that trend today.  I will be watching though recent horizontal support of $11ish.  I wouldn't be surprise to see some pull back tomorrow to retest that 50EMA.
[divider]
2.27.13 Wednesday
[divider]
Watching That 50!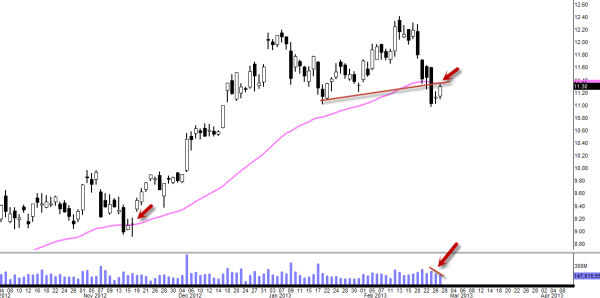 Comparing to $C, $BAC is acting much weaker today as we have declining volume last two days along with 50EMA (pink) currently acting as resistance. This is very important level for tomorrow and for my bearish positions as I would need 50EMA to continue to protect that price level and reject the price.   Last time (mid Nov 2012) when we traded above 50EMA after the initial corrective move, $BAC moved about $3 in about a month. So I am aware that this is going to be very critical level next few days.  It's all up to you 50!
Let's go 50!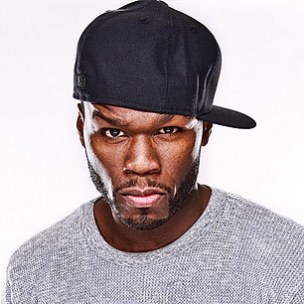 [divider]
2.28.13 Thursday
[divider]
Added More Puts @ $11.34 (Monthly Chart)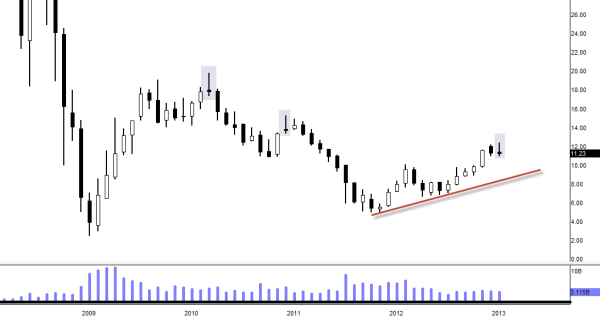 Blue highlighted candles are the Gravestone Doji.  This candle has sentiment of a Shooting Star candle but not as strong however we are finding 3 Gravestone Doji on this monthly chart and when it occurs at the top of it's move, usually indicates the trend reversal.
[divider]
3.1.13 Friday
[divider]
Got Stopped Out @ $11.50 with Some Gain
I am still bearish on this stock. I will be looking to re-enter maybe next week.
[divider]
3.5.13 Tuesday
[divider]
Not Another Bearish Entry?! Puts @ $11.53
(Chart from this morning little after open)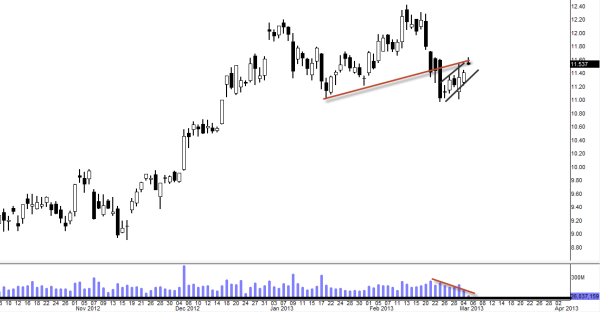 Possible bear flag (volume) /old support new resistance (red line) "THANG" going on here.  Concerning matter is that the market is bullish today and I am not sure how the banks are going to react to it's market condition because normally banks follow the market.  Today however banks are weak compare to the market so it will be interesting to see the price action tomorrow.  I got in with small bearish positions little bit after market open (the chart is actually from this morning) and I am seeing some bearish flag here however that gap up today is bothering me.  For starter, we will need to fill that gap to the downside tomorrow for some confirmation.  Otherwise I probably get stopped out quick tomorrow.
[divider]
3.6.13 Wednesday
[divider]
Stopped Out at Open @ $11.77