[divider]
For more in-depth video analysis, check our last week's Video Analysis
[divider]
2.16.13 Saturday | Weekly Charts
[divider]
$DIA: Dow Jones Index ETF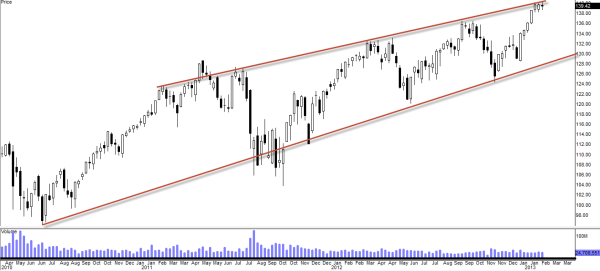 ($DIA – Daily Chart below)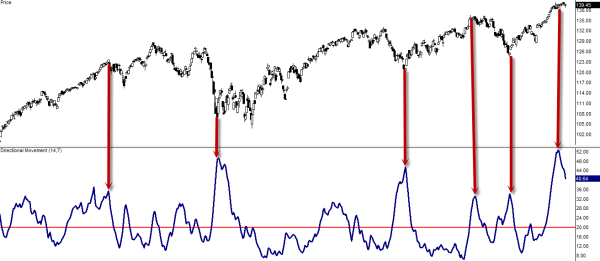 We are still grinding on that upper channel resistance on this weekly chart. We did throw Doji week ending yesterday so it will be interesting to see what candle it might close with next week.  Looking at this DMI indicator (daily chart), we can see that its has been topping out on that indicator and losing momentum but then again its merely indicator to measure the move so unless I see tangible (price itself) reversal signals, I am still going to assume that the trend is in effect.  For bullish continuation, I would wanna see a strong bullish candle piercing through this resistance with some volume spike.  For bearish reversal, I am looking for bearish engulfing reversal candle after Friday next week.  My mentality is still bullish (with caution) on Dow Jones because I do not have any reversal signal as of today looking at this weekly chart however Doji could actually be an early indication but follow through is needed.
$SPY: S&P 500 Index ETF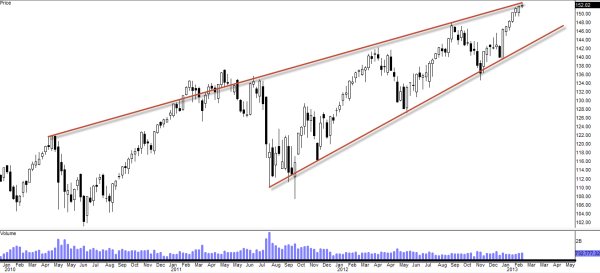 Again we are running into upper channel resistance but we do not have any reversal signal as of today.  Just like it did last 2011 of January that we could push through without any problem but definitely need to take caution at this level because it can roll over just as much easily like it did last 4 times out of 6.
$QQQ: NASDAQ Composite Index ETF
You know what's interesting with $QQQ?  If you look at $COMPQ (actual NASDAQ Index chart), you do not have Head and Shoulders reversal because it is now trading at the all time high but when you look at $QQQ, it never reached that high and now just hanging around that right shoulder level.  It's almost like $QQQ is waiting for the market to roll over so it can form that H&S pattern.  Again we are running into top of the right shoulder level but no reversal signal.
[divider]
Final Thoughts
Going into next week, I am still bullish in the overall market with cautionary signals still flaring but that doesn't mean I am going to be shoring the Indexes.   We have not yet closed below 10EMA (daily chart) on $SPY for about month and half so if I want to short $SPY, I would at least wait until it closes below 10EMA on daily chart.  Until I see a reversal signal end of next Friday, I will assume that the trend is still in effect looking at and based upon these weekly charts.