[divider]
2.4.13 Monday
[divider]
Dissection 1 (Daily Chart)
I entered bearish @ $67.03ish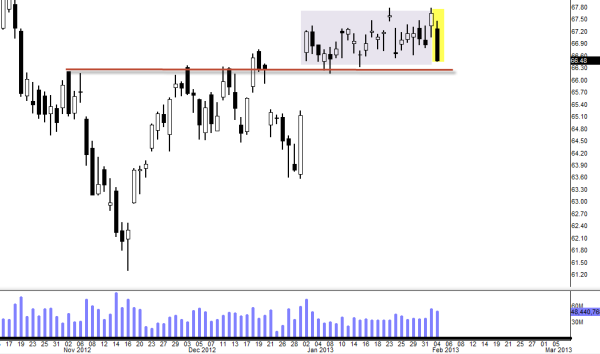 We have been consolidating (pretty much doing nothing) for about a month and then yesterday we try to make a run for it (to the upside) with high volume.  But today, bears came back and put up some counter attack skills.  What a surprise!  When the shift of the movement happens this quickly, that's when I pay attention. Today's action truly proved it to me that the bears are willing to hurt and kill. We close below $66.30ish (which is also 100SMA and 50EMA are residing)-horizontal support, I am expecting bear crew coming out of their caves with automatic weapons.
Dissection 2 (Weekly Chart)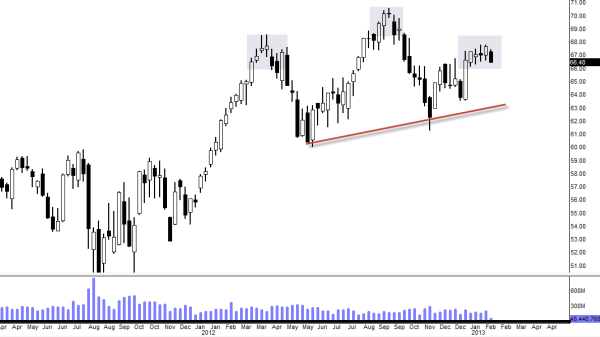 Possible Head and Shoulders reversal forming on this weekly chart. If that's the case, we are in the process of building that right shoulder.  When or if this pattern is confirmed, we are looking at possible $53ish target.
Dissection 3 (NASDAQ Index Weekly Chart)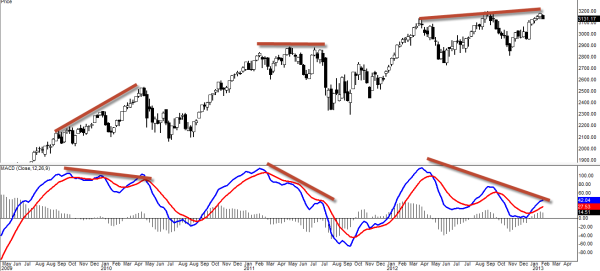 I used NASDAQ Index (QQQ follows this index) instead of $QQQ chart because NASDAQ chart has more visibly formed bearish divergence.  Last 2011, we've formed three peaks bearish divergence on this weekly chart and the index lost about 600 points in about 2-3 months. We have WIDER range and STEEPER, three peaks bearish divergence forming currently. There could be disastrous if it gets confirmed.  Out of all my analysis I did today, I put most weight on this analysis and why I am so bearish on this ETF.
Dissection 4 (Daily Chart)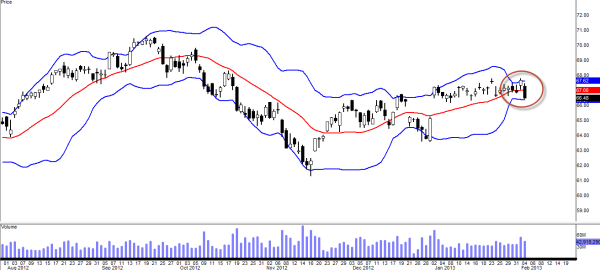 BollingerBands are contracting.  I went pretty far back in the chart to see if we had any events that the BBands were contracting this tightly and I think this is the first at least last 2-3 years.  Cautionary note is this.  This does not mean it has to break to the downside. It could for sure reverse and break to the upside but from looking at today and last Friday's action it looks like it has high chance of breaking to the downside.  Because I for sure thought we might break to the upside this morning since we breached upper channel of the band last Friday. But things got turned around today.
Once BBands break, we are looking for some volatility coming in and the trend could move pretty rapidly.
Dissection 5 (Daily Chart)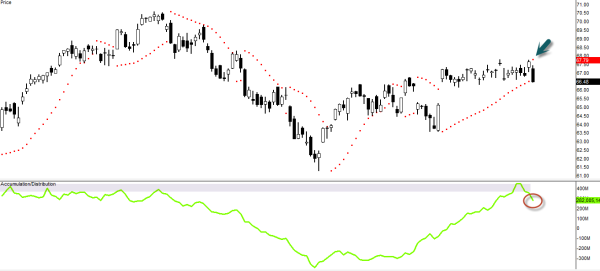 Parabolics SAR (red dots) just flipped today.  It has been over a month since the Parabolics stayed in the bullish side. This is an early indication that the trend is possibly reversing.  Accumulation/Distribution is starting to top out here and pointing down suggesting distribution stage might be starting.
[divider]
My Recap
I do believe it's quiet early to say that the $QQQ is going to roll over however given the technical data I have presented on this article, I do believe that the chances of that happening is getting higher by looking at today's action.  I have been questioned by other traders because of my aggressive entries but I do believe that one can't always work by the confirmations but rather probabilities for better risk/reward ratio.
As I have stated in Dissection 1 part that if $QQQ close below $66.30ish, I do believe the aggressiveness from the bears will increase.
[divider]
2.05.13 Tuesday
[divider]
Stopped out of my Puts @ $67.52
[divider]
2.11.13 Monday
[divider]
Top Pickers (Daily Chart)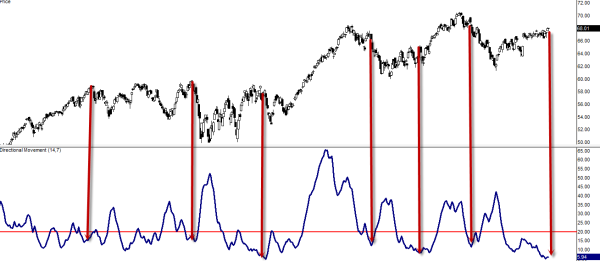 Currently $68.15 is acting as resistance which is from the weekly head and shoulders pattern top of the left shoulder. If this weekly H&S is going to play out, this might be the ideal place for it to roll over to build that right shoulder.  What you are looking at is DMI (aka ADX) indicator and it is showing tremendous weakness on the recent move as it is traveling in all time low level of 5 readings on DMI.  This means $QQQ wasn't able to find any bullish momentum last month and half (as the indicator continued to travel south since January of 2013 while $QQQ slowly climbing up).  That does not mean it is going to roll over but it does mean that on the next move, we might find some STRONG move weather its bullish or bearish. Obviously I am expecting strong bearish roll over and leaning towards to that direction given the facts through the analysis I've presented on the earlier updates.  We also had extremely low volume on all three index ETFs such as $SPY $DIA and $QQQ so it will be interesting to see how it all going to pan out this week.
[divider]
2.20.13 Wednesday
[divider]
Entered Bearish Again @ $67.44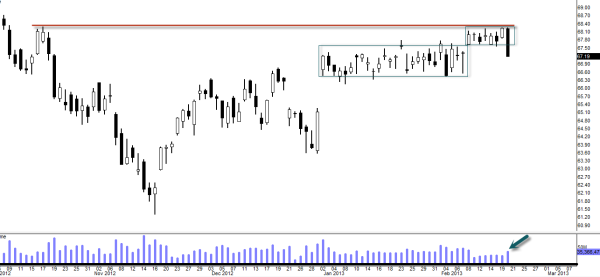 $QQQ just gave out today after months of consolidation as you can see it on the boxes with volume spike. As I have mentioned it earlier updates that this is at the top of the right shoulder of H&S on the weekly chart.  It means this is going to be very dangerous level to roll for the TECH market.
[divider]
2.21.13 Thursday
[divider]
Added More Bearish Positions @ $66.85 This Morning
Finding support at 100SMA (blue line).  I won't be surprised if $QQQ come back up and tries to fill that upper gap tomorrow but it will be better for bears if that gap is stayed unfilled.  Let's see how it reacts to that 100SMA tomorrow.
[divider]
2.25.13 Monday
[divider]
Bears Are Not Done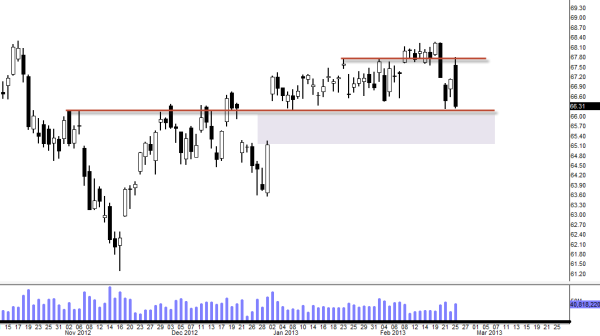 Gaped up this morning but sellers rushed in after about 40mins this morning at market open.  We do have volume rising and $66.30 is the level bears must break before going down further.  100SMA is also residing just below that level so I would think that level would act as some support which would require some work for bears to break.  If we can have another higher volume tomorrow with strong bearish candle, I would say the trend has definitely been changed and its on its way to fill the gap at around $65.10.
[divider]
2.27.13 Wednesday
[divider]
Still Holding Full Positions (65mins Chart)
We have last 30mins of sell of with HIGH volume (see arrow) while creating that tweezer reversal at resistance. I am expecting some bearish run right at open tomorrow (if not gap down).  Check my recent video analysis where I talk about $QQQ and other indexes conditions.
[divider]
2.28.13 Thursday
[divider]
Added More Puts @ $67.59
[divider]
3.5.13 Tuesday
[divider]
Stopped Out @ $68.09 All Positions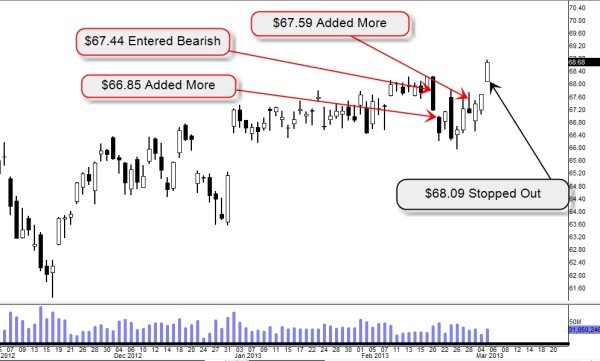 Well that didn't work out as I'd hoped. Looking more bullish now.