[divider]
1.15.13 Tuesday 11:38AM CT
[divider]
Facing The Bulls Head-On | iShort @ $57.80
(100SMA-Blue | 200SMA-Pink)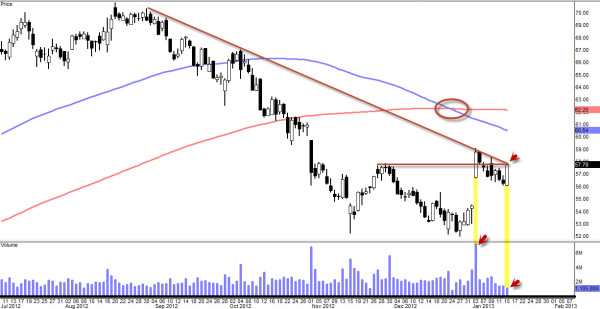 The day's not over yet but take a look at that volume activity today compare to 1/3/13.  It's no match. And you could say well its different story because it gaped up last 1/3/13 and yea sure you are right but look at the volume activity last two weeks. Without fuel it ain't going to break that strong downtrend resistance along with the recent horizontal resistance. With weak volume, bulls are bluffing today right beneath the long term downtrend line so I propose.
My Bearish Case
100SMA and 200SMA has been crossed ("death cross") meaning the long term trend might be shifting here
Long-term downtrend line has been working as resistance recently and the Bulls weren't able to push above
Horizontal resistance is teaming up with long term downtrend resistance to keep the bulls in check (today)
Decreasing volume since the huge gap up
We gap down this week, we get ourselves a Island Reversal top
Bullish Signal 
We do have weekly bullish divergence in effect
Very risky bearish trade as it could have another gap up tomorrow
This sandwhich pattern could be a bullish continuation formation
If Rolls Over, Targets
[divider]
1.17.13 Thursday 11:48AM CT
[divider]
I've Been Exposed and Got Stopped Out @ $58.18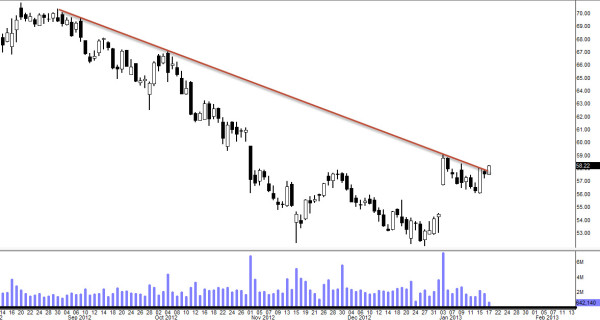 [divider]
1.18.13 Friday
[divider]
Entered Long 20mins Before Close @ $57.85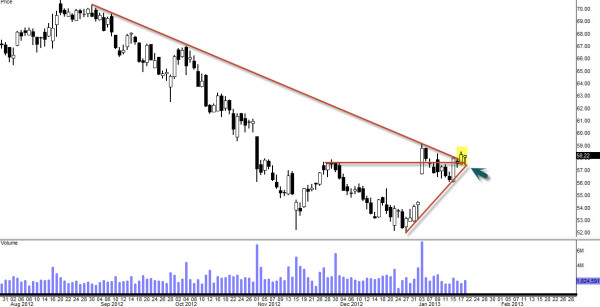 Ok so I switched side just about 20mins before close and here are the reasons why I went long looking at this daily chart.
Seems like the recent uptrend support is holding up
Horizontal support also seems like holding up
Cleared (not fully confirmed) long term downtrend resistance for now
But I had other reasons that I went long looking at the weekly chart below as I have mentioned some bullish signal on this previous updates.
(Weekly Chart)
Weekly bullish divergence confirmed on Stoch, RSI, and MFI
MACD Bullish Cross (not confirmed yet)
Last two weeks candle=Possible Stair-Step continuation pattern
So I decided to pull the trigger and went long today with some Feb. Calls.   One thing that worries me is that we are not completely out of that long term downtrend radius because it is a strong resistance.  Need to confirm early next week to see if it can have some follow through to the upside.
Will update more next week.
[divider]
1.23.13 Wednesday
[divider]
Still Holding Long Positions
10EMA (blue) has been great last 5-6 trading days as you can see it has been a great support however today we are running into a recent resistance (red line).   Few things could happen here tomorrow. We can retrace down to test that 10EMA or could push through.  $ROST did build some bullish momentum here but overall volume has not been great (it's not bad) so let's see if we can have some volume spike with bullish move tomorrow.
[divider]
1.24.13 Thursday
[divider]
Gaped Up and Strong Bullish Move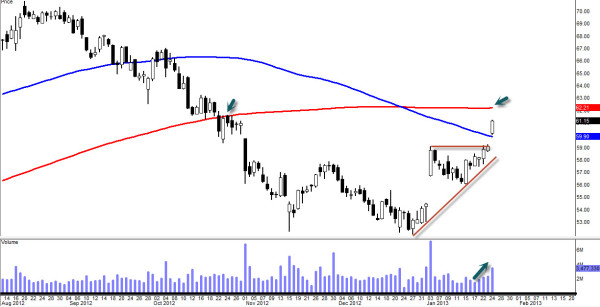 We gaped up and now trading above 100SMA (blue) which is a very good sign.  Also volume has been increasing which is a good sign for this bullish trend that it's not a bubble but has been supported by volume.   Next possible resistance might be the 200SMA (red) where it was served as short term resistance (see arrow) before.  Overall, great move today and I am still holding full bullish positions since the 18th.
[divider]
1.28.13 Monday
[divider]
Bearish Reversal/Tightened My Stop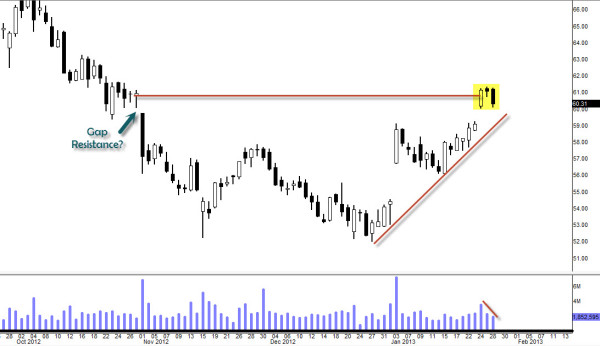 Well we have what possibly could turn into deadly reversal here.
Currently formed Mini Tower Reversal (long candle, spinning top, long bearish candle)

If we gap down tomorrow, that would be a Island Reversal (strongest in candle formations)
We do have falling volume last three days so I am not sure what kind of potency it is carrying but sure looks like reversal signal.  My stop has been tightened and I am just hoping that we could slow down with a doji or spinning top tomorrow without a gap down.   Still holding full bearish positions and depending on tomorrow's action, it might come to an end.
[divider]
1.30.13 Wednesday
[divider]
Barely Hanging On/Still in Positions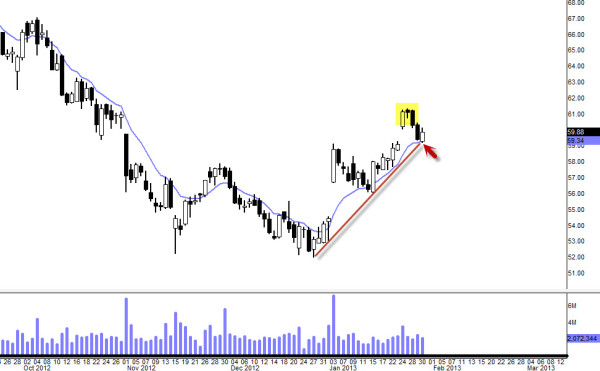 10EMA and the recent uptrend support have been working as support here (for now).  By looking at today's candle, I am not sure if we are going to get up tomorrow though it is Bullish Belt-hold reversal candle (today) pattern (but its weak, better than nothing I guess). So we will need to see some follow through tomorrow or we might be rolling over here or at least retrace down to possibly 50EMA level or $56.50 vicinity.  Still holding long positions and will see how it plays out tomorrow.
[divider]
2.1.13 Friday
[divider]
Trouble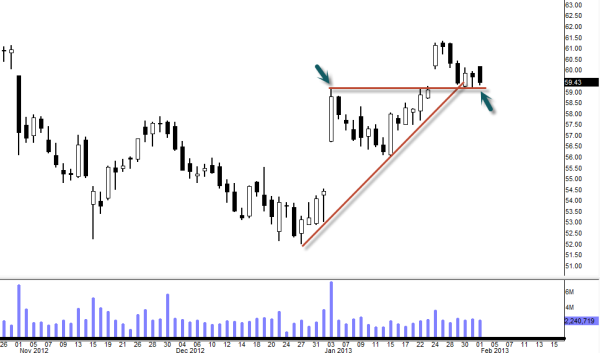 The Bad: Uptrend support has been compromised and it no longer holds any value
The Good: Horizontal resistance is now working as support.
Currently it is also sitting on 10EMA as well so if this support is broken, I will get stopped out and its probably headed down to 50EMA level.   Let's see if we can find some strength but Friday's long bearish candle does look pretty strong.
[divider]
2.4.13 Monday
[divider]
Stopped Out @ $59.02 with some Gain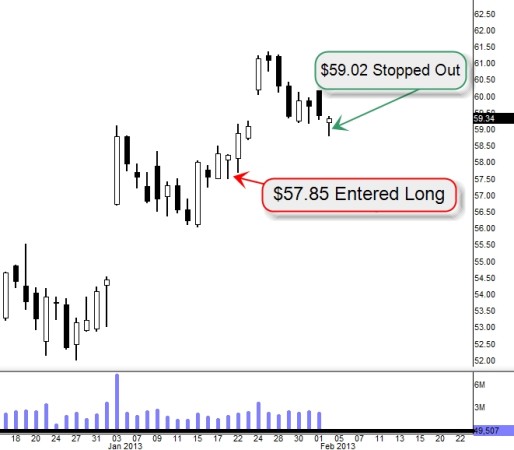 I have no plan to re-enter at this point.