[divider]
1.11.13 Friday 9:36AM CT
[divider]
I am Shorting (Puts) @ $20.29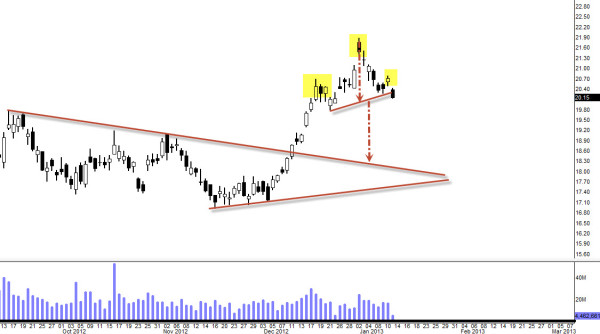 Close below $20.10 will give bears more leverage entering next week.
Head and Shoulders reversal projected target: $18.40
After Close
$VALE did NOT close below $20.10 (20EMA) and now sitting above 20EMA. This could be a problem going into next week.  Possible to fill the upside gap at $20.60 and test that as new resistance.    I am bearish as long as it does not breach the peak of the right shoulder which is $20.75 (my current stop).
[divider]
1.14.13 Monday 12:03PM CT
[divider]
20EMA Acting as Resistance
(20EMA-Blue| 50EMA-Pink)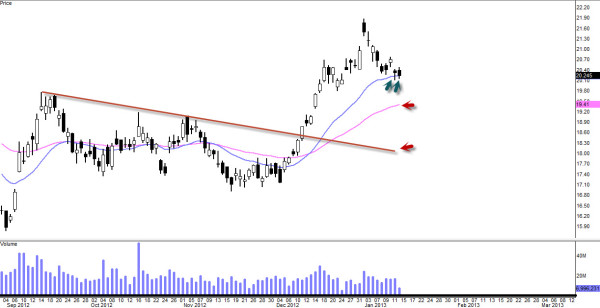 Currently 20EMA is acting as resistance as it did yesterday.  Bears need to close below 20EMA today or else it's going to become tougher to break as the days go by. If or when we break below 20EMA, next stop would be at around $19.41 where 50EMA is residing.   After that, the ultimate H&S projected target at $18.40.   20EMA must be broken next few days.
[divider]
1.17.13 Thursday
[divider]
Still Holding Bearish Positions
(20EMA (blue) | 50EMA (pink))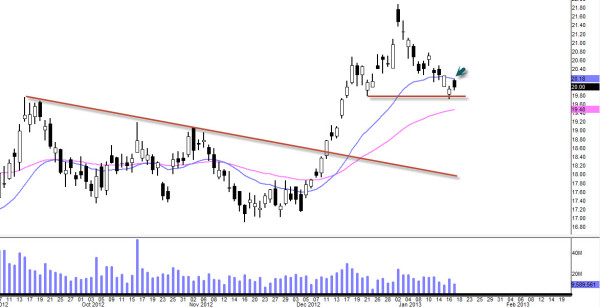 (20EMA-Blue | 50EMA-Pink)
We had small pop this morning after finding some support at $19.80ish but looks like 20EMA (see arrow) has been acting as resistance at least for today. Tomorrow, bulls will try to break that 20EMA to the upside and if that's broken, next resistance is Monday's high which is where my stop is at currently.
I am hoping that we would break that $19.80 support tomorrow or Monday and head to check that 50EMA and once we get there I think it will wants to fill the gap at $19 level which is not too far from my bearish target.
[divider]
1.23.13 Wednesday
[divider]
10/20EMA Working as Resistance
(10EMA (blue) | 20EMA (light green))
Because H&S pattern isn't clear, I can't really pin point true neckline but I kind of guessed it with that red line resistance thinking maybe recent run up was the neckline testing. My stop is currently just above 10EMA (blue) and currently 10EMA and 20EMA (light green) are acting as resistance.  Volume has been decreasing last two weeks or so looking at it overall sense. $19.78 is the current support and I'm hoping we can close below that level tomorrow.
[divider]
1.25.13 Friday
[divider]
Still Holding Bearish Positions
(50EMA (pink))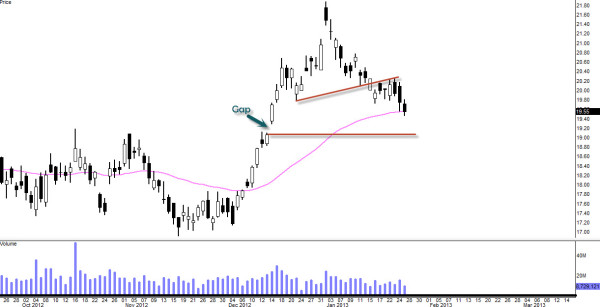 Continue to fade here and now just sitting on 50EMA (pink).  If we can clear 50EMA next week, next target would be at $19.09 which is the gap support area and also 200SMA is residing in that vicinity so I would watch carefully on that price level (double confirmation, double the potency). Quickly checked daily Oscillators and Stoch and RSI are now at overbought status but MACD still has lot of room to go to the downside.  All in all, I will assume trend (bearish) is in effect until it gives me definite signal of reversal (Dow Theory). Will update more next week.
[divider]
1.28.13 Monday
[divider]
Next Task: Fill the Gap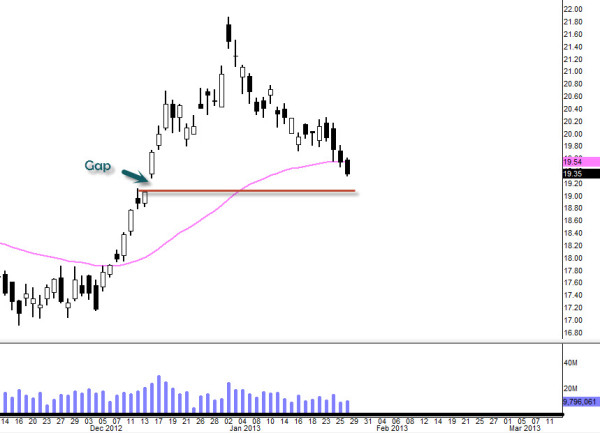 Still holding full bearish positions since 1/11/13. Today we closed below 50EMA (pink) and its on its way to fill the gap at $19.00 possibly tomorrow. We've had 4 straight trading days of bearishness so I do think we are going to find some support at the gap area after filling it. The question is how much will it bounce from that level.  My guess is that it might come back up to test that 50EMA as new resistance or even back up to $19.80 but as of now I wouldn't know until more data has been given.  Great bearish trading so far.
 Weekly Chart Concern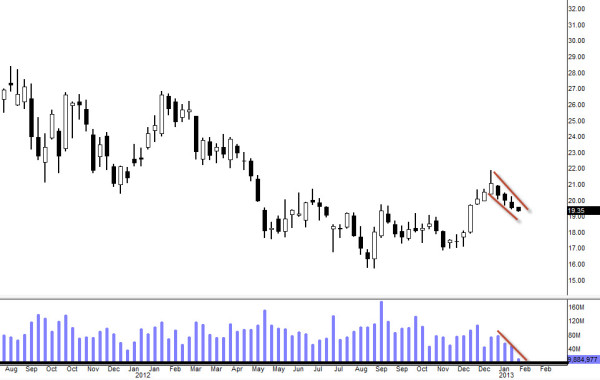 Looks like a bullish flag. Volume has been decreasing very considerably. I might be closing my bearish positions before end of the week and enter long if the opportunity presents itself.
[divider]
1.29.13 Tuesday
[divider]
Stopped Out @ $19.65 with Profit
Over 2 weeks of swing trading ended today with gain.  I will think about going long once it clears or close above 10EMA this week.