Last Update: 2.26.13
---
1.11.13 Wednesday
(Daily Chart | 200SMA-Red)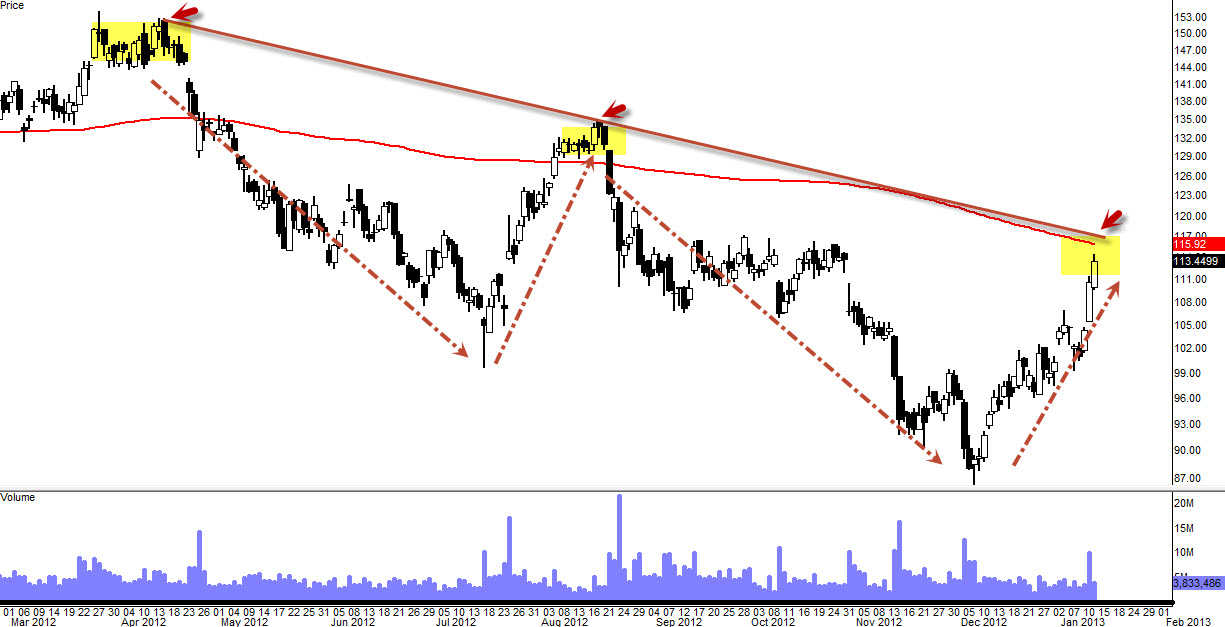 As the of title of this post acknowledges my intentions which is suspecting possible outcome because you must understand one of the Dow theory.  "Trend is assumed in effect until it gives us definite signal of reversal" and as of now, we do not have any definite signal of reversal. So I must assumed that the trend is still in effect.
Red downtrend line (see arrows) has NOT been established (rule: two peaks to draw downtrend line and three peaks to confirm the trend line).  We only have two peaks right now and the 3rd peak has not been established because $BIDU can and could continue to go up higher thus piercing through this suspected trend line. But that downtrend line has holding some value because it is traveling with 200SMA (red)
Here is why this could be alarming
If or when this trend line sustains/holds and $BIDU starts to roll over, we are talking long term downtrend in effect making lower highs in a big scale (see long arrows).
This downtrend line is traveling together with 200SMA (red) and that is a double confirmation that the downtrend line is holding some value here and should be accounted for more than general sense
If this is all true and plays out, we are looking at massive downturn target to $76 which at some point of time, I will be entering bearish positions. (Not today though)
(Daily Oscillators | Stoch, RSI, MACD, MFI)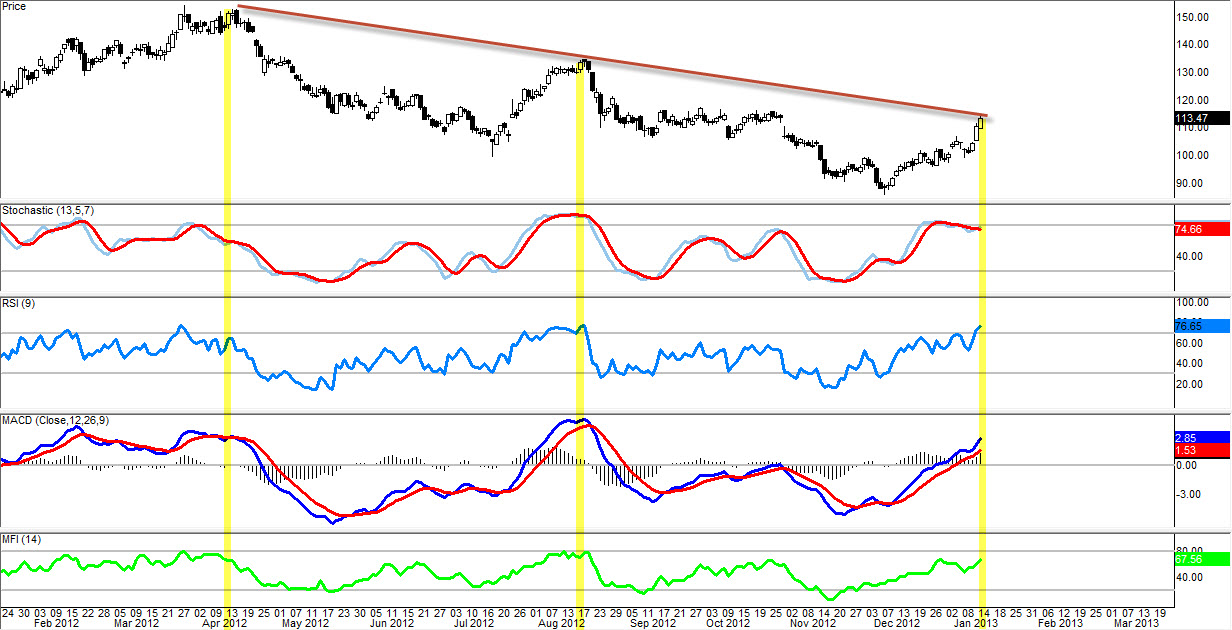 Most all of them are at overbought territory except MACD.  MACD still has some room to go higher.
*Note: Just because these oscillators are at overbought or oversold status, it does NOT mean it has to roll over or bounce. Never trade off of the oscillators and only should be used as a gauge like a RPM gauge in your car.
Target Price of $76
(Daily Chart)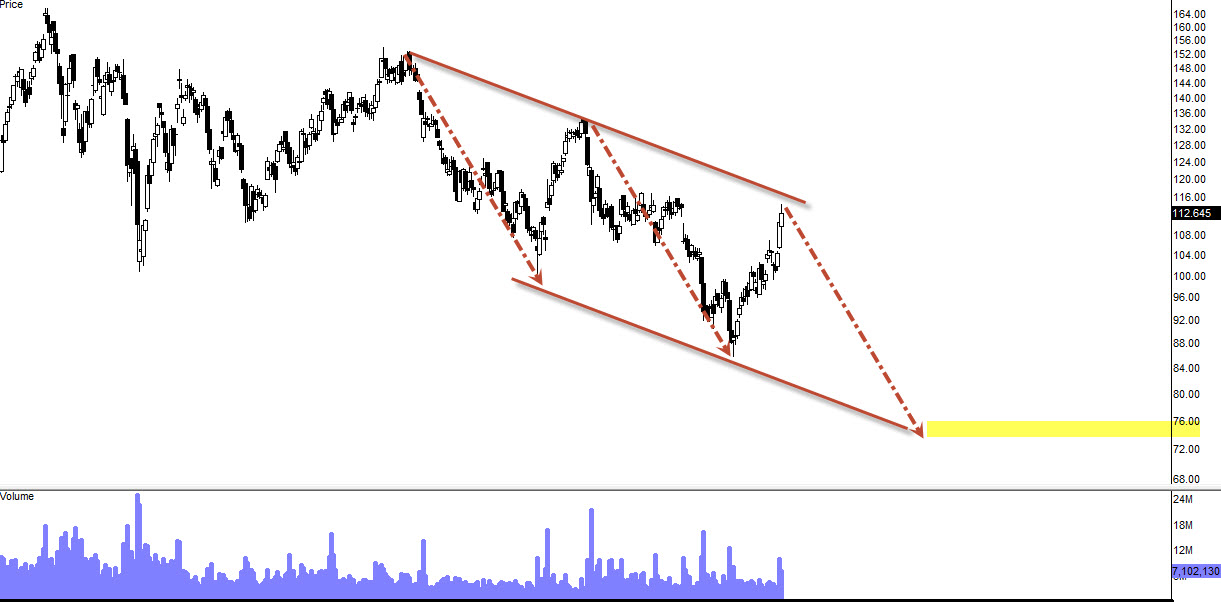 They are the exact same size of parallel lines and exact same size arrows as you can see on this chart.
If it rolls over, my target is at around $76 in about 3-4 months.
Side note: $76 is actually a major support from late August of 2010 so when or if it rolls over, it makes sense that$76 possibly could act as support to slow the bears down.
---
2.5.13 Tuesday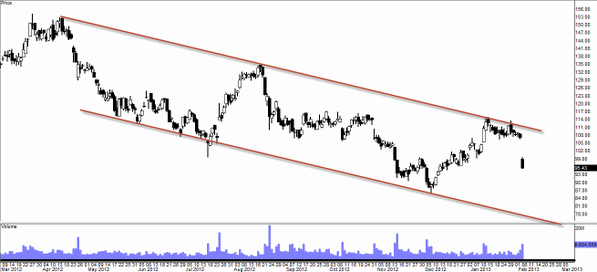 ---
2.15.13 Friday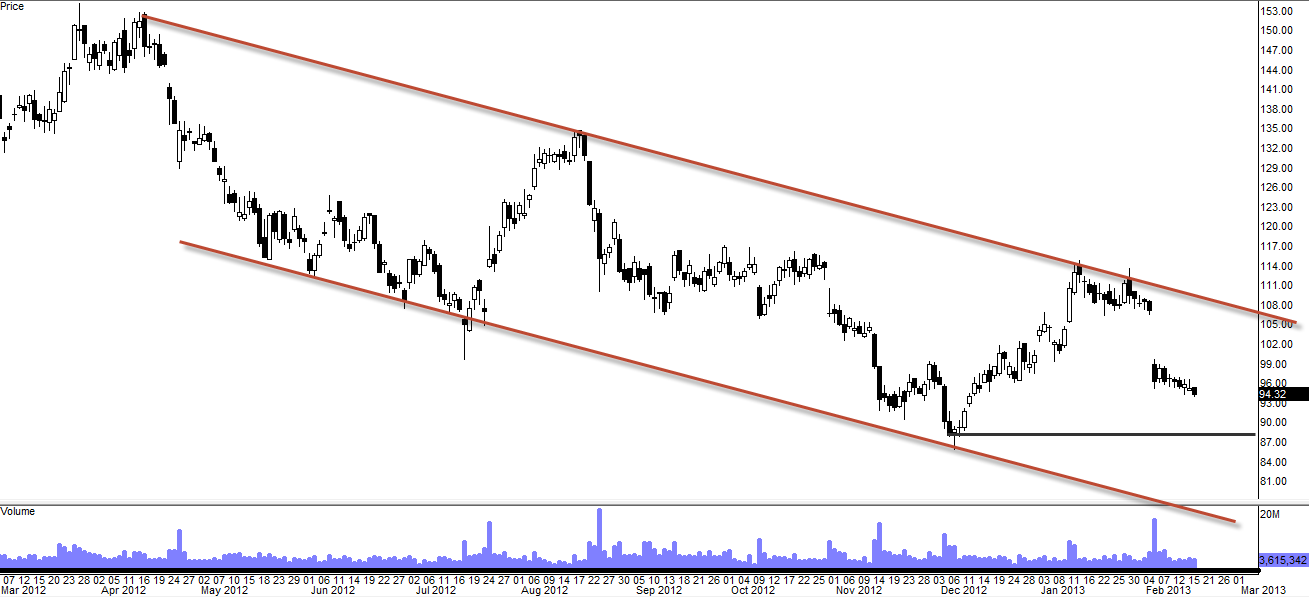 ---
2.20.13 Wednesday
---
2.26.13 Tuesday
All out of my PUTS with nice gain