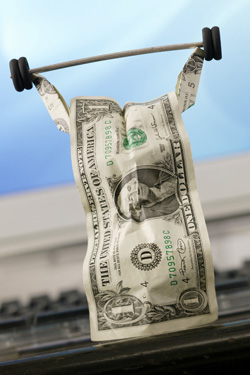 [divider]
12.30.12 Sunday | Weekly Chart
[divider]
Bullish Divergences
(Weekly chart | Stoch, RSI, MACD, MFI)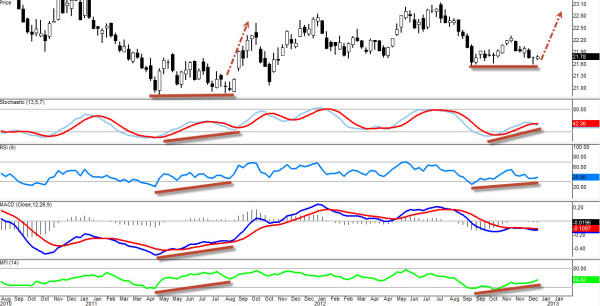 History repeats itself?   Too bad MACD isn't on this one like last time but other three indicators are still screaming divergence. here.
(Weekly Chart | ADX (DMI))

It's actually pretty rare to see ADX is forming any kind of divergences.  If you look at this chart closely, whenever $UUP moves bullish ADX indicator likes the trend however when $UUP moves bearish $ADX either turns down or go flat.  So it likes the uptrend strength here but it does not like the downtrend strength and from that indication we now have this weekly BULLISH divergence formed on this indicator.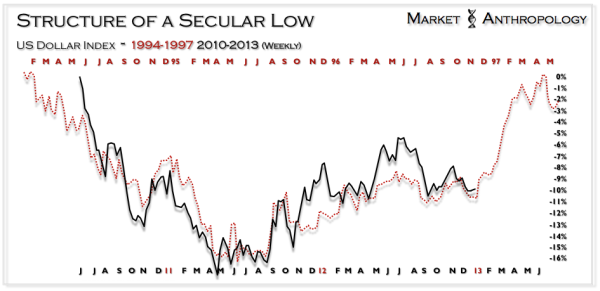 Chart from MarketAnthropology
[divider]
1.24.13 Thursday | Weekly Chart
[divider]
When Double Bottom Occurs while Volume Dissipates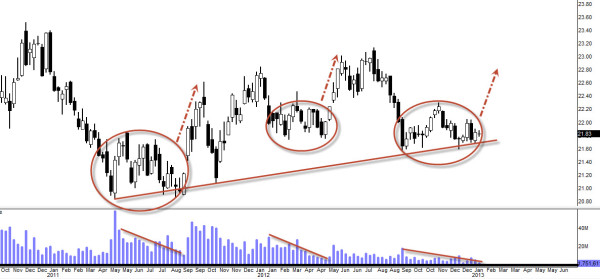 So for the confirmation of bullish thrust will be a bullish run with volume spike.
[divider]
2.17.13 Sunday | Weekly Chart
[divider]
Stoch and RSI, Now Confirmed Positive Divergence