[divider]
12.28.12 Friday 1:38PM CT
[divider]
Watch 100SMA (blue) & 200SMA (pink)
(Daily Chart)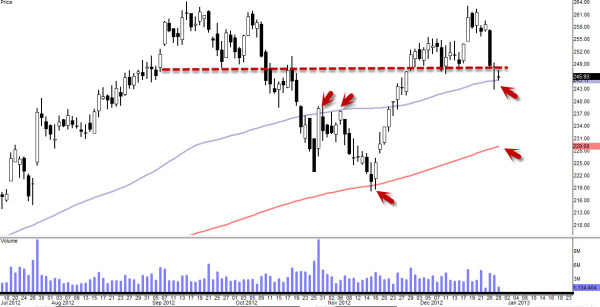 Break below 100SMA ($242ish) with convincing bearish candle could lead to a nice swing trade down to 200SMA which is $230ish.  Watch for possible bounce to the upside here on 100SMA and possibly for the right shoulder if it's forming a Head and Shoulders reversal.
(Daily Oscillators)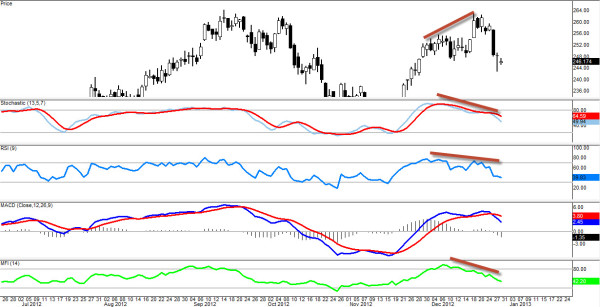 Stoch, RSI and MFI didn't really like the recent uptrend move thus showing bearish divergences.  MACD is continue to show a sell signal.
Aggressive Play  
Jump in bearish today or Monday and put tight stop just above that pivot level (red dotted line) at around $249-$250.
Conservative Play
Wait until it closes below 100SMA ($242-$240) with convincing bearish candle piercing through it and then put bearish trigger just below LOD.
Target
$230 where 200SMA is hanging out
[divider]
1.1.13 Tuesday
[divider]
Weekly Oscillators Study
(Weekly Chart | Stoch, RSI, MACD, MFI)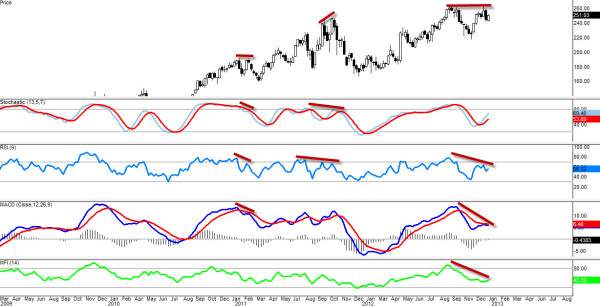 We already got some daily chart bearish divergences going on and on top of that we have confirmed bearish divergences on the weekly chart here.
These Bearish Divergences did NOT cause $AMZN to roll over completely but it made $AMZN to come down to certain degree and looking at this weekly chart, I am anticipating some retracement down to $220-$200 vicinity (possibly this week or next).  I will be watching it closely this week for possible short entry.