[divider]
12.27.12 Thursday 11:25AM CT
[divider]
Watch 100SMA
(Daily Chart, 100SMA-Blue Line)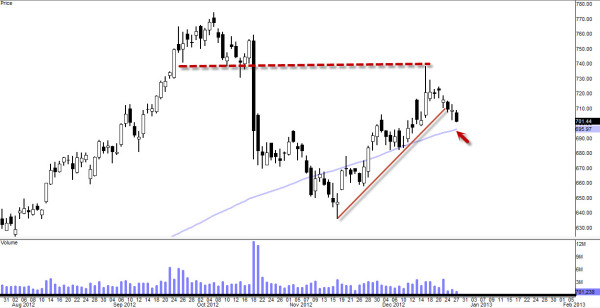 Broke recent uptrend support and now starting to roll over here. We would need to watch 100SMA (see arrow) and see if we can break that as well as it has been served as support 12/10.  If we can break below that 100SMA, I can see $GOOG rolling over to $655 vicinity to fill the gap but we would have to watch for 200SMA at $655 level which could act as support.
(Daily Oscillators)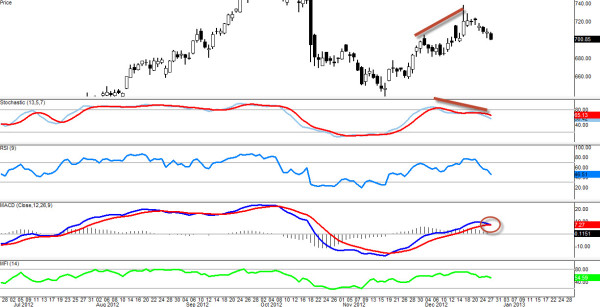 We do have Bearish Divergence on Stoch but only on the Stoch so the potency really isn't there but something to note of. Also we have sell signal starting to play out on MACD and others are losing some bullish momentum.
I think it's still early to tell if it's going to completely roll over but I do think 100SMA holds the key tomorrow or next week. If we can close below 100SMA with convincing bearish candle, I think the next stop would be at around $655.  I want you to take a look at this candle formation on the weekly.
Weekly Shooting Stars Could Be Dangerous
(Weekly Chart)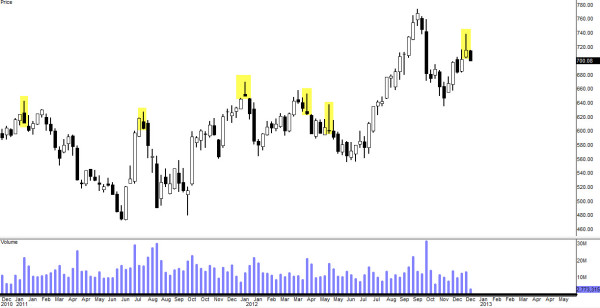 "The Power of the Shooting Stars"
It seems like $GOOG is not so immune to Shooting Star candle formations as we can see it on this weekly chart.  After a Shooting Star reversal, it often turns into a intermediate bearish trend.  Let's see if it plays out again.  I will update more later.