[divider]
12.20.12 Thursday
[divider]
$100-$105 Is Pivotal Level Of Resistance
(Daily Chart-Updated 12/28)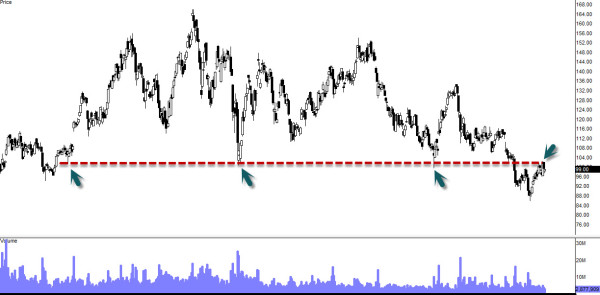 I am currently holding Put Options I bought on Thursday at open at around $100.80 and I am going to explain to you why I did what I did.   I've been trading here and there shorting this stock  just a little bit because with recent downtrend move we've had since early November. However I was not convinced that it was going to continue to tank without any kind of major pull back.  And I believe that's what we saw last two weeks. A major pull back to the upside.  So I waited for the perfect opportunity and I was eyeing on $100 level thinking that I would love to short at that level for bearish swing/position trend trading.
$100 has been a major support as you can see and now it's becoming a new resistance.  We don't have any signs of reversal yet and if anything one might consider as still very bullish looking at the chart.  My triggers are usually very aggressive like this one but that's just how I like to trade (for safer bearish trade, wait for the confirmation of reversal from $100 resistance and then get in bearish).  It's possible tomorrow and next week we can continue bullish and stops me out and if I get stopped out, I will wait until $105 area and see if that's going to act as resistance. Nonetheless $100-$105 is going to act as very strong resistance (old support).  And if the resistance holds true, it will roll over and when it does roll over after a pull back, it will roll over HARD.
(Daily Chart, 50EMA)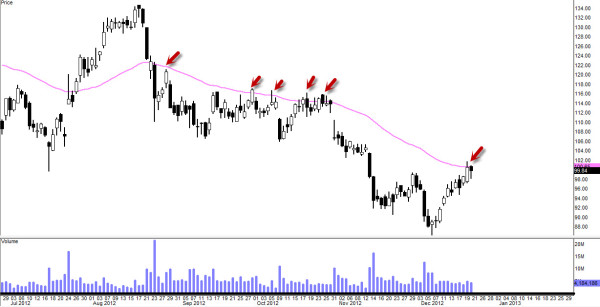 Remember in technical analysis double confirmation is always appreciated and potency of the argument increases.  So we just talked about $100 level being very important resistance level and now in this $100 level what do we have coinciding?  50EMA.   50EMA has been served as strong resistance for about 4 months which means $BIDU respects 50EMA.  Let'see how it plays out today and next week. I will update more then.
[divider]
12.26.12 Wednesday 12:25AM CT
[divider]
CAUTION: Inverted Head and Shoulders Possible
(Daily Chart, 50EMA)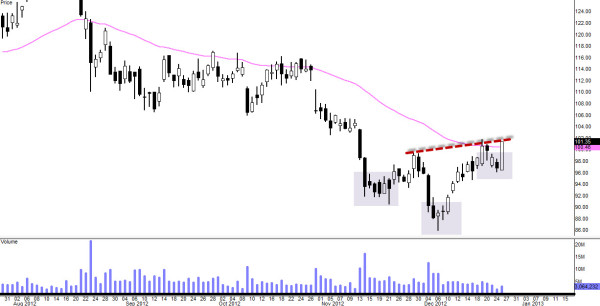 We close above that neckline and 50EMA this week, all bets are off for bearish trade and probably good idea to start thinking about getting with some bullish trade after H&S confirmation. Looking mighty strong today however if the neckline holds this week, bearish trend could continue.  Must close above the neckline for the confirmation of the Inverted Head and Shoulders bullish reversal pattern.