[divider]
Previous $QQQ Analysis "If It's Going To Crack, It Has To Be here"
Overall Market Analysis "Market Crash Warning Signs For 2013"
[divider]
12.20.12 Thursday
Entered Bearish This Morning @ $66.35
(Daily Chart, 100SMA)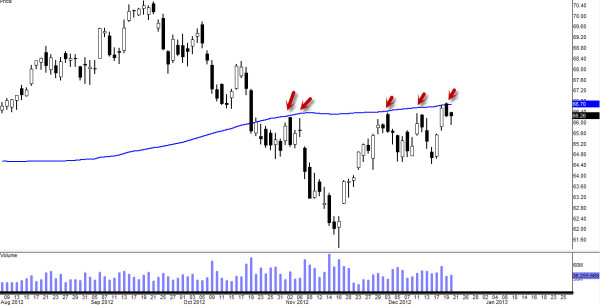 So wow people are really going crazy right now about the Market Index Futures tanking! I guess I am glad that I have many Bearish positions that I entered last few days including heavy bearish positions on AAPL. As I have tweeted this morning, I got some Put Options at open on $QQQ and it was some what my stubbornness kicking in.
It has been very hectic try to short $QQQ because as you can see it's been making triple tops last 2-3 weeks.   And every time it touched 100SMA (blue line), I shorted and then several days later, I get stopped out.  Do it again and then I get stopped out. So yesterday I didn't jump in with bearish positions because I was kind of getting tired of getting stopped out. I mean I was still making little bit of gain but as a swing trader that irritates me since my target was $63 and I don't day-trade.
So yesterday I didn't get in bearish because we had huge bullish days Monday and Tuesday so I figure it was just a retracement of some sort.  But I thought to myself yesterday, "well $QQQ is still trading below 100SMA so tomorrow if it trades below today's low, I am getting back in!"  <– again my stubbornness kick in. Well it looks like it was a good call knowing that Future indexes are tanking pretty badly right now so I guess it was worth a shot.  I did get little worried when market bounced towards to the end of the day and took back of the losses.  If this triple tops is confirmed (by closing below $64-$64.40 level), we are looking at $62 and $60 next near term targets.
[divider]
[divider]
12.21.12 Friday
Island Reversal
(Daily Chart, 100SMA)
12/18 gap up and today gap down created a Island Reversal pattern just underneath the 100SMA here. This is one of the strongest reversal pattern (in candle stick formations), I don't think we are going to see any huge moves on Monday but keep an eye on that Island Reversal as it can be very dangerous sign.
11/23 gap up area is now acting as support ($64.50ish) which it has been served as very strong support last 2-3 weeks.  Bears are not going anywhere unless that support is broken sometime next week otherwise Bulls will try again to soar and to break 100SMA.
Weapon of Choice for Both Parties
Bulls Weapons
Primary trend (long term) is bullish
$64.50 gap area has been served as strong support
December seasonal rally at it's favor
Bears Weapons
Island Reversal has just formed today
100SMA has been served as strong resistance for two months
Well let's find out next week who's going to win this battle.
[divider]
[divider]
12.26.12 Wednesday
Weekly Head And Shoulders Reversal
(Weekly Chart)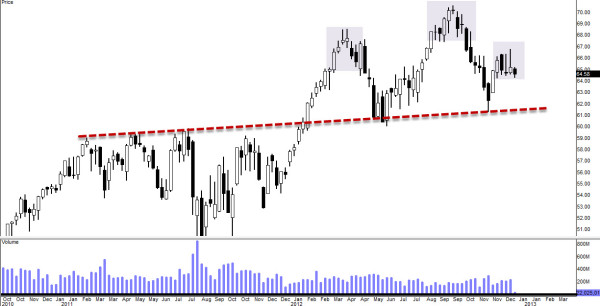 Looks like we are building that right shoulder on this weekly chart as we have long upper wicks last 2-3 weeks of shooting star candles. Definitely price rejections in that vicinity.   Neckline must hold for this H&S pattern to NOT play out however in the event that the neckline is breached with strong bearish candle piercing through it, we are looking at a major bearish reversal on $QQQ.
If H&S confirmed, next target is at around $50
[divider]
[divider]
12.27.12 Thursday 9:24AM CT
Breaking Down, Next Target $61ish
(Daily Chart)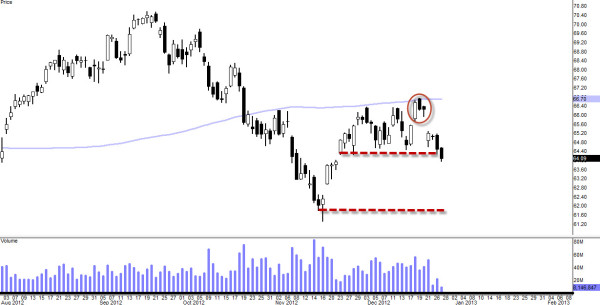 Breaking down recent support of $64.40 after forming a Bearish Island Reversal which has been lured in by 100SMA resistance. if we close below that recent support level today, we are looking at further bearishness coming into $QQQ.  Filling the both gaps to the downside wouldn't be a huge problem but probably will see some slow down at around $61 level as it probably will act as pretty strong support.
[divider]
[divider]
12.31.12 Monday
Keep the Gap Open This Week, Bears Still in the Game
(Daily Chart | 100SMA (Blue))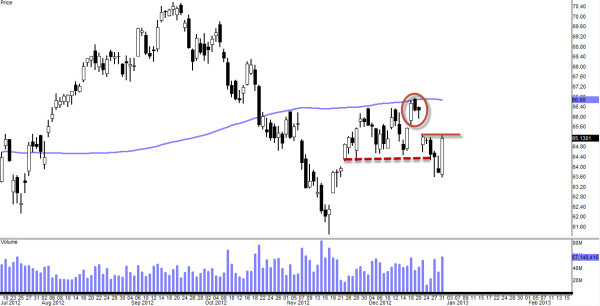 wha?!!?!?
Look at that candle today!  It's unreal.  We clearly broke Triple Top neckline and Bulls said, "F* that!" and just raged today with a big threat for the new years!
I am not here to admire bulls since I am still a bear holding my Put Options.  Here is what Bears need to do this week.   Island Reversal is the best weapon the Bears got.  We need to make sure Bulls do not fill the gap because if bulls fill the gap this week, there is no longer Island Reversal which means Bears got nothing to show for.  Keep the Bulls out of the gap area this week!  We do that, we are still in the game…
[divider]
[divider]
1.2.13
There Goes All My Gains Down The Drain
(Daily Chart | 100SMA (Blue))
*Ouch*
Well I guess unthinkable do and can happen in the market.  Drained all my gains this morning and lost some at open.  Looks like we are heading to $68.30 which is next resistance.  Very news driven market with high volatility blowing through these pivot areas.