[divider]
[divider]
12.20.12 Thursday
Entered Bearish @ $528.72
(Daily Chart, 10EMA)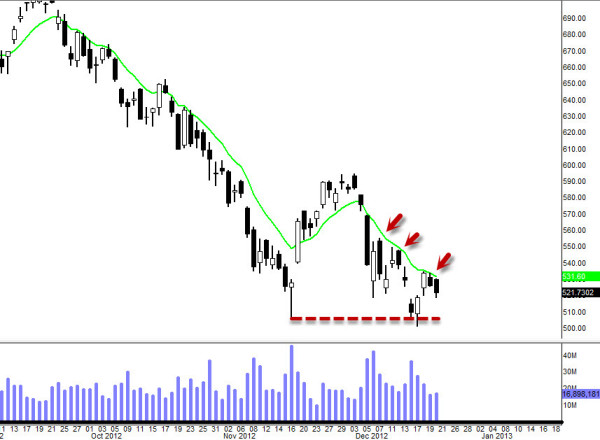 Entered bearish just little bit after open this morning with Feb. Put Options.  I believe if we can break that $500 level with strong bearish candle piercing through it, we are going to see all hell break lose on $AAPL. Like I've talked about on my previous article that the possible out come when the weekly Head and Shoulders pattern is confirmed, it could get very ugly but sweet to those whom are shorting.   But then again $500 must be broken for that to happen.
Currently though, the tricky part is we have Bullish Divergence in the making. RSI has been confirmed but Stoch and MACD is still waiting to be confirmed.  And I do believe if the Divergences get confirmed, we are probably going to see some sizable bounce to the upside.   So then was my bearish entry today little premature?  Well I think so.  Probably would've been safer if I waited for the break confirmation of $510-$500 area and then getting in with bearish positions.  But I thought well I want to get in early so I can get in front row seat if this downside ride is going to happen soon here.  Also until the break of $500 support, my stop will be very tight which is just above that 10EMA.  10EMA han been excellent last few weeks working as resistance for this stock and so it's great place to put a stop is just above that level.
Bulls are losing momentum from their two days of bullish run and yet again it looks like its starting to roll over.  If you take a look at last three days of candles and compare them with candles from 11th and 12th, they are identical.  Let me explain how.What if we put last Tuesday and Wednesday's (18th and 19th) candles and combine them as a one candle what would we get?   We would get exact same candle as the 11th candle which is skinny spinning top or "almost" Doji type of candle. And Today's candle looks exactly same as the 12th candle. So we are seeing almost a Deja Vu of what happened on the 11th and 12th.  So my forecast is that we probably going to continue to travel lower next few days as it did back in 13th and 14th.  I will update more either tomorrow or next week.
[divider]
[divider]
12.26.12 Wednesday 1:11PM CT
Waiting For It To Break
(Daily Chart-Updated 12/28)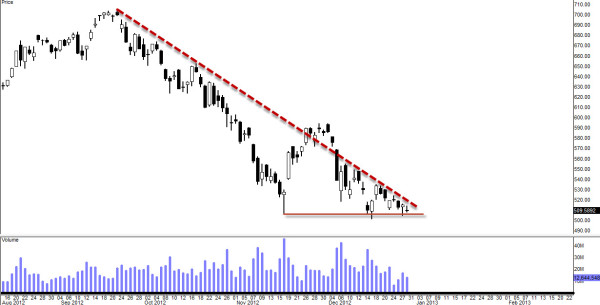 $500 very important support that must hold if you are a bull and this wedge pattern is waiting to be broken by breaking out. Usually these triangle/wedge patterns are 60% resolved in the direction of preceding move so I am actually anticipating the break-out to the downside.  Breaking and closing below $500 level with high volume would be very much bearish on $AAPL. Low volume has been a confirmation that we are not in any trend but a consolidation and on the break-out (upside or downside) we would want to see a volume spike that would support the move.
Weekly Line-Chart Perspective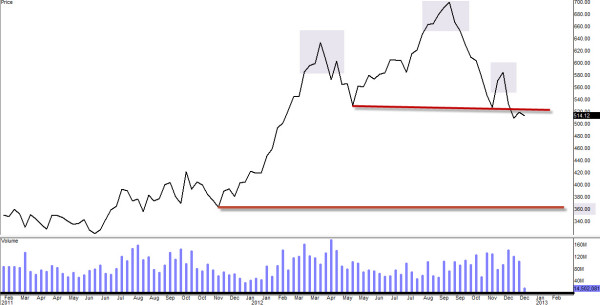 [divider]
[divider]
12.31.12 Monday
Got Stopped Out @ $527.72
(Daily Chart | 20EMA (Light Blue), 50EMA (Pink))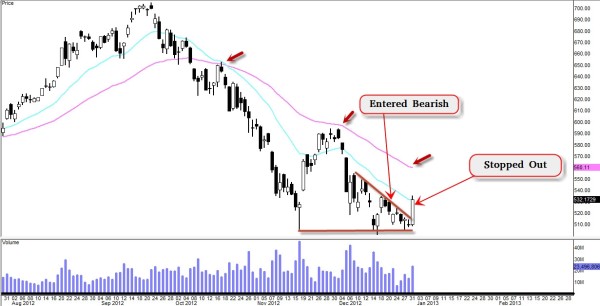 Wow nice break out here for the Bulls!
I got stopped out this morning and even though I broke even on the chart but with Options, still losing trade for me in Options value.
Well I almost jumped in bullish today but I decided not to because we have not yet broken 20EMA. We just kind of stopped just below that area and also seeing that 50EMA has been acting as VERY strong resistance last 3-4 months, I don't think I am going to place any bullish trades until I see some major bullish reversal here.
I mean we've had large break-outs like this recently and they all kind of turned out to be really nothing.  In other words, we truly haven't had major trend changing bullish action yet.   I mean late November with hammer and the gap up with huge bullish run and  yet it rolled over like nothing.. So I guess I am skeptical at this point to jump in bullish.  But looking good so far for the bulls.
We also have Bullish Divergence on the Oscillators so that's always a good sign.   Just watch that 50EMA. If we break above 50EMA with some convincing bullish action, I might think of getting in.
Well good luck Bulls and a Happy New YEAR!! ^___^