12.8.12 Saturday
[divider]
$DJIA (Dow Index)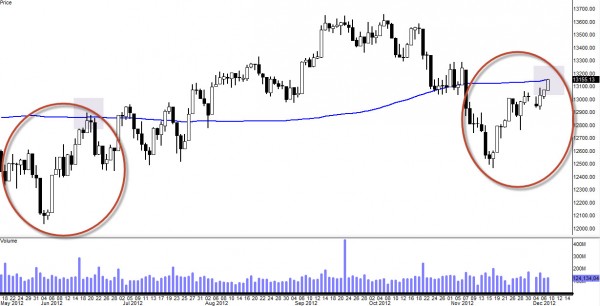 (100SMA – Blue)
I don't like using the term "has to" because nothing "has to" happen in the stock market.  Unthinkable can happen and happened time and time again so I like using the term "warning signs" that the certain move "could" happen.  They don't have to but it "could" happen.
So here is the warning sign flaring on my chart.
We've been in this great bullish move since the Thanksgiving Holidays and it continued very strongly making many investors very happy towards to the Christmas and a New Year.   However we all know that the stocks don't USUALLY go straight up so we are looking at some cautionary signs that we might be looking at some pull back here next week and it could be sharp pull back.
Take a closer look at that 100SMA.  Last June, we had very similar price action as to today's.  Early June, Dow Jones found some support and rallied but towards to the end of the month bulls met with 100SMA and retraced for about a week before continue it's bullish move. And possibly that same scenario "Could" happen.
Again we could just push through and continue bullish but I will be very cautious next week with my bullish positions as we might be seeing a bearish week next week.   Watch out for Doji or a Spinning top on Monday after close. If we close above the 100SMA with good looking candle, I think it's going to continue but if we see signs of slow down such as Doji or Spinning top, I would be VERY cautious on the following day.
How low will it go if it does retrace?  I would say 50% retracement from 11/16's low and 12/07's high which is about $12,800 level.
Working With Oscillators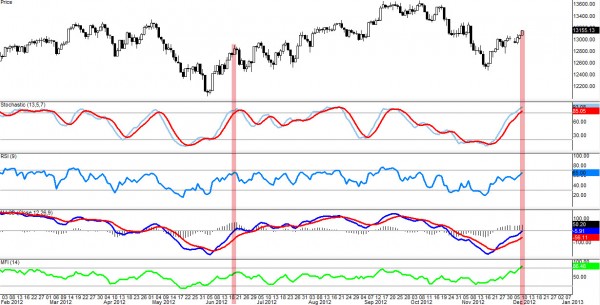 Last June, we hit 100SMA and when we hit 100SMA, these Oscillators were at overbought status and it pulled back pretty sharply.  And exact same pattern has occurred here as we have met with 100SMA, the Oscillators are at overbought status.  (I don't ever trade off of the Oscillators.  These are just the gauge for the condition but one should never trade off of the Oscillators.  Overbought does NOT mean the stock has to reverse. It could stay at overbought status as long as it wants.  Just look at your Oscillators on $AAPL. It stayed at Oversold status for a whole month last month.)
We don't have any data to assume that we are going to see a market reversal but I think we are going to see some retracement/pull back action from this bullish rally we've had last several weeks.
$COMPQ (NASDAQ Index)

NASDAQ is still struggling to break that H&S neckline resistance.
$SPX (S&P Index)
Same story here.