12.8.12 Saturday
Prison Break

When it comes to TV Shows, I am a late bloomer.  I always watch TV shows that has been ended for years.  I remember my friends telling me how good the Prison Break was many many years back but I never got into it until recently as I found full 80 episodes on $NFLX!
Primary reason I don't like to watch TV shows while its airing is because I don't like waiting for the next episode. You know how it always ends with the BIG QUESTION.   What's going to happen next??? and then you are kind of dumbfounded like a deer on a bright headlight knowing that you won't find out until next week.   I guess I hate that.  Anyway, I got into Prison Break last few weeks and I really like the story line and the characters.
So the BIG QUESTION for the next week is…
Is $CMG going to have Break-Out plan next week?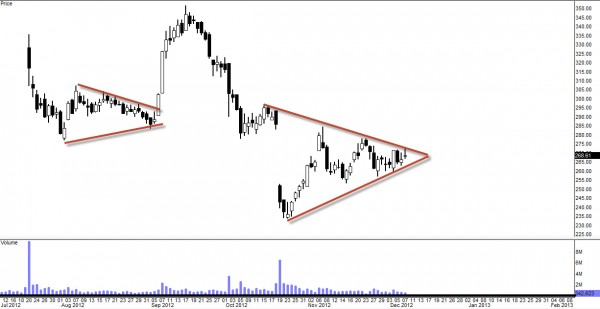 I don't trade $CMG or $NFLX on a regular basis but I do like to trade them for Break-Outs. They tend to have huge moves up or down when they break out and I like to ride that volatility.
So here you can see that we have been forming this symmetrical triangle pattern here.  This is great pattern for a break-out play because as you can see the volume is evaporating, the trading range is getting tighter and tighter.   And you know what?   Bollinger Bands are SQUEEZING. When they are squeezing, you know the pressure is getting HOT.

Take a look at that.  It's going to stay flat as it's going to come up with break-out plan as Scofield did for his brother on Prison Break.   And when it breaks, I want to make sure I am there to go along with a ride.  Maybe lots of money is there waiting for me outside world.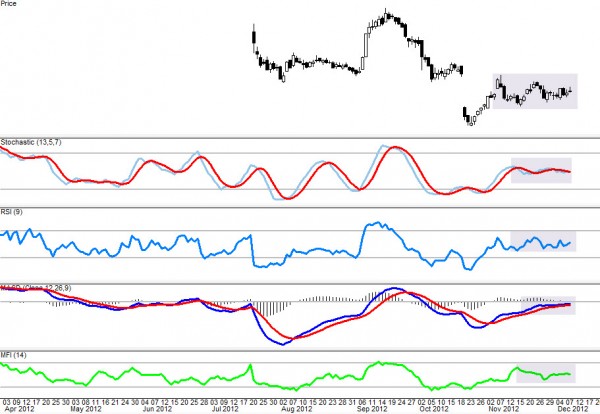 Reconfirming possible break-out, this is how.  You see all these Oscillators are at a neutral?  They are moving sideways and that's how you see momentum isn't in any direction because $CMG is digging the hole.  When it breaks-out, you will see these Oscillators moving in one direction WILDLY.
12.12.12 Wednesday
Taking A Detour?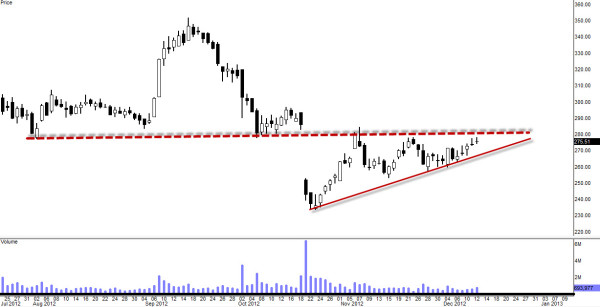 Looks like $280 has been acting as strong resistance last two days.  Today and yesterday, we closed with Doji with not much price action.  I do think if we break above $280, It probably will move pretty wildly. BBands still squeezing very tightly and the stock is just very slowly moving sideways.     Break-out plan is still intact but possibly needs some more time to re-evaluate things.  However it's possible we might consolidate more days before it breaks out.
Last 9/6/12, when this stock broke out very aggressively to the upside, it was the day when Dow Jones Index broke out to the upside as well. So I am wondering if it's waiting on Dow Index to make a move first so it can follow it.  The similar aspect of $CMG and $DJIA today is that, both are at it's very pivotal point.   If Dow starts to tank this week, I think possibly $CMG will follow but conversely if Dow breaks to the upside, $CMG likely to follow looking at the sentiment of how it broke out last September.
12.17.12 Monday
They Are Breaking Out!
(Entered bearish @ $285.75)

I entered bullish just about 30mins before close today.  And looks like they are finally breaking out and good timing as the market soars, $CMG also soars.  We also have confirmation through Bollinger Bands break (see arrows).
Be cautious because we are trading just below 100SMA and also volume is weak (compare to its move today).  We would really need some good volume spike to confirm the continuation tomorrow.
My target is around $330-$340 area.  Overall looking good for tomorrow.
12.18.12 Tuesday
Going As Planned But We Need…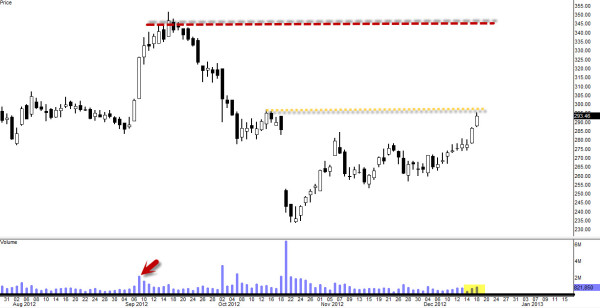 We do have a rising volume (yellow shaded) which is a good sign and that was one of the reason why I am still holding my Call Options here despite the fact that we are running into short-term resistance (yellow dotted line).
This is what needs to happen tomorrow. A HUGE spike of volume like you see on that red arrow on early September.  We don't get that tomorrow, we probably looking at some sharp pull back of some kind and since I am not trend trading but a break out trading, I will not want to hold through a pull back.
I will be watching very closely tomorrow and see how it behaves and if can get some more buyers through that short-term resistance area, I am willing to hold. Otherwise I will be out quick with my gains.
If however, we can get good spike of volume with price action to the upside, I am pretty confident that we could see $340 area and that area is going to be a major pivot.  200SMA is also residing in that vicinity so that would be my ultimate target.
Bollinger-Bands Trending
BBands continue to trumpeting out and $CMG is trading outside of the Bollinger-Bands.  This is good indication of Bollinger Bands break-out trend trading.  What we want to see next few days is for the bands to continue to separate and continue to develop trumpet formation (bands separating).  When the bands starts to come together, that's when trend is dying and the momentum is shifting.   Anyhow looking at this BBands, looks like the trend is going to continue tomorrow.
DMI also shows great strength really liking this move.  DMI is one of my favorite indicator I use when I want to check the strength of it's recent move and as you can see DMI really likes this move.
12.19.12 Wednesday
Losing Momentum, I Am Out
(Closed out @ $291.64)
What a drag… Possibly we could continue but I think we are losing momentum in this break-out play. I wasn't interested in trend trading on this one so I am out as I can see that the momentum has starting to decay.