12/1 Saturday
[divider]
$DJIA (Dow Jones Index)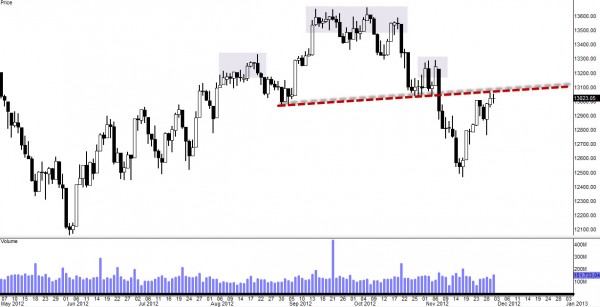 $SPX (S&P 500 Index)

$COMPQ (NASDAQ Index)

[divider]
[divider]
$MS-Neckline Testing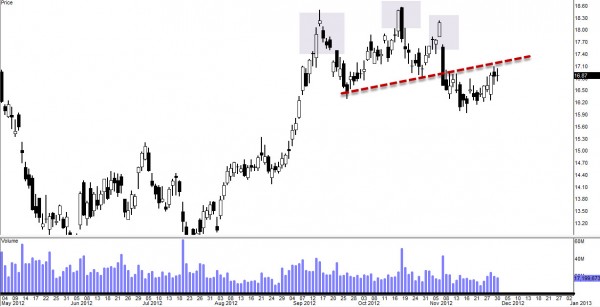 $GS-Forming Right Shoulder?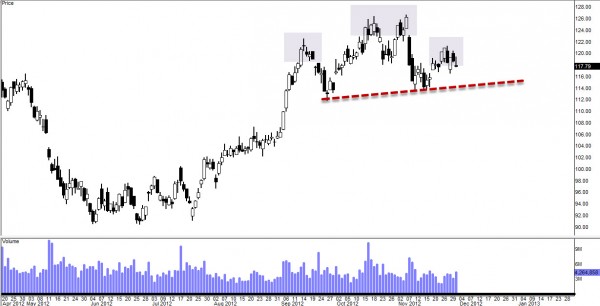 $JPM-Scenario 1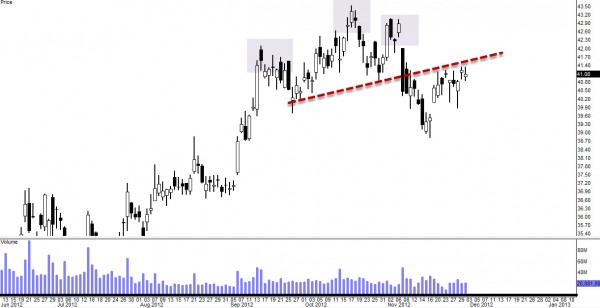 $JPM-Scenario 2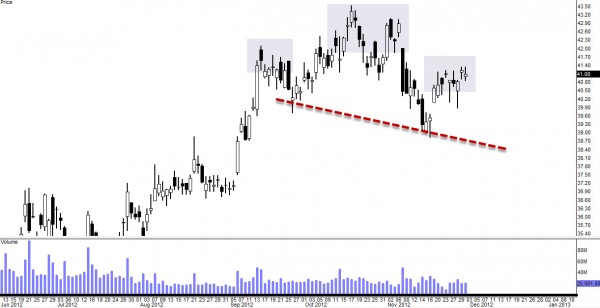 $FAS-Peculiar Looking H&S?
$C-Double Top Reversal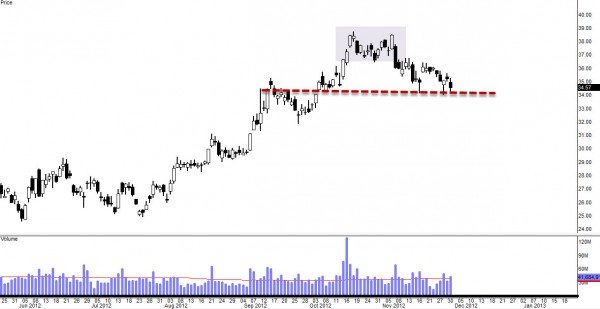 Double top neckline has not yet been compromised. Currently sitting on current support.
$BAC-Will Follow Other Banks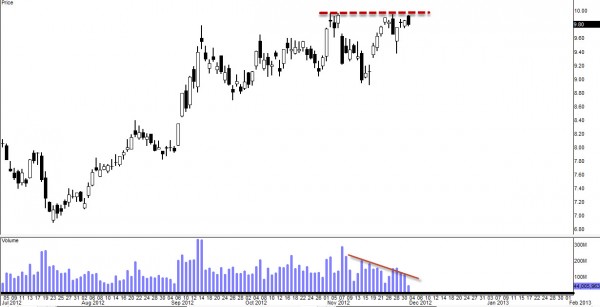 $10 is a major resistance. It has been holding strong for a whole month!  Very strong resistance and we all know that the more it hits it the stronger it becomes.   If the other banks fall, $BAC will follow for sure. Also it looks like forming a Double Top reversal like $C.
[divider]
[divider]
My Thoughts
This is one of those 'break it or make it' moment.
The market has been in this downtrend for about two months now and with that "Nov/Dec market rally theories" many are expecting bullish run until about January 2013 as we have seeing last 2-3 weeks of bullish run.  And hopefully that would be the case for many traders and investors whom are looking to profit from this Winter rally that they look forward to every year.
And please don't get me wrong. I am not here to spoil the party but as a Technical Analyst, I always have to look at the both sides for my clients, investors, followers and for my own trading account.  As my favorite Pastor used to say, "There are always two sides in the coin." (and he was talking in terms of Biblical studies) but I find it fascinating that the analogy works on everywhere in life.   Anyways, so here is my thought going into this week.
As I have been studying the market and the individual stocks last two weeks, I've been seeing some critical price level we are facing especially on financial sector.  Why financial sector is important with the market condition? Well usually the financials are the first to lead in the market before the sharp decline in the market indexes.   Just check your May 2012 price action on the Indexes and compare them with the financials. Financials were starting to form some sort of consolidation (some were already rolling over) on March 2012 but interestingly enough the Market Indexes were Bullish.  Then when the market proceeded to decline sharply on May 2012,  the financials continued with its bearish that had been started 1-2 months before the indexes.
Well for 2012 Oct decline, technology sector led the way and when I say technology sector I mean APPLE (This company is so big now that it took the whole market down with it!).  I know this because I traded APPLE heavily with bearish positions when the whole market was extremely bullish.
And now that the Market seems to be very bullish here after finding the "bottom" but as you can see the financials weren't following the Market Indexes.  They stayed put and consolidated the last 2-3 weeks.   That's very similar to what happened last March – May on the Indexes and the Financials.
Does same thing has to happen next few weeks?  Most certainly not.  We can just continue go on with bullish move and financials may gain some strength and break those Necklines.   No one truly knows where the market will go but we can only try to ascertain using PROBABILITIES and looking at the past charts and back-testing, I've found that we have high probabilities that the market will roll over next few weeks or at least a PULL BACK is imminent.
Bottom Line
Here is the bottom line. We break this Neckline to the upside and continue bullish, I would say that the bullish run will continue until January 2013.   However if the Neckline holds true and it rejects the price, I do believe that we are going to another huge dive in the whole market and probably big decline in the financial sector.
What If?
You see the theme here on Financials? First, they have all formed bearish reversal formations and we are talking 3 months of worth!   Second, they have been consolidating and we all know the longer the consolidation the bigger the fall.  So the big question is what if.  What if the market falls. What if market tanks next few weeks?  What would happen to the Banks?
They will TANK and TANK HARD.
[divider]
12/4 Tuesday
[divider]
$DIA-Strong Reversal Candles At The Neckline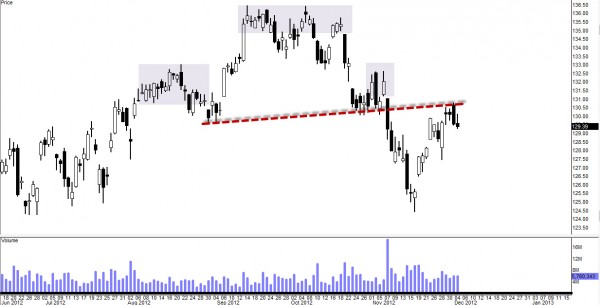 Last four trading days = Doji, Doji, Bearish Engulfing, Shooting Star.
All these candles are representing strong reversal coming on its way.
$QQQ-Reversal Candle At The 2nd Neckline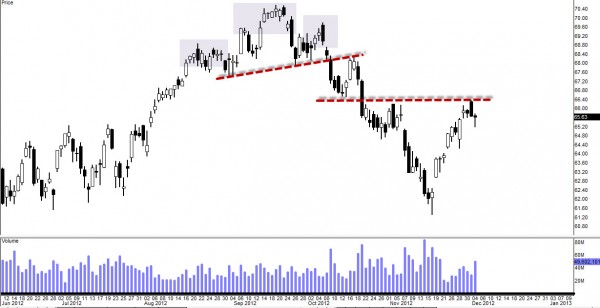 Monday = Bearish Engulfing reversal candle
Today = Hangman bearish continuation candle
$SPY-Reversal Candle At Triple Top Neckline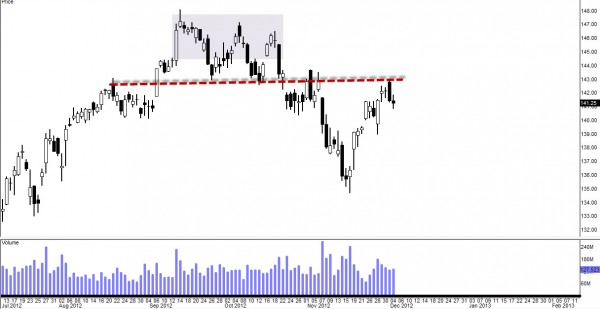 Monday = Bearish Engulfing reversal candle.
Today = a Spinning Top which represents a bearish continuation because it closed below yesterday's close.
[divider]
12/5 Wednesday
[divider]
$DJIA (Dow Index)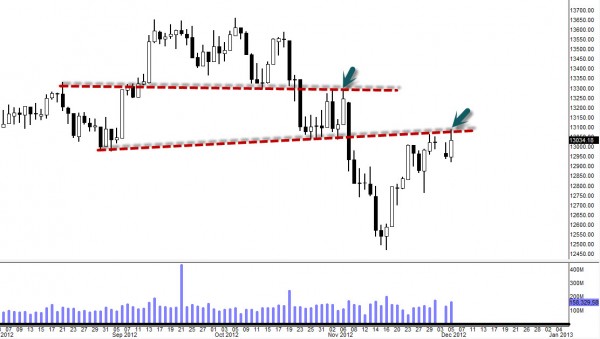 Pay attention to the upper wicks.  Neckline still holding.
$C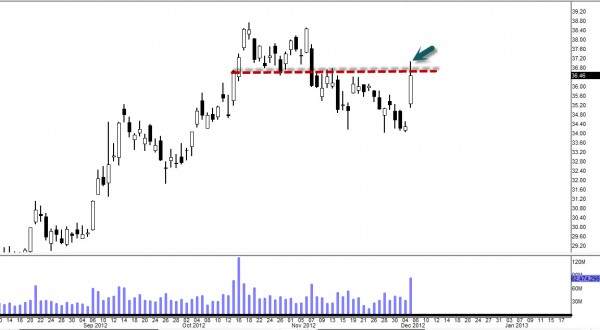 Great bullish move with monstrous volume.  Last min sell off caused it to stay behind the neckline once again. $BAC is the only stock that broke out today and other Banks seems to continue to stay below the neckline.  Will they follow $BAC tomorrow?