[divider]
11.26.12 Monday
[divider]
Stage 3 Possibly Transitioning Into Stage 4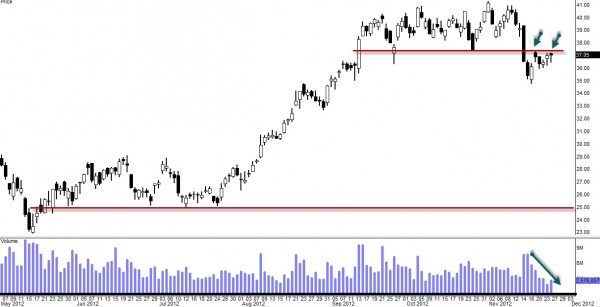 This stock has been on my watch list for a while as I was watching this channel formed for about two months after a huge bullish rally we've had since last April.  You can see that last June and July, we were in Stage 1 as the stock started to consolidate to prepare it's move. Once it busted out, it transitioned into Stage 2 and it flew for about 2-3 months.
And then it started to consolidate again in around September and from that we can identify that this stock has been in Stage 3 and now possibly in the process of transitioning into Stage 4.  Stage 4 is where stock tank and when stage 4 is fully played out, it will consume all the gained from Stage 2 (so you can see the whole bullish move we've had and stage 4 can literally take the whole thing down).
But first things first.  We broke out of the channel and now we are back in it to test that neckline at around $37.00.  If this stock rises up and break the neckline and goes right back into the channel (which is possible), we will have to wait until next confirmation for the Stage 4 transitions. However if the neckline holds true and it falls from the neckline?  I would have to say we are in a new bearish trend for $SLW.
You can see that while the stock rose last few weeks, volume really declined indicating that we don't have much strength on this recent bullish move.  And currently just hanging out at the gate and bears are not letting the bulls in so my guess is that more then likely this thing is going to tank and it's going to tank hard in my opinion.
Let's look at some Fib. Retracement levels and find out possible supports we might be looking at.
Here you can see that 38.2% has already been acting as support (see arrow).  As you can see that those Fib. lines will become a confluence zone before this things hits the free fall.
It's actually very interesting and it also confirms the significance of those levels because those Fib levels also coincides with long term SMAs.  Take a look.
Blue = 100SMA   Red=200SMA
You can see that here these long-term SMAs are hanging out where the Fib. Retracement levels are at. So these levels are going to be very important price levels as we ride this thing down.  These confluence zone will definitely work against bears and make their life little bit more difficult. It's possible that we could bounce from one of those levels and just continue bullish. However if we can manage to break through all these confluence zone levels, my ultimate target is at around $28.00.    So if we can ride this thing down through these confluences, big reward is waiting on the other side.
Why $28? Check out the weekly chart.
 Holding Put Options Entered @ $37.20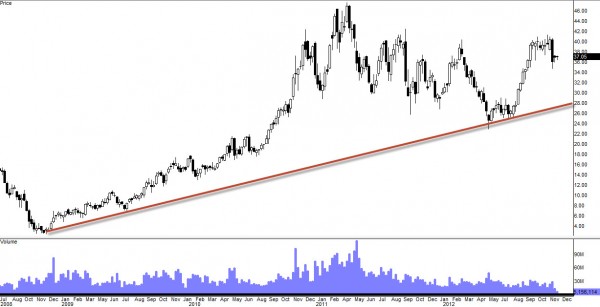 (Weekly Chart)
$28 is where this uptrend support is hanging out right now. This uptrend support has been established over 4 years, I doubt we are going to break this level unless the whole market TANKS.
What's my current position? I am holding some bearish positions (Put Options) currently.  Nothing heavy but I love this kind of set up because I usually add to my positions on the way down as I see the opportunity. But for now, I am waiting till this thing falls from the neckline and I am thinking it might be this week that happens.
[divider]
12.03.12 Monday
[divider]
Bears Are About To Take Control?
(Blue = 20EMA  Pink=50EMA)
Last time when these two MAs crossed, $SLW lost about 10 points (See arrow to the left). Today we don't have the fully orchestrated cross yet however at least they are merged with strong bearish candle today.  It has been long time since these two met on the downside so it is very significant event to note.   If $SLW continue to travel to the downside this week  (which I am anticipating that it will), we will have full confirmation of the MAs cross.  When they are fully crossed, I believe Stage 4 is going to in effect.   That means we are going 'Bye bye'.
Another thing to note here.  We got a bearish engulfing pattern today which signifies bearish momentum starting to build here and solidifies the strength of the $37.30 resistance. Next target is at around $35 which it coincides with 100SMA so it's the level definitely need to watch out for.