11/18 Sunday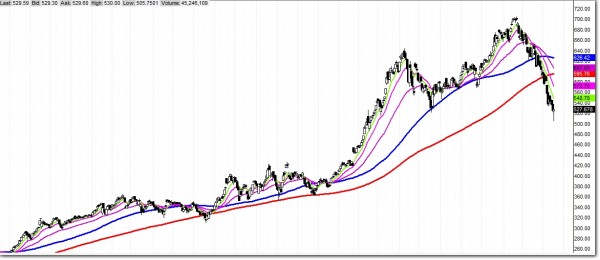 (Daily Chart of July 2010 – Today)
It's been painful month and half for the $AAPL investors as the stock lost about 200 points in less than 2 months period of time.  So many traders continued to try to call the bottom all the way down from $670 level to $520 which I thought it was nothing but a wishful thinking and a prayer.     And the reason I say that is because as many were focusing on the bottom and trying to find some kind of potential reversal, there were whole lot going on at the top and it showed us why $AAPL was going to continue to tank (you can read about that in my article that I wrote about 2 months ago "10 Reasons Why I am Extremely Bearish on $AAPL").
We had all kinds of reversal signals continue to confirming each other and playing out and we had moving averages crossing each other like crazy and frankly we had nothing to show that $AAPL was going to reverse to bullish side.  Just look at the chart above, it did not give us any reasons of  "going to the moon".  As I have mentioned time and time again that you can not break the momentum in 1 day.  It can not be done. It's going to take time to heal and to find some momentum slowly and to build that basis before we start to even consider going bullish.  And last Friday was one of those days that we MIGHT have just a bit of that sort of hope.
I saw several things that I really liked about last Friday and this does not mean that this is THE bottom. However it could mean that we might be seeing some early signs for a pull back move (corrective move from the bearish trend) and we can possibly start there.  Well first things first.  $AAPL is now trading below all kinds of moving averages and many traders are now starting to change their perspective on the primary trend from bullish to bearish.  As all stocks do not travel straight down (even though technically $AAPL did travel straight down ever since it crossed 100SMA), we might be seeing some sort of pull back or retracement here.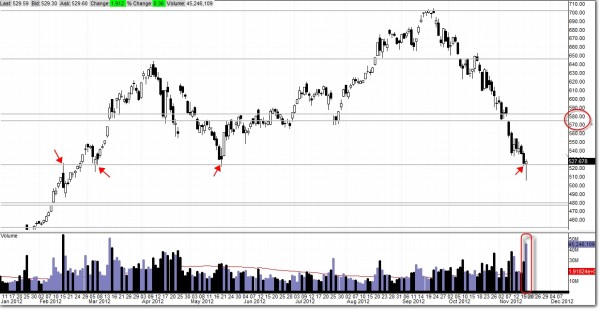 The Location
I haven't tweeted or posted anything about $AAPL for a while ever since I've gotten out of my last bearish trade at around $540.  I wanted block all the noise and I wanted $AAPL to tell me when it wants to move again and I wasn't going to chase after recent move as I was anticipating for some kind of pull back move.  And I really liked the location that it decided to slow down last Friday.
As you can see the arrows, that $520 level has been a major pivot.  I don't put support lines everywhere on my chart unless it is a major pivot area.  Major pivot area means that once the stock hits that price level, it shifts it's direction drastically.  And $520 has been a very important price level for $AAPL if you look at the chart above.   If you know something about how technical analysis work, location is everything.  You can form all sorts of candle formations but if the location is bad, it does not mean anything.  And I'd have to say this is the perfect spot for the hammer to appear. As if $AAPL was tring to save itself from drowning, it came back up (just barely) and showed it's face just above the pivot area.
The Formation
I was watching this on intra-day like 30 mins before closing and I was little bit bummed that it didn't form a full scale of Hammer which is completely shaved top.  It tried very hard but it just wasn't able to get up there however if you look at the after hours trading, it closed at around $530.  If that happened in the regular hour trading, we would have perfectly formed hammer with shaved top so I liked how after hours $AAP made up to $530 (I think this speaks a lot of the sentiment of where it might be going coming week).  I also liked the fact that we have this long lower wick compare to any other hammers we've had last month and half.  The longer the wick the stronger the hammer is and with that argument, this hammer is definitely not like any other ones we've seen so far.   Definitely a significant event that took place here.
The Accumulation
We closed with about 45 million shares traded today.  We had anything close to that level was last March of 2012 which was in the middle of a bullish run so very significant event that it happened.  Hammer is a true hammer when it forms at a major pivot, with proper formation backed up with unusually high volume.  When we got those three confirming each other, you get a hammer that could possibly turn into a reversal.  I said "possibly" and I am not calling the bottom here not just yet.  We will need more confirmation to make that claim but for now, I'd say this hammer is very strong that if you are a bear at this point, you should actually be concerned for this hammer that has been formed with all these pertinent aspects backing up.
What Next?
If $AAPL follow through with strong bullish candle on Monday and close with it, we can possibly think about going to fill the gap at around $580 area. I mean it really depends on next few days action but if this pull back is coming, I think $580 area is very doable and attractive target for bulls.
Many are suggesting the fact that we might be forming a weekly head and shoulders pattern and the key word is "might".  We don't have any kind of signs as of today that it is going to.  It could but that's really out of the question and I won't worry about that right now.  I don't try to speculate and assume where$AAPL might go but I let the stock tell me where it wants to go and I follow.  I just get onto the passenger side when it starts to move which means I let the stock do the driving and I won't get out until it tells me to.
Some traders are already talking about $650 area and again I won't expect anything of that sort right now as we don't have enough data to confirm any of that.  We've had this full force bearish move since the late September and for that matter, bears are not going to be that easy to break (again it's going to take time).
(10EMA (green), 20EMA (light purple), 200SMA (red))
Next Few Resistances
10 EMA is hanging out at $550 area which could act as short-term resistance then 20EMA which is at around $572 area which is the gap area we just talked about earlier. If we get some good follow through on Monday we probably will break 10EMA pretty easily but I think when we get to the gap/20EMA area at around $580, I think it will struggle.  And we will have to reanalyze to see if $AAPL is going to roll over or continue bullish when we get there (Possibly $AAPL wants to test that 200SMA (red) at around $595 level). Another possible scenario is that we might be forming a channel of some sort between the price of $520 – $580 area. I am currently holding some calls that I got in about 15 mins before close on Friday and I am aware that I am only playing the pull back game but not a full reversal game yet.
11/19 Monday
(12:05pm CT) Finally Oscillators Can Breathe Again
It has been almost two months since these Oscillators have been emerged and restraint and now they can take a big breath today.  And by product of that is the gap up and the strong bullish day today.   Good sign for bulls for now and keep in mind, these Oscillators can oscillate in the oversold territory for a while so I wouldn't look at this and say this is the signal of complete reversal because it is not (we would need more data to confirm that).
RSI (light blue) always is the first one to move and look at the angle of that thing. Almost 90 degrees.  It has been anticipating for really long time to get up there.
As I was looking at the moving averages, I've realized we blew through 10EMA pretty easily as I have anticipated yesterday.  20EMA is at around $571 which I do think it is going to slow us down and will act as short-term resistance.
You want to talk about complete bullish trend reversal?  Lets talk after it breaks above $590-$600 area (even then we have to worry about possible head and shoulders on weekly).  So I would keep in perspective of taking day at a time with the data that has been given from this stock.
11/23 Friday
Bullish Pennant & Confluence Zone
We've been in this short-term consolidation pattern which technical analysts call Bullish Pennant. In this stage you would see declining of volume which is what we've been seeing plus with holidays week, low volume has been expected.
We do have a confluence zone (light blue shaded area)  just right above where we formed this pennant pattern so in the event that we break out of this pattern, we would want to see some big volume spike to push through it. I will be watching it very closely because we could have what it looks like a break-out but with low volume, we could have a shooting star at the top of this confluence zone.
I put lot of weight on the hammer with high volume with a gap that followed.  As long as that gap is open, we are bullish (at least for this minor trend we are forming  here) so I am pretty optimistic coming into next week with my bullish positions.
Let's look at our indicators and see what they tell us.
We've been at oversold status for about two months so these indicators are just happy to fly again. As you can see STOCH, RSI, MACD, MFI they are all indicating the bullish momentum that is starting to build here.
I am expecting bullish break out of this pennant pattern next week but I would want to see some good volume spike which I think we are going to have.   It's too early to tell but I think we are going to retest 200SMA area and if that does not hold, ultimately 100SMA.   If we can get up to 100SMA level, that would justify the fact that we've all been talking about that weekly H&S pattern.
Another positive thing I see is that we are now trading above BBands middle line (20SMA) and the Bands are starting to come together. This is a good indication that the bears are starting to lose it's momentum.
I am still trading this with caution knowing that $AAPL has been in this bearish trend for about 2 months so any reversal signal, would get me out of this thing quick but so far it is looking good for the bulls.
11/25 Sunday
Next Two Targets
This week, if we break out of this Bullish Pennant with some good volume, I am expecting next target at around $600 which it will be meeting with 200SMA (red) and 50EMA (pink).  And $620 which is where 100SMA (blue) resides.
I think we are going to struggle at that level ($600). Possibly form another continuation pattern of sort or short-term consolidation or even a channel.   But as you can see that $600 is where 200SMA and 50EMA is crossing and this indicates more bearishness to it.  Because we are still fighting against this bearish momentum, I think it's going to take a whole lot of strength from $AAPL to break through that level (we would also need the NASDAQ to be strong but if NASDAQ starts to slow down while $AAPL trades at around $600, I would probably want to get out with my profit in that vicinity).
However if we break through $600 level with strong looking bullish candle with good volume, 100SMA will be the next level of target which is at around $620 (100SMA -blue). And quiet frankly, I wouldn't expect anything higher at this moment.
11/28 Wednesday
(8:34am CT) I Am Out For Now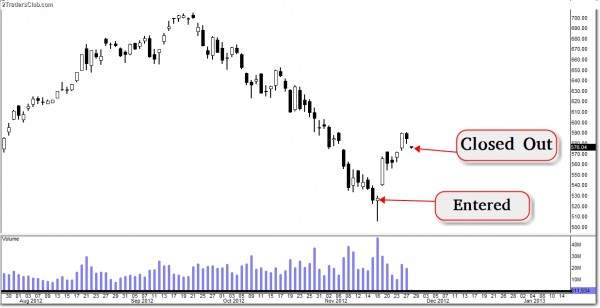 [divider]
[divider]
11/29 Thursday
Tomorrow and Monday Price Action's Are Critical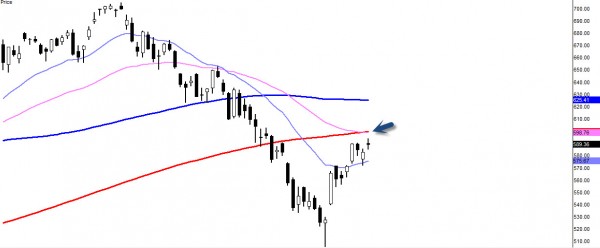 Here are two things I am looking at which I think it is very critical we pay very close attention next few trading days.
50EMA (pink) is now crossing 200SMA (red) –  Last time these two crossed paths were 9/18/2008.  It has been over 4 years since they have been apart.  4 years (crossing to the downside)! This is very significant that these two are finally crossing paths.  It favors the bears.
Doji appeared just under the moving averages – This Doji can become nothing or it can become everything.  Especially the Doji appeared just below the MAs we are talking about here.  If we travel lower and taking down Wednesday's low (and close with it), that's what we call evening star reversal.  And if you are long, you definitely don't want to see that.
As of this moment it's really hard to say what's going to happen but we are seeing some cautionary signs flaring.  And I wouldn't ignore them.    If we have confirmed Evening star, we are looking at coming back down to $540 area to test that gap area.   If we push through the MAs, around $620 level is next target.  With Doji close to our resistance, definitely bulls are losing steam and probably short-term consolidation is going to start until it breaks out on either direction.  I see the market (indexes) at its pivot as well so if the whole market tanks, I'd expect $AAPL to break to the downside but if  market rallies, $AAPL probably will follow.
[divider]
[divider]
12/5 Wednesday
TANKED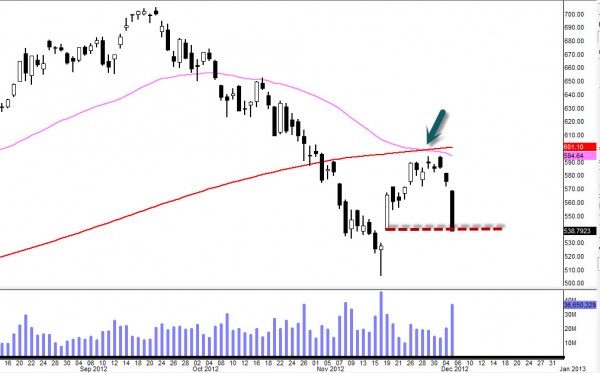 Moving averages cross.  Doji. Few days of consolidation with a Dark Cloud cover reversal at 50EMA…Two days later, TANKED with massive volume. I wouldn't touch this thing if you are not currently in this trade. Possible it's going to fill the gap at around $530 however we had 3 straight days of dominance by the Bears and possible resting pattern might be in stored.