10/21 Sunday
Entered Bearish last Friday @ $31.46
This chart pattern seems very similar to my $GLD trade with double top and neckline breaking.
I got triggered last Friday. I had my bearish trigger set on Thursday night just below that short-term support line (blue). Got triggered bearish at open last Friday and did pretty well through out the day.
Targets are $29 and $26.50 with about one month time frame.  I got in with December Puts so I am willing to hold this thing until the end of November or until it gets to one of my targets.
Volume's pretty good last Friday and we got three gaps on the way down and those areas will/could work as support so watch out for those. ($SLV is traded 24/7 and that's why we are seeing so many gaps)
Most of my bearish weight is coming from that double top pattern confirming. Other analysis's are just the supporting fact of this bearish trade.
Looking at the moving averages…
10EMA has crossed 20EMA which tells me that bearishness is starting to roll in.
It's interesting that $SLV has closed below 50EMA unlike $GLD which it currently sitting right on 50EMA.  What's the difference?  Difference is we got more bearishness on $SLV than $GLD because $SLV has closed below 50EMA.  This huge confirmation on my bearish analysis as we are heading towards to the 200SMA.  Because potentially 50EMA could work as support which it has not been broken or even touched last two months. So yes it is big deal that we closed below that area.
200SMA is definitely going to slow us down at the least and  that might become our support to watch out.
Bollinger Bands looks bearish.  Many people think that when the stock hits the bottom band, it means it's support.  That's actually wrong way to analyze how BBands work.  The expansion of the BBands indicate that the momentum is starting to build.  Look at three trading days ago.  We had $SLV hitting the bottom band (actually closed below the bottom band = which is GOOD sign for bearishness) and then it kind of retraced a bit upwards and then continued bearish last Friday.
That's how you look at the BBands.  As the bottom band continues to expand, it is confirming the bearish trend. (Look at last two months of the bullish trend, BBands continued to expanded until the move was done. And that's what I am looking to see for this bearish trade)
ADX (middle indicator) is one of my favorite indicator to look for the strength/momentum of the stock/ETF and as you can see that it is starting to point up. This suggests that we are starting to build some strength on this trade.  We currently just slightly above 20 line which is a good sign because when ADX moves above 20 line, it starts to really build momentum.
I will update more as I start to see some changes.
10/29 Monday
Bear Flag
Classic Bear Flag has been formed on $SLV.  ETF rose but volume declined (you can see how steep that is in the volume). High possibility that we will see continue bearish move this coming week.
11/1 Thursday
(11:31am CT) Added More Positions @ $31.31
So $SLV is continue to travel higher and it seems like the gap resistance is holding so far. I did add more bearish positions (Put Options) just now seeing that the gap resistance is holding and the volume is still declining.  Can't help to think that it's going to play out as a bearish flag.
Target at around $29
(After Close)
Ok so after close we have confirmation that gap resistance was able to hold true thus forming a Dark Cloud Cover reversal today.
If you put last two days candle formation together, you get the Dark Cloud Cover. These candle formations are useless if it occurs in the middle of nowhere but here you can clearly see that the price reject at gap resistance.  That's why this Dark Cloud Cover is very significant today.
On top of that Bear Flag has still in play  as you can see bulls never found any momentum in this upwards move. Volume is still very low.
I am expecting possible gap down tomorrow but will see.
11/2 Friday
(12:04pm CT) Tanked
(Weekly Chart) Primary Uptrend Support
11/5 Monday
Long Term Moving Averages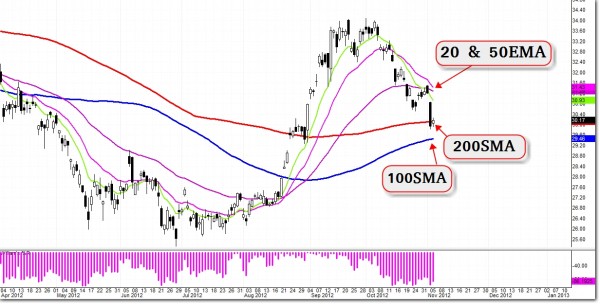 We are slowing down on 200SMA here. This is a caution for my positions as we could potentially bounce from here.  We don't have any kind of reversal signal at this point but for sure we are slowing down at 200SMA.
What's interesting on this chart is that we have 200SMA at the top of the 100SMA.  Mostly we see 100SMA catching the fall first then 200SMA so this is very interesting setups but nonetheless it is suggesting some bearishness to it knowing that 100SMA is traveling below 200.
Take a close look at the 20EMA and 50EMA this week which is about to cross here. When those two EMAs cross, it will be very significant to this bearish trade because that will tell us that bears are starting to really build that momentum. Also I wouldn't want 100SMA to cross 200SMA because that would suggest some bullishness coming in here.
I am still holding my bearish positions here and with today's action, I don't have any reason to exit.
11/6 Tuesday
(11:26am CT) Got Stopped Out
[divider]
[divider]
11/7 Wednesday
(9:00am CT) Re-entered Bearish At $30.87
11/8 Thursday
(1:50m CT) Stopped Out @ $31.36
Not much of loss there and it was worth of try with the  bear market.