10/21 Sunday
Entered Bearish last Friday @ $167.63
$GLD has been consolidating for about a month and in that period of time, we've formed a double top pattern and that pattern was confirmed last Friday when it broke the neckline. You can see that we had a bearish flag and then it gaped down.
I got triggered at around $167 and you can see my 3 targets.  I got in with December Puts so I got about month and half to ride this thing down.
I always have my targets very far out but usually I get out of my trade on my target 1 or 2.
Target 1 = $162
Target 2 = $158
Target 3 = $150
$GLD very gappy ETF, you can see that we got two gaps we have to work it. And those two gaps will work as support so make sure you watch out for those.  I always say gap supports are a wild card. I've seen a gap support changes the whole momentum of the stock but sometimes they go through like a butter.  So keep an eye on it but nothing to freak out about.
Nice volume spike last Friday so looks good coming into this week.
Many times when the double top is confirmed, it trades down for 2-3 days and  they come back up and test that neckline at $168 as new resistance. It doesn't happen as much as Head and Shoulders pattern but it could happen here.
I will put loose stops on this ETF along the way down because they will move up and down quiet a bit.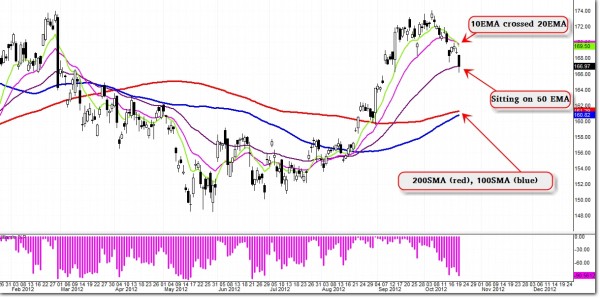 Bearish argument = 10EMA crossed 20EMA.
Neutral argument = Sitting on 50EMA
Bullish argument = Trading above 100/200SMAs.   100SMA is about to cross 200SMA which is bullish sentiment.
So I will be cautious on those moving averages and play it accordingly.  As long as they don't give me any bullish reversal signals, I will let the trade come to me.
* I am planning on riding this thing for over a month and if you look at the past chart, 50EMA has been a great resistance from March 2012 – May 2012.    And that's where my stops would be for this bearish trade.
10/29 Monday
Bear Flag
Classic bear flag. This chart explains it all.
11/1 Thursday
(11:40am CT) Added More @ $166.69
$167 gap support holding well today and yesterday. We still have this bearish flag happening here.   While it rose the volume continued to decline.  I am expecting some roll over tomorrow or early next week.
$163 is still my target and ultimately $158 but will see.
(After Close)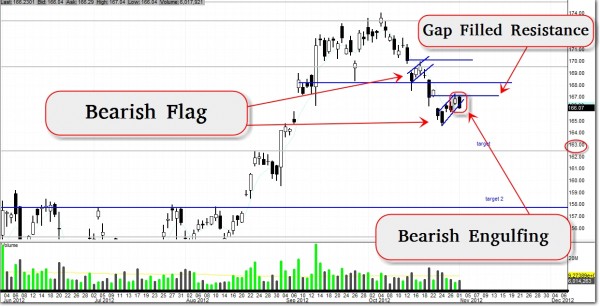 Last 6 days, $GLD worked very hard to fill the gap to the upside but the candles tell us that it was such a grind.  Volume was declining the whole time while it was moving upwards grudgingly.
Finally yesterday we hit that resistance (my stop was actually just above that resistance area) and was rejected. Today we've formed a Bearish Engulfing pattern at resistance showing the bears are ready to take their territories again.
I am expecting a bearish run tomorrow, possible gap down.   My 1st target is still at $162.50
11/2 Friday
(12:07pm CT) TANKED
(Weekly Chart) Primary Uptrend Support
11/5 Monday
Long Term Moving Averages
Ok this is where I am going to start to worry a little bit here.  We have 100SMA (blue) crossing 200SMA (red). This is a bullish signal.  Obviously we are still in this intermediate bearish trend last 1 month or so but in the long term, we are in bullish trend on $GLD.  So having 100SMA crossing 200SMA today, is very significant event that I must recognize.
This will act as some support here.  As of today, we do not have any reversal signal except for that fact that we are looking at Bullish Harami pattern (last two candles).  Bullish Harami is not a strong reversal but it's a very early reversal signal which I wouldn't worry about today (more confirmation is needed).
I need to see where it goes from here and trade accordingly but more than the Harami pattern, I am more cautious about that long term moving averages crossing.
11/6 Tuesday
(11:19am CT) Stopped Out
Got stopped out just little bit ago with profit. Looking very strong today however with low volume still.
[divider]
[divider]
11/7 Wednesday
(9:13am CT) Re-entered Bearish @ $166.59
Target is at $159
(Weekly Chart)
Take a look at this weekly chart pivot area.  Can't help to think that $GLD was testing the new resistance and if this resistance holds true, it will resume back down to the bottom support.
(Flip To Daily)
11/8 Thursday
(1:13pm CT) Got Stopped Out @ $167.43
It was a worth of try with tight stop knowing that the market as a whole was in bearish trend.  Just didn't work out in my favor.  Congrats to bulls though! What a move.