10/12 Friday
$DJIA – Double Top?
-Broken the neckline but sitting on the major pivot area.  Today we tried to test that neckline as new resistance and got rejected.
$COMPQ – Leaning Double Top or Peculiar HnS?
Reversal pattern nonthless
-This is ugly pattern. Deformed left shoulder with wider right shoulder. You could say this is ugly HnS formation or a leaning double top.  But a reversal pattern for sure.
-Broke the neckline and currently testing the major pivot area as support and also testing the uptrend channel bottom band.
$SPX – Double Top?
-Very clear double top and sitting on the neckline there. (just above major pivot area). Neckline has not been broken and still not confirmed.
[divider]
All Three Indices with Bearish Divergences
[divider]
$DJIA – MACD Bearish Divergence (Weekly)
-It is not quiet confirmed. We would want to see MACD blue line crossing and pointing downward.  If market continues to  trade down, you will definitely see this divergence getting confirmed on MACD.
$SPX – MACD Bearish Divergence (Weekly)
-Same here. Not confirmed yet but you can see the sentiment that it is rolling over and starting to cross. To be confirmed, we will need that blue line cross the red and starting point downward.
$COMPQ – MACD & RSI Bearish Divergences (Weekly)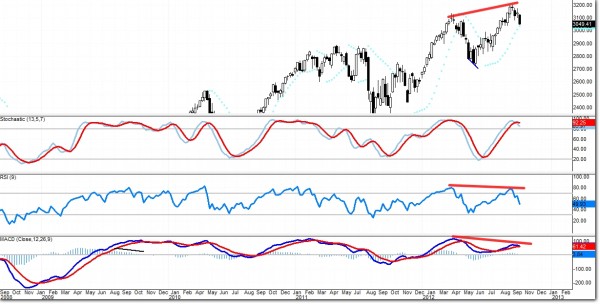 -RSI Bearish Divergence is CONFIRMED.
-MACD is almost confirmed and sure we can see the sentiment of roll over.
2007 – 2008 $DJIA weekly, Remember This?
-We had all three oscillators with nasty looking bearish divergences. You see the angle on that thing???? Gosh..NASTY
-I do not think we are going to have another market crash. After all, we currently only have MACD bearish divergences and the angle on those aren't that sharp like it did back in 2007-2008.
All Three Indices at a Major Pivot Areas with Reversal Formations
-First, this might be nothing because we might be forming a small channel trading sideways. That's a possibility. Also nothing has really confirmed at this point to say that those reversals are going to play out. None of them are confirmed yet even though $DJIA and $COMPQ seem like they have broken the neckline however they are still sitting on the major pivot.
-Those Weekly Bearish Divergences are pretty strong reversals. You remember back in 2007-2008 before the market crash. We had weekly bearish divergences on STOCH, RSI, and MACD! It was insane! But at least we don't have that this time. We only have MACD Divergence and the angles on those aren't as great as it did 4 years ago. So nothing to worry about. We are not going to have another market crash but we might have a sharp corrective bearish move.
-But here is why I am worrying about market reversal. Because many of stocks I am tracking, most of them are rolling over. I've been seeing so much bearish divergences lately. They don't occur that often.  And you know what it might be nothing.  It could be just a resting or corrective move before it continue bullish. Or we are getting ready for market consolidation for several months.
-However if these reversal formations play out and break these major pivot areas?  I think we are going to see some major major correction to say the least just like it happened on May 2012 or maybe a retracement like it happened back in April of 2012.  I don't know. But definitely something to watch out for and look out for if you have any bullish positions.
Dow Jones Industrial INDEX
(Daily Chart)
-We would need more data to confirm.  But a warning is there for sure.  I will update more next week as it progresses.
I am not saying anything at this moment but I am just saying that it is interesting.  =p
[divider]
10/16 Tuesday
– Michael Belkin says 40% stock market drop
Hedge Fund Consultant Michael Belkin spoke at The Big Picture conference, predicting a 40% stock market drop in the coming 12-15 months. Belkin joins Sam Mamudi to discuss his case for a market drop.
[divider]
[divider]
10/21 Sunday – Triple Tops?
($DJIA = Dow Jones INDEX chart)
$SPX (S&P 500 Index) = Looks very similar to the Dow Jones)
FYI = Triple top has NOT been confirmed on $DJIA because it is still sitting right on our major support.  As long as that support holds true, triple top is not confirmed.  However in the event that we close below that price level, we confirm trip tops and we are going bearish.  Next stop 13300.
I am leaning more and more to bearish side because..
Triple top is leaning towards to right = this means we didn't have enough fuel to even go back up to the recent highs. It gives us the hint that bearishness is starting to roll in.
We have broken uptrend channel support.  This is huge because now we can say that we are not bound by that uptrend channel. So from here on, $DJIA is free to drop further down because that uptrend channel support is not relevant any longer.
($COMPQ = NASDAQ Index chart below*)
Double shoulders Head and Shoulders confirmed last Friday when it broke the 2nd neckline.
NASDAQ's sentiment has already changed to bearish.
*And here is what I've found as I scan through the stock market.  I've been seeing lots of Head and Shoulders pattern.  It started with $AAPL and now I am seeing it a lot. (I.E. $ORCL).  Seeing lots of bearish divergences and also double tops in different stocks.  So I am starting to see that bearishness starting to roll in to the market.  So I will definitely be cautious with bullish positions at this time.
*I didn't post a chart here but I also see bearish divergences on daily charts on Dow Jones and S&P500.  (We already have weekly bearish divergences on MACD)
10/23 Tuesday – Triple Top Confirmed on $DJIA & $SPX
($DJIA – Dow Jones Industrial Average daily chart)
Now we have fully confirmed bearish reversals on all three Indices ($DJIA, $SPX, $COMPQ).
I am expecting bearish days to come as a whole market at least few weeks until we get a solid reversal confirmation.I don't trade counter trend so I won't be doing any calls as long as the market is in this shape of form.
Next two key supports  on $DJIA: $13,050 & $12,800-$12,700.
That strong uptrend support is where we can get down to and bounce so make sure to watch out for that price level.
Looking at the chart patterns… Leaning triple tops are actually bit more stronger than regular triple tops or double tops.
As you can see on early Mary 2012, we did have some sort of double/trip top reversal pattern but you notice how we got back up to the previous highs to test that resistance and then it tanked. But if you look at 3-4 days ago, we couldn't even get back up to the level of resistance. We fell short at getting up to that resistance level and then it tanked prematurely.
This seems as though very insignificant but it is very significant. It gives us sentiment that bears attack was heavier and hastier.  They couldn't even wait until bulls get back up to the resistance level to test that resistance level but they just slammed the bulls down.  Honestly bulls could've had few more days with a doji or a spinning top to get up to that resistance area of $13,600 and hammering that resistance.  No we didn't even had chance to do that. We threw a hangman reversal and doji (little further out from the resistance) and then it tanked.
I put lot of weight on that theory and I believe that was why we had such a huge bearish days last three days.
$13,050 is pretty solid support. I am sure we will slow down in that area.
[divider]
[divider]
11/7 Wednesday
(10:48am CT) $DJIA Uptrend Support (Weekly Chart)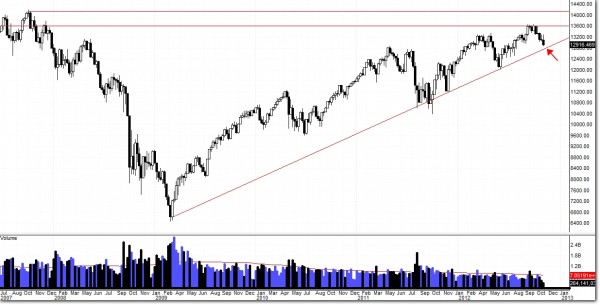 Daily Chart
Triple tops neckline was tested at least three times last 4 trading days and finally it gave up and tanking now.  We are looking at next possible support.  This uptrend line is very strong line. If this line does not hold, market as a whole is not looking good.
As you can see in the weekly chart that the uptrend line has been established since 2009 so it will be very significant event if it's broken sometime this week or next week.
$DJIA – Daily Chart Moving Averages
Dow Jones currently trading below ALL moving averages however it did that on 6/1/12 as well.
$COMPQ – Daily Chart Moving Averages
NASDAQ also trading ALL moving averages and all kinds of averages are crossing at the top here.  Looks more bearish than other two indices.
11/11 Sunday
$DJIA – Very Significant Weekly Supports
As you can see the arrows, we are currently sitting on very significant price point because the horizontal support and uptrend support is now colliding.  This is why I call this chart "Do or Die Pivot".
If we bounce from here, the two important pivots did it's job and it held like a wall.  However in the event that we break this two colliding supports and continue head south, I do believe we are going to see some aggressive bears coming to attack in the market as a whole.
Daily Chart Key Candles
Last June after huge sell off, we slowed down with a spinning top candle.  Next day followed by another spinning top and then BOOM!, market rallied bullish from there.
Today we have almost identical situation happening here at our uptrend support.
Market tanks it comes down to the support and we threw a spinning top right at our support last Friday.  We could bounce from here tomorrow.  We definitely could knowing that we are currently sitting on very important pivot areas.  This is where I will be tightening my stops of my bearish trades which is many.
If we continue trade bearish on Monday and close below this uptrend support with solid looking bearish candle, I will assume that this intermediate bearish trend is still in effect.    We will need next 2-3 more days to see where market is headed for upcoming weeks and to confirm that.
We are currently at KEY LEVELS so I will be watching very very closely.
11/14 Wednesday
Next Targets For The Market As A Whole  ($DJIA Daily Chart Below)
Now that we broke through that uptrend support (see previous update) which was my BIGGEST concern, we can now think about next targets on Dow Jones.  I do believe we will get to Target 1 and Target 2 but Target 3 not so sure about.
However if you do a Fib. Analysis on weekly chart,  you can find that Target 3 is where 38.2% retracement sits on so its doable and I am thinking we might even get there but as of now, its too early to tell.
Targets are circled in the chart (click to enlarge).
11/19 Monday
(12:09pm CT) Bullish Tower Reversal Forming
(Daily Chart on Dow Jones)
Well guys this is very very strong bullish reversal signal here.  Same thing happening all indexes right now.  If this is confirmed (if we continue to trade higher from today's close), we are going to see some bullish momentum getting built here.
I have been told that last 8 years, November has been the year that the bulls take control and if that's what has been happening and with the bullish reversal signal appearing, I guess we might have similar year this.  Next few days is very important as we continue to watch this very very closely.
Another Daily Chart Angle
11/21 Wednesday
($DJIA Daily) Why I Think Bears Are Not Done
I propose to you Head and Shoulders neckline testing coming up next week.
Truthfully I never saw this as a Head and Shoulders reversal when I was analyzing the indexes but I only perceived as a triple top reversal(which it played out very well). I think the reason was because this unusual shape of its form but nonetheless you can see that it still has it's form (it ugly but its there).
Usually Head and Shoulders pattern is formed at around 3 months period time to be "qualified" and as you can see we formed HnS just little over 3 months so we are good there just to be a textbook pattern.
So with that said analysts know that when Head and Shoulders is formed and confirmed, the neckline testing is a MUST. Check your past Head and Shoulders pattern. They always come back up and test the neckline  (it did on $AAPL and $SLB just to name a few of recent price actions). And when the neckline holds true, the follow through of the move is HUGE.   So if it comes back up and test the neckline and if neckline holds and rejects the price, I think we are going to see very fast and hard bearish action.
However if the neckline does not hold and bulls come and just push through it and close above it with strong bullish candle, please destruct this analysis immediately =)