10/9 Tuesday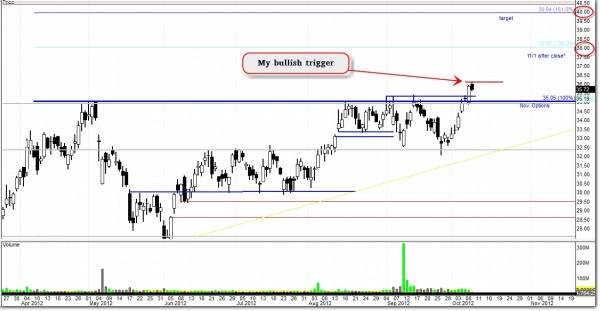 -Yes I've been tracking this down since 8/26 (read about it here) and I was very patient enough, I did not jump into  it yesterday. I wanted to make sure we get the confirmation of close since $35 level has been a MAJOR PIVOT area for about 7 months.
-Today I placed my bullish trigger just above that upper wick.  It seems like we are resting after a huge bullish day yesterday and it's pretty typical that stock break out of the consolidation and then it rests and often times test that old resistance as new support ($35 level).
I wouldn't be surprised if we touch that $35 level sometime this week.
Earnings is Nov. 1st after close so we got little less than a month to work it.
My targets are $38 and $40.  (Fib. Expansion targets)
-Looking at moving averages, this thing is in bullish trend and and very nice separation of the averages occurring so looks good there.
-RSI is at over bought so that's where we might be seeing some correction to reset RSI a little bit before continuing bullish.
-ADX is starting really like this move and supporting it.
10/10 Wednesday – Uptrend Channel
(Update 9:31am CT)
-Just discovered the uptrend channel.  (Little late reaction there)
-Looks to be slowing down and not continuing bullish as I thought. Probably as a whole market is slowing down and showing some bearishness and that is probably taking some effect here on $AIG.
-I still have not yet gotten triggered bullish yet and I am quiet content that I have not gotten in because I think we might be coming back down to test the support of the uptrend.  After testing the uptrend support and it might bounce to the upper band resistance of this channel.
-If or when $AIG decides to retrace down to the bottom band of this channel, I would have new bullish trigger then.  Well let's see how it plays out rest of the week.
10/18 Thursday – Closed out Bullish Positions
(10:46am CT)
Well I haven't been really keeping up with updating with this stock (I was so heavily occupied with $AAPL and $PCLN) since I didn't have huge positions on it but hey good quick profitable trade!