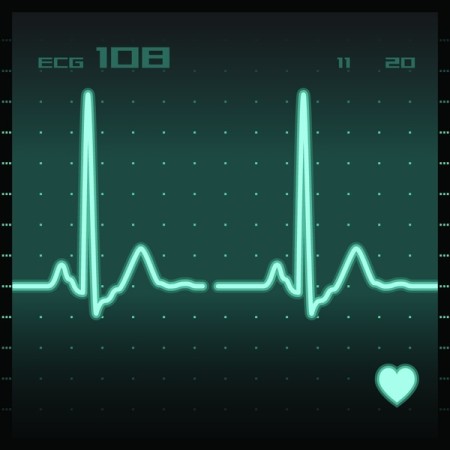 [divider]
April-May 2012    vs   Sept-Oct 2012
*I Must add this.  Someone opposed my view saying that I can't compare these two events because on that last event (April-May 2012), we had earnings in the middle of the bearish move.
This is how I would respond.
Can you imagine what people were saying back in April?  Just like what people are saying now?  Probably in April 2012 when $AAPL was trading down, all the bulls probably were saying "…earnings coming up and this thing is going to skyrocket, all your bears are going to burn!" something like that right? Trust me I do get some "hate" mails and people are saying something close to that.
And so late April, on earnings day, $AAPL stock rose 70 points before open!! Amazing right?  I mean all the bulls were probably all hyped up and saying to the bears "i told you so" but i tell you what.Even with 70 points price jump with earnings, the momentum of the bears were so heavily weighted that it dropped 90 points very very fast on the following weeks.
Let's look at today.  We got almost 3 weeks until earnings with bearish momentum already established very well.  Let me just tell you. It was tougher for bears on APRIL because most traders do not trade through earnings. So it means most of the bears covered their shorts before the earnings late April 2012. Even then $AAPL tanked 90 points right after the earnings. Absolutely incredible.
Today I got almost 3 weeks to work it before we get to earnings. I do not know what's going to happen after the earnings but my initial target of $620 is looking very very attractive for me right now.
[divider]
Deep Technical Analysis on the Oscillators
This can be little confusing so bear with me as I am going to try to explain as smooth as I can for you to understand this analysis. I will explain by the numbers that were given to the chart here so you can follow through easily.
You can also click on the image for bigger picture or print it out so that you can refer back to it as I explain what all this means.
Up top we have $AAPL daily chart from Sept 2011 – Oct 2012. Below that row, we have Stochastic, RSI and MACD.  And I am going to analyze how these oscillators can help us to pinpoint where we might be going from here on.
1. Massive Bullish Run
You can see on here on $AAPL we had this massive bullish run for about 4-5 months. Absolutely amazing! This thing  just caught on fire.
1a = Stochastic passed 50% (blue horizontal line I drew) level and we said good bye to 50% level for really long time. As you can see that Stochastic hung around that overbought territory for 4 months! (This is why you don't change direction just because the stock is at overbought or oversold territories, they can stay there as long as they want).
This why they call this an oscillator, they oscillate in that overbought territory but never came back down to that 50% level or the bottom band.  That's how you see if we are still in the trend. Remember the 1st principle of Dow Theory? "Trend is assumed to be in effect until it give definite signals that it has reversed".
So looking at 1a and its stochastic, there is no signals that this trend has been reversed and so $AAPL continued to rise higher.
1b = Similar story with RSI.  After it passed 60% level (blue horizontal line I drew), it said goodbye to it and hasn't returned. And this works just like Stochastic. They stay at overbought territory and hang around there as long as trend continues.
1c = MACD, same thing. We passed 0% line and it was gone. Couldn't see 0% line again.
2. Huge Bearish Corrective Move
This is point where $AAPL reversed and found some resistance thus changed its direction for this big corrective move.
2a = For the first time in about 4 months, Stoch crossed over the 50% level downside and hit the floor. Again let me emphasize that for the first time in 4 months Stoch crossed over that 50% level support I drew.  This is a big corrective move. We tried to get back up but got to 50% level and it acted as resistance. We fell back down again to oversold territory.
2b = Same scenario with RSI. It never could get back up to the upper area once we reached oversold territory and was stuck at that resistance of 60% level. It tried several times to get back up and failed so it fell even deeper to oversold territory.
2c = MACD has't seen zero line for really long time and again for the first time in 4 months, we've reached zero line suggesting bulls lost some momentum and Bears are going to keep control this corrective move.  I say it as corrective move because the whole bullish trend was never reversed as in BIG PICTURE.  $AAPL is still in bullish trend in long term but this was a big corrective move before continuing bullish.  But once that zero line has been breached, we fell pretty hard.
3. Bulls Continue its Run
Pretty  much similar story here like the #1 analysis
you can see in the oscillators, they hang out on the upper level and they don't come down. That's how you spot bullish trend.
3a = Stochs did come lower than #1a however it never dips all the way down to the bottom band. Even in that 2nd tries it jumps off of that support and goes back up.  This is how you know that the bullish trend is in effect
3b = RSI – We got one dip in the middle of the trend to the bottom band but it was just one time dip and goes right back up. It does not struggle to go back up or stay in the bottom band too long. This also suggests on RSI that we are in bullish run and continuing.
3c = MACD – It came down few times to test that zero line but it never traded below the zero line. Infact in bounce from that zero line on July 27th and continue to head north.
4. We are Currently in Bearish Corrective Move
4a = STOCH – For the first time in last 4 months, we've crossed (downside) 50% level (blue horizontal line) and currently at the bottom band (green horizontal line).  Doesn't this mean we are oversold and get back up? uhmmm not yet. You can see in 2a that we can hang out there as long as it wants to. We might try to get back up to test that 50% level as resistance and could fall right back down and when that happens, it falls even deeper.  So just because the oscillators are in oversold or overbought, they are NOT going to reverse.
4b = RSI – Already tried twice to break that resistance line at around 60% level and failed and testing that bottom band.  See this is good sign for bears. If this was a bullish bounce, we wouldn't struggle so much on RSI.  It will be a quick and short dip and jumps right back up but it is not jumping right back up. It is struggling in the lower band.  Look at 2b. you can see the longer it struggles in that oversold area, the better it is for the bears to work it to trade lower.
4c = MACD – This is very interesting because we have similar formation of 2C.  Yes we did touch zero line few times before but never broke to downside. So this is the key if this thing is going to continue bearish. If or when MACD trades below that zero line (green horizontal line) we are in for further bearish move just like it did in 2c.  Also this is where I can say that possibly we might jump from this point on and go bullish because we have not crossed zero line yet. So yes its possible but what you have to know is that we have so many other bearish confirmations right now that this little MACD zero line isn't much weight to add to bullish momentum.  It's rather very small contribution to it.  I mean there is nothing to contribute since it's still heading south and hasn't even turned up yet.
Final Toughts
So we are in this huge corrective move. I am no way saying that we are going to completely reverse and this thing is going to $500 level but what I am saying is that we are in this corrective move and I am here to forecast how long are going to be in it. I am thinking about a month because that's how long we had corrective move last time.  Since the earnings is on the 25th and I am guessing that's the time when this corrective move could end and continue bullish.
Stoch and RSI, they will both oscillate in the upper side when they are in bullish trend but conversely they will do the opposite when they are in bearish trend. They will oscillate in the bottom side.  Just because they are oversold or overbought does not mean they have to go up or down because they can hang out there as long as they want.
I do believe we are going to have another few weeks of bearish trading days on $AAPL according to my analysis.  We have so much bearish reversal signal at the top, its insane. I haven't seen this much bearish signals on any stock. However $AAPL is extremely bullish stock so I will be cautious with my bearish positions.
But looking at my oscillators I do think that we are not confirmed of this corrective move, temporarily bulls have lost its momentum and bears are going to control it for about few weeks.
10/14 Sunday – Rest This Week / Tank Next Week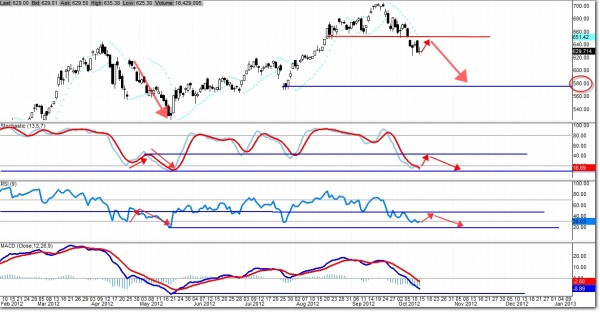 I think we are going to see some bullish pull back this coming week (3-5 days) up to the $650 gap resistance level. We might fill the gap and hit that resistance of right shoulder neckline or we might get to just below that gap and tank.
Why do I think we are going to tank down to $580 level? Because of bearish weekly divergence on all three oscillators (Stoch, RSI, MACD), chart is shown below.
Currently STOCH and RSI are extremely oversold. If you look further out, you won't see STOCH or RSI going lower than current level. So this is the place where we are going to bounce.  Are we changing the direction? well we have no confirmation of that.  We still have huge bearish momentum in this trade and also weekly divergence still in the picture. I don't think bearish move is done but we will need some corrective (short-term) move before continuing bearish.
What about MACD? Isn't that oversold as well? Not really but I don't know if you know about MACD, they don't quiet work like STOCH and RSI.  They can go low very deep and even go deeper than now. They don't have to oscillate like Stoch and RSI do.  So just because MACD is starting to touch the oversold area, does not mean they have to come around.  They can go deeper and deeper. Just look at $CMG in the recent month.
This is what I propose. You can see that both Stoch and RSI have resistance, we are going to get back up to that resistance level thus giving some rest of the both oscillators and while that happens, stock is also going to get back up to that $650 level.  Once the resistances are established and holds true, it will tank back down both the oscillators and the stock.
Bears Will Come Back After a Short Rest
Because of bearish weekly divergences on ALL three oscillators especially very nasty angle on MACD (Moving Average Convergence Divergence), I say we are heading to about $580 level.  If anything MACD is going to determine if these divergences are going to play out and in this case it looks like it is going to play out.  You can see that MACD has already crossed. This is the confirmation of this divergence.
It' s very common that after these birdies (Three Black Crows), stock usually rest or have short-term pull backs so don't be surprised if we slow down this week or even short-term pull back (slight upward movement) on $AAPL.