9/26 Wednesday – Triggered Bearish @ $64.67
We were consolidating for about last 8 days after hitting that pivot area at $68.  You can see that long upper wick 7 days ago, that's a shooting star reversal signal. After that signal, we stayed around for about 6 days and looks like we are rolling over.  Still premature to say that bears are in control but what I can say is that they are starting to walk out of their caves.
My stop is just above $68.00
Targets are
1. $58 – very doable
2. $52 – This one's tough as we have 3 support before getting to this target.
Moving averages are showing us that bullish sentiment is still remaining here.
20EMA is currently acting as support.
And 100SMA and 50EMA is crossing which suggests that still bullishness is there because 50EMA is still heading north.  This area also could work as support when or if $SINA comes to that point.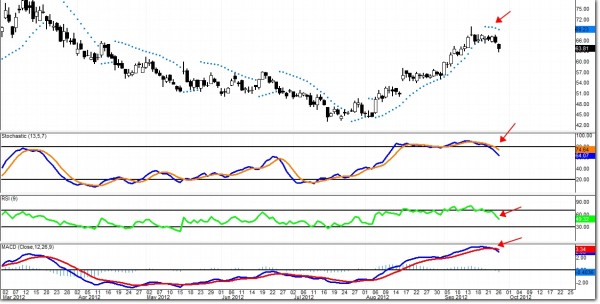 Indicators are STARTING to roll over but nothing is fully confirmed yet except RSI.
Parabolics bearish
Stoch starting to see more and more bearishness rolling in
RSI bearish
MACD more neutral than anything but just slight hint of bearishness
10/2 Tuesday – Setting My Goals Pretty High
My stop still at the same place.
I am shooting for $44 target! Yes I know that's little far off but this time I want to be patient with this stock.
We definitely have tons of reversal signals at the top resistance of $68 so will see.
Big problem is that gap area at around $56-$52 area.  As long as we don't get any reversal signals on that gap area, I am going to see if it can break it. But it's miles away so let's talk about that if or when we get there.
*LONG TERM BULLISH FACTOR = We are trading above 200SMA (Red line) & 100 SMA (Blue line)
*LONG TERM BEARISH FACTOR = As I have marked with red on the peaks and valleys that we are making LOWER HIGHS AND LOWER LOWS.  I mean it is not confirmed that the current peak is going to roll over but in the event that when it does roll over, the classic bearish signal is that we are making LOWER HIGHS AND LOWER LOWS.
And this was my primary reason why I think we might get down to $48 level.
10/5 Friday – Approaching a Pivot
-$61 area pretty solid pivot if you look at the char here. It touched about 4 times last 1 year or so and when it touches, it change its direction. That's what we call a pivot area.  However we do have some short-term bearish momentum on our side so we might bounce upside but I don't think this is going to completely change the short-term trend.  Worst case we might go back up and test that $65 area as new resistance.
Stoch and RSI are approaching overbought territories.  This does NOT mean that the stock has to reverse.  Many people buy just because the indicators showing some overbought or oversold indication.  That will burn you if you follow that method.  you can see in this chart on April through July.  Stoch hit the over bought territory so many times but yet stock continued to tank.  And that also could happen now.
I don't ever trade with indicators but I look at it and see if my pivot areas are supported by the indicators.  Currently we are getting very close to a possible pivot and looking at the indicators, it might be true.. So expect some slow down or even short-term bounce.
10/11 Thursday – My Epic Stop
(10:26am CT update)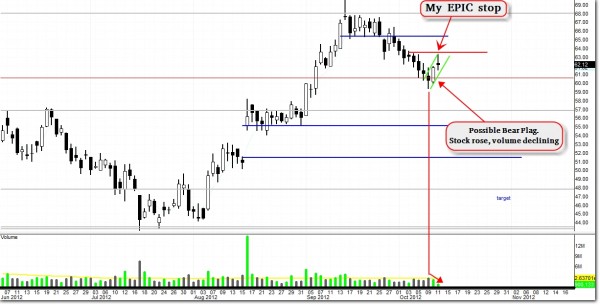 Did you see that stop?? Well I am pretty impressed with it.   Anyway. The reason I am pretty excited about that stop is that we are possibly setting up for a bearish flag.
See if I did get stopped out today knowing the bearish flag is forming, I would be pretty disappointed.  I mean yea I probably could get back in with some puts but you know how is. It just don't feel the same way when that happen because you feel like you are cooking this thing and the whole process has been ruined. you know?
Well long-legged doji is what we are seeing now.  It's a good indication that $SINA is in indecisive stage. Don't know which way to go after hitting that resistance. You can see it as it banged its head and now it's like zoning out.
But if this bear flag plays out, we should see continuation of the bears tomorrow.
10/15 Monday – $57 Next Support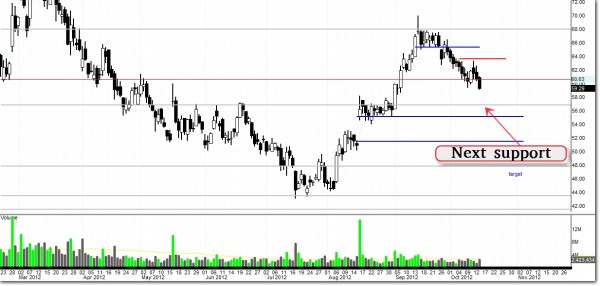 Here is my concern. Volume hasn't really came in yet. I mean yea today's volume is better than last two days but if you look at the big picture, its nothing.
Plus it seems like the market as a whole is starting to see some bullish movement. So I might close my bearish trade sometime this week or tomorrow depending on how the market reacts.  We did have three black crows last three days and it seems like bears came back for short-term but I don't think we have enough fuel to push through that strong pivot at $57.
10/19 Friday- Hitting the Major Support
(9/15am CT)
$58 is a major pivot/support area. You can't quiet see it on this snapshot but if you go further out, you will see what I mean.
I've been riding this thing since 9/26 and I am not sure if I am going hold through this pivot area. As long as it does not throw at me strong reversal signal candle after close today, I am willing to hold through the weekend and next week.
$52 is my next target which is the filling the gap action.   Volume is a concern.. Not seeing much volume spike last three days and we will need good volume to push through this support if we are going lower.
This is a good thing for bears that we are trading below 200SMA and building that bearish momentum.  Next hang up is at 100SMA level which could act as support as well.
Looking at my Oscillators, some of them are approaching oversold status so we might see slight bounce before continue bearish.  Many times these bounces are a good thing because it gives good push for the stock to regain it's control and momentum to the direction where it's going.   You remember when you car was stuck in the snow?  You had to back up and go forward to find that momentum. Well stock does the same thing. So not all pull backs are a bad thing and in this case we might be expecting one.
Closed out my Puts @ $56.03
(11:32am CT)
The gap support coming up.  Possibly we might fill the gap next week but I held this thing long enough I guess. So I decided to take the profit out. It was close to 50% ROI on this trade.  It was weird because my Put option value won't change much until this morning… But it JUMPED this morning so. Nice swing trading.