9/17 Monday Noon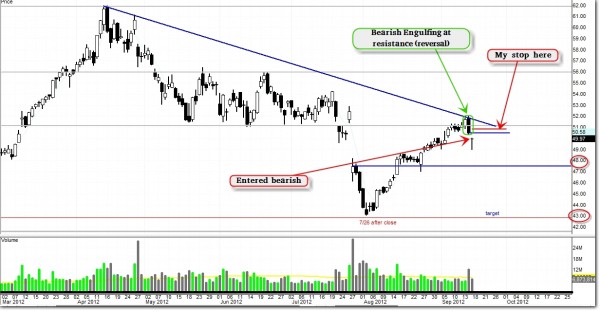 ok so this is one of those low risk high reward scenario.  And if this thing plays out, what a bargain for me since I've entered bearish at the top of the candle today!
So here is the strategy.
We gaped lower which appears to be a breakaway gap (if so, very very bearish!).  If this gap fills today, it is no longer known as a Break Away Gap so the chance of this bearish set up to play out is slimmer.
However as long as we stay below last Friday's candle even if the gap fills today, we are still bearish because of the selling pressure from the Bearish Engulfing pattern at a major downtrend resistance.
My stop is at $50.79 which is little above the gap upper window.  If we are to close right, that's what we call dragon fly doji which could also work as hangman candle pattern (bearish)
Two targets = $48 & $43
*If you want to play this for more longer term bearish trade, I would put the stop at around $52 but I don't want to risk that much or go longer term with this since the market as a whole is in bullish trend.
Here is just some supporting data of Moving Averages (daily).
Obviously you can see that 100 SMA is what tanked this stock back in July 19th and that animal is back at it to hunt it down again.  Trading below 200 SMA and 10 EMA.
Today's candle just barely hanging onto 20 & 50EMA. This is why its so perfect to call that candle as a hangman near resistance.  It prone to FALL!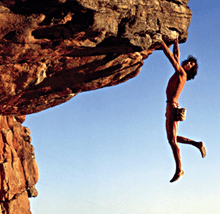 9/18 Tuesday – Falling?
Well ladies and gentlemen it looks like we are trading below all moving averages and the gap was never filled. I think it might be safe to say that that was a break-away gap few days ago.
Well BEARISH sentiments are starting to roll in here.
Bollinger Bands= We just closed below middle line (20SMA)
Stoch= rolling over
RSI = continue to roll over and still got lots of room to move
MACD= More neutral and premature to say bearish but definitely some sentiment of crossing
9/20 Thursday Morning – Gap's been filled
Well gap's been actually yesterday so I guess we can't say this is going to be a bearish gap play.  It looks to be more bullish to neutral from this morning.
I did move my stop up above the  major resistance/pivot area (breaking my own rules here -not sticking with my original plan) because I just can't help to think that it wants to test $51 as new resistance and roll over. We don't have any confirmation of that sort but that's what I am proposing.
As you can see in that chart that $51 has been a major pivot area so it will be tough to push through.  Volume has not been there either to really support this recent bullish move.   We got 50/50 signals on the oscillators so at this point, I am really putting weight on my pivot area.
9/20 Thursday After Close – Last hope  =*(
Well I am about to be burned tomorrow but one last hope! 100SMA. If that gets broken tomorrow, well then gotta start thinking about bullish entry.
9/21 Friday – Stopped out
I should've stuck with my game plan… ended up losing more.. =(
I think my analysis were little premature on my part.. As soon as that falling window gap was filled, I should've been stopped out to minimize my loss.  I might be looking at some bullish entry this weekend.