9/11 Tuesday
OK so you can see here we got both long term trend lines going here.
Bearish trend line from the February and the bullish trend line from the early Oct. 2011.
So this is very crucial price point because if this thing can't break this long term downtrend line, it will come back down to that long term uptrend line thus creating some sort of triangle consolidation pattern.
We have to be very careful here so that we don't get whipsawed.
We've made higher lows bounced off of that long term uptrend support.  This is very very significant because we made HIGHER LOWS.  It's different when we bounce off of a flat support line.  TOTAL DIFFERENT and this one has so much more bullish sentiment to it.  What its saying is that I want to walk on the ladder rather than walk on the ground. You get what im saying?
You jump up higher and comes down to higher ladder to jump up higher which this times goes even further than last time.  This is why making higher lows are great sign for bullish move especially after this long bearish trend we've had.
One top of all of that, we got a bullish break-away gap! Isn't it awesome??
We are perfectly set for a bullish run!
My bullish trigger is exactly at $90.06 which it could be little bit aggressive.
To be more safe, wait until it closes above $90 and then put your trigger right above that candle.
Targets : $94, $98, $104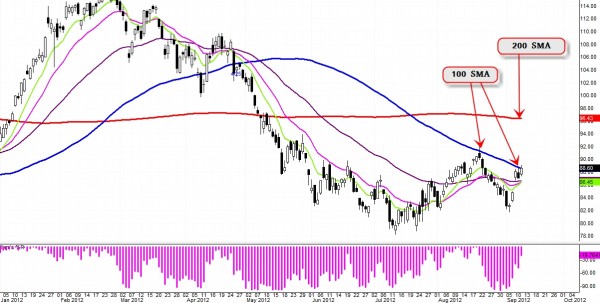 Isn't this coincidence that 100 SMA is in sync with that long term down trend. No.
When you see 2 or more analysis lines up, that means that price point is that much crucial and significant for the particular stock.   I've had occurrences like Fib. retracement zone lines up with major pivot or 20 EMA in syncing with the neckline of double top ($AAPL today).   These are just confirmation that tells us that price point is very very important price point.
In this case, this is where either $CAT goes bullish starting a new bullish trend or we are going back down to the long term uptrend support.  Make it or break it price level here.
Must close above 100 SMA to continue bullish.
Ok so we had this BULLISH DIVERGENCE (MACD = Moving Average Convergence Divergence) on MACD.
But look at that support coming from that bullish divergence on MACD, it is still supporting the bounce last 4 trading days!
This is amazing stuff! If that fast line starts to peak its head and continue bullish, this thing is ready for some serious move which we got plenty room on MACD. Plenty room on STOCH and not mentioning stoch set up for some incredible move here! RSI had quick rest and ready to continue bullish.
*Conclusion – $CAT has all its arsenal ready to fire bullish.  Only thing that will weight it down is that long term downtrend resistance which in syncing with 100 SMA.   We close above that area, we are in for some treat!
9/13 Thursday – Triggered Bullish
Nice run today on $CAT!  We have closed with Bullish Engulfing pattern which is very bullish also because we are breaking out of the long term downtrend resistance!
Also if you look at your moving averages, we just closed above 100 SMA. Great progress.  $98 is the target.
9/14 Friday – Continuation Gap
That rising window will provide excellent resistance when or if it starts to retrace.  My target is at around $98. $94 we might slow down which is short-term resistance.
9/17 Monday – Was it a continuation gap?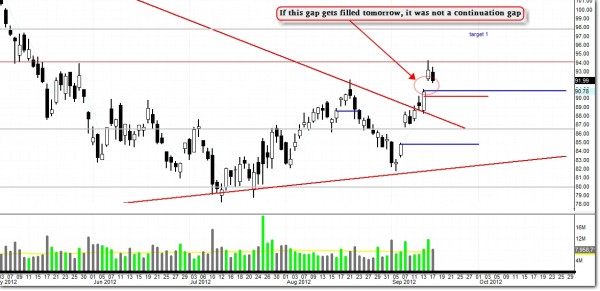 ok so if this gap gets filled tomorrow or this week, this was not a continuation gap.  That does not mean that bullish sentiment has vanished. It just means that it has less confirmation of its possibly new bullish trend.
My stop is still same and we are getting some overbought signals on my oscillators so we might slow down. Possibly forming a consolidation or continuation pattern such as flag or pennant.
Here I want you to pay attention to ADX indicator. Its a strength/momentum indicator.  This thing is one of my favorite indicators to see the sentiment of the move.  As you can see that when this thing crosses over 20 line, it gets into next gear. It moves when it crosses 20 line.  And just today we are pointing up/crossing the 20 line.  This is very positive signal showing that the momentum/strength is coming in and is strong.
But I do think that we need those oscillators to reset before going bullish again, so we might see some slow down this week.
9/18 Tuesday – Bullish Flag?
well we had good day today and looks like we are forming a bullish flag continuation pattern.  When this pattern is confirmed, the bullish trend will continue and upon break it will be strong bullish push.
Also another good news is that we have the rising windows (gap) still open. As long as that window is not filled, we are good for continuing bullish strong.
Also good thing about these continuation pattern such as flag, it gives chance for the oscillators to rest a little bit since some of them are getting into overbought territory (ei. Stoch).    Also declining volume is expected during these flag or pennant continuation pattern so everything is playing out well for another bullish run.  Target still $98
9/20 Thursday – Moving Averages (bullish)
Well we got a hammer there at the gap support which gives us short-term bullish sentiment.
Seems to be 10EMA is holding.  And moving averages are looking bullish still continue to have good angles on them.
$94 is our recent resistance which we must break before going bullish and 200SMA is going to be next obstacle.  In the big picture, looks like we are consolidating which is needed as the oscillators are at overbought territory.  Those need to be rest/reset before continuing bullish.
9/21 Friday – Not so bullish
We've been hitting that $94 resistance for about a week now and on Friday, we threw a Bearish Engulfing reversal pattern at resistance..  VERY VERY SIGNIFICANT candle pattern here.
This is one of the strong reversal signs especially when it occurs after hitting the resistance for that long.  This does NOT mean that the whole trend is reversing to bearish but it means that short-term momentum is changing to bearish. I won't be surprised if I get stopped out on Monday morning.
Also good bearish volume to add to that.
9/25 Monday – Looking bearish
Well finally the gap has been completely filled. We can no longer say that the gap was a continuation gap since it has been filled. Also our support from that gap has been penetrated today. Not completely broken but bears tapped it with bearish shooting star candle stick.  Also we broke 10EMA today to support the bearishness.  Good bearish volume remaining last two days as well.
My stop is still same as it has been for about a week but I do think I will probably going to get stopped out tomorrow with very little gain on this trade.  At least no loss.
Looking at this as a whole, we are still bullish in the big picture.
We might come back down to $86.50 support and bounce up or possibly we might come down all the way to the uptrend support line (red line) at around $84.  I probably buy back in with some calls then.