9/7 Friday
I was so skeptical yesterday and I did not get in.  (I should've but it always is good at times to be patient and wait until close for confirmation).
This morning as soon as market opened, I got triggered bullish which i had set up last night.
I placed my stop based on 5 EMA.  Two targets.
1st target = $340
2nd target = $375
50 EMA is getting very close and I assume that we gonna slow down. As long as there are no reversal signal, we should push through that.  But I am going to make sure to watch out early next week for early reversal signals.
Bollinger Bands looking BEAUTIFUL! We got Bbands break-out after squeeze and this is VERY BULLISH SIGN.
STOCH = LOTS OF LOTS OF ROOM TO MOVE AND LOOKING BULLISH
RSI = Essentially at overbought territory but that doesn't mean we have to reverse, as long as the trend continues, it will hang out there as long as it takes.  But looking at the angle of that thing,its bullish
MACD= of course very bullish, fast line starting to point up.  We are still under zero line so we got TONS of room to move upwards as we get into a new trend.
5 Reasons why we are going to continue bullish next week with 1 MAJOR REASON WE MIGHT NOT
Reason 1 = Today we blew through 50 EMA like it was NOTHING.  $CMG didn't even budge.
Reason 2: We had very very strong Bollinger Bands break-out today.
Reason 3: Stochastic has SOOOO much room to go.  NOT EVEN KIDDING
RSI is technical at overbought territory but as you can see on that Jan-April bullish rally, RSI STAYED at overbought territory for 4 months so it being at overbought territory is irrelevant
Reason 4: MACD also has lots of room to move. LOTS!
Reason 5:  DMI (strength indicator) = just crossed and ready to move
1 MAJOR CONCERN: ADX (Momentum/Trend Indicator) has NOT turned up despite of this huge bullish days we had last two days..   

Essentially this tells me that we haven't truly established new bullish trend.. It could just be a bubble that's gonna pop and go to nothing….  VERY VERY CONCERNING and unusual with the move we had last few days.
Let me show you what it should look like.  This is the today's chart of $BAC and I chose this chart because they had very very similar break-outs.  Take a look at the ADX.
On $BAC chart, ADX has turned up thus giving confirmation of this bullish move showing that the trend is starting and momentum is starting to be strengthened. Yes its early stage but it sure is giving us that early signal and this is what you would expect after move like this.
Nut on $CMG it is very concerning to me that despite of this huge move. ADX is not only not turned up on $CMG but it is pointing DOWN even though we had this massive move last two days..
This is what could happen because we haven't truly found solid strength/momentum of this bubble.
VERY VERY CONCERNING.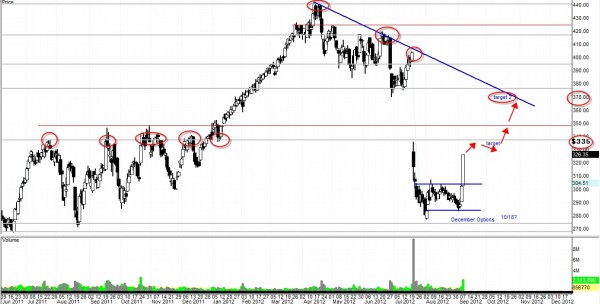 But if everything plays out normally and we continue bullish, this is what I prose.
$335 was my initial target. Very strong resistance.. If this thing find some momentum next week to go through it, we might able to but for sure we will slow down or pull back a little before heading back up.
Target 2 is at around $370-$360.  Two reasons. 1. downtrend resistance 2. 100/200 SMA are overlapping with the downtrend resistance.  It means $370-$365 area will be very CRITICAL Price point.
Currently I have placed a tailing stop with $5.11 down.   I am going to keep it this way because even though we moved like a CRAZY BALLOON with helium today but I can't help to think, this thing might pop.   ADX does not show strength/trend on this move…
9/10 Monday Late Afternoon $340-$350 Confluence
Well $CMG reached 1st target but to get to my 2nd target we much overcome somethings.
$340-$350 is going to be our confluence zone.  This is where things get hectic and could get ugly.
This is where the stock will make decision which direction it wants to go.  This is where sideways movement and consolidation pattern occurs.  Good thing about it is that if we can close above that level, it provides GREAT and SOLID resistance we can stand on.
My trailing stop of $5.11 is still placed and I am looking at this very closely and not convinced that it will get to my 2nd target until it closes above $340-$350 level.
Closed out bullish position
Happy with 75% ROI.
Fibonacci Retracement zone (we are reaching the zone)
Looking at other analysis, I gotta be honest that $CMG still looks very bullish.  We are just running into a solid resistance which is overlapping with Fib. Retracement zone which that makes that price level that much significant.
Another concern is that ADX still has NOT turned up.  VERY STRANGE. even with all this move. its just staying low…