9/6 Thursday
$8.50 is my trigger but for more safe trigger, wait until it closes above that price point and put your trigger just above that.
$10 is my ultimate target with $9.20 becoming a hiccup for this trade.
One thing i like about this trade is that we found short term uptrend line and we bounced very strong today with bullish marubozu candle (shaved top and bottom).
Also if you look at this in a bit picture, you could say we have a DOUBLE BOTTOM reversal pattern from May until Aug.  It's little out of range for a true double bottom but possibly it could play it out.
Moving Averages are looking great!  They are starting to separate from each other.
50EMA (purple) crossed 100 SMA (blue).  Looking bullish because trading above all moving averages.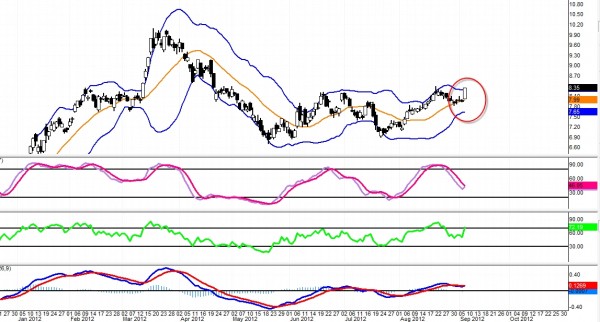 BollingerBands Squeezing and early stage break-out is shown here. If we get another bullish candle tomorrow, the bands will start to spread further out which supports bullishness.
STOCH = is neutral
RSI = Bullish still got room to move
MACD = is neutral
Parabolics just flipped to bullish side. This is great sign before the new trend begins.
DMI great angle on that bullish run
ADX finally starting to show some strength to this bullish move!   As ADX starts to move up, it signifies that the bullish momentum is building on this stock.
FAST Stoch = BULLS! NO DOUBT!
*CONCLUSION*
WE GOT LOT OF BULLISH SIGNS HERE.  Only hiccup is that $8.40 is current resistance and make sure to watch for the whipsaws. If the INDEXES have another bullish run tomorrow, most likely $BAC will follow.
9/6 Thursday Morning – Triggered bullish
9/11 Tuesday – Late Afternoon
we had nice breakaway gap 3 trading days ago.  And it appears to be we are forming a Separating Lines which is a continuation pattern.  Technically we would like to see this close above yesterday's wick but closing above yesterday open will do for now.
Options value really skyrocketed after this turning around move since yesterday and this is one of the reason why I make  room for stocks to move. My stop is still at same place.  I might think about moving it up but we haven't truly establish good trend here.
$9.20 is next short-term resistance where we might slow down and pull back a little.
In overall things, still very bullish and $10 is my target.
9/12 Wednesday
Well in technical analysis LOCATION is always very important when analyzing. Three days ago we did have a textbook dark cloud cover reversal pattern but it wasn't a dark cloud cover because it didn't occur at resistance. So instead, that became a Bullish Separating lines continuation pattern which is totally opposite from the reversal pattern.
But today we closed with what it seemed like a Dark Cloud Cover but it technical is not. Because we did not close below 50% of yesterday's white candle.  Because of that this is in between Bearish Counter Attack and Dark Cloud Cover.  Even so it has sentiment of reversal and also because it happened at resistance. Definitely something to be note of.
I slightly moved up my stop today.
Looking at the averages, it still looks very much bullish.   Still getting great angles on those averages and they are pointing up very nicely.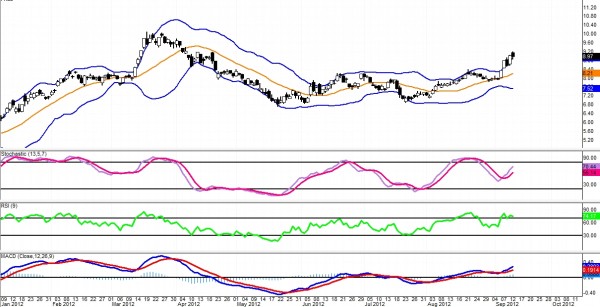 BBands are expanding and still bullish.
SToch still bullish
RSI is more neutral
MACD is more bullish.
*CONCLUSION – I am still bullish on $BAC.  $8.74 is my current stop. If it would've been a textbook Dark Cloud Cove, I probably put my stop at $8.85 (just below that lower wick of today) but I gave some room to move around tomorrow.  We have all bullish signals except the fact that we got a bearish candle at resistance which is pretty crucial but nothing has confirmed that its going to roll over.  Tomorrow we probably will have more clues.
9/13 Thursday Afternoon
Never got stopped out and we are pushing through our recent resistance! Great gains today!
We stay above that resistance, we are so good for the $10 target with bullish engulfing pattern as our jump start.
Volume has been great and steady last 5 days or so.  Don't be surprised when we rest a bit at that resistance to test as a new support..  But congratulations for those of you who have been following $BAC!
9/14 Friday Morning – Continuation Gap
it gapped up and moving FAST!!! we might reach our target $10 today in this rate.
Mid-Morning
Uh oh a Tombstone Doji near major resistance.. moved up my stop very tightly to protect gains.. i might get stopped out if the gaped up support does not hold.
Late Afternoon – Closed out my bullish position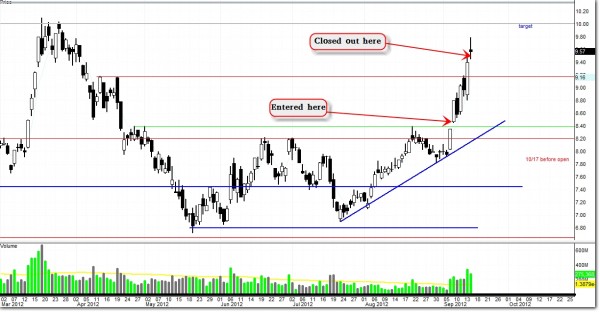 Well I got stopped out earlier today. Satisfied with ROI on my calls.  Still looks bullish looking at my averages but for short-term we are looking at some retracement or pull back down to $9.16 area.  We got a doji near our target which filled the gap we had earlier this morning.  Nothing confirmed of reversal but its a caution that we are slowing down.