9/3 Monday
*SYMMETRICAL TRIANGLE Consolidation
Well last Friday, we had what it APPEARS to be a break out of this triangle consolidation with good volume.
My trigger at above $58.70 for a bullish run.  Target is at $61.  It is looking bullish at the moment.
Let's see what other evidences we can find to support this possible bullish break out.
*MOVING AVERAGES
Here we can see Moving Averages are having a party there. Last few months! just moving sideways.
I like the fact that $AXP is moving further away from the Moving Averages so it will give opportunity for it to move upwards.
Looking at it in overall perspective, clearly we are still in bullish momentum here in a big picture.
And usually when we get into this huge consolidation period like Triangle patter, moving averages move sideways, and the stock moves all around crossing up and down.
And that's what we've been seeing and with this break, we should see this averages starting to move upwards showing some distances from each other.
*BOLLINGER BANDS are telling us something
You can see those 4 circles I've drawn.  You notice how $AXP tried to get back up onto that UPPER BAND but failed.
And failed miserably 4 times. But last Friday, for the first time in about two months, we got back up to that upper band.
It means, Bollinger Bands break out play is about to start and when it does,its going to break bullish.
Stoch= looks bullish
RSI= Bullish
MACD= just flirting with that zero line and that fast line ever so slightly showing its face.. Pretty neutral there.
Overall, we got some good bullish signs to start off the week.
9/4 Tuesday – Got Triggered
Well its alright progress on the 2nd day of break out.  Volume is still holding  and Moving Averages are continue to separate especially 10 EMA.
My target is at $61 and my stop is at below$57
You can see that for the last two months, we haven't see 10 EMA poking out like that.
10 & 20 EMA starting have very nice angles on them supporting this bullish move.
STILL VERY EARLY stage but so far so good.
9/5 Wednesday – OUTCH!! >:[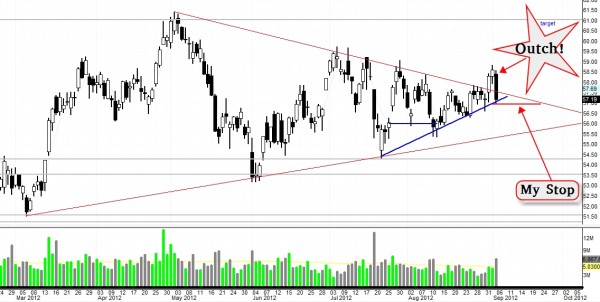 We got a bearish tower!!  I am pretty much doomed.  For sure that was a break out but then again stock can do anything it wants.. unless I am extremely lucky, I will probably get stopped out tomorrow.
9/6 Thursday early morning
Looks like I might be sticking around with this trade!
Despite of huge bullish day on DOW JONES INDEX $AXP remains steady neutral..
My stop is still the same and also my target.
If we close with this current candle, that's would be Bullish Harami reversal (very weak sign) which could be a very early bullish sign.
9/9 Sunday – Slight bullish signs
Well initially I was so convinced that we broke out of that long symmetrical triangle pattern but it whipsawed on me!
3 trading days ago we had huge black Marubozo candle and I thought "I AM DEAD" but it seems like I might get saved on this trade with just slight bullish sentiments appearing.
1. Two trading days ago,  we closed with almost what it appears to be a shooting star bearish candle however we had very bullish volume.  STRANGE, right?
2. That uptrend support was holding it WELL
3. Last friday, we finally had white candle.
4. Putting all three candles formation together, we got ourselves a BULLISH HARAMI pattern (weak signal of reversal).
5. If we put just last two trading days candle formation together, we get BULLISH ENGULFING which is much more stronger reversal sign however because of the fact that we had long black candle on day before, I dont think its relevant. But I will note it here.
So I am not saying we are BULLISH but what I am saying is bullish sentiment is just slightly appearing to the picture and I might just be saved from this ugly trade. =)
9/11 Tuesday – Got stopped out =*(