9/3 Monday – $DJIA (Dow Index)
Well here it is, last chance to get back up right here at this uptrend channel support.
We closed with very SIGNIFICANT candle last Friday which is Tweezer Bottom.
Last three months of this uptrend channel Tweezer bottom occurred 3 times and I want to point out why last Friday Tweezer could be the tweezer that could set us up for the bullish move this week.
Aug. 24th we did have Tweezer bottom and it never played out.  But you can notice that tweezer was supported by fairly low volume compare to other two.  And also that Aug. 24th tweezer bottom's location was not as crucial.
What I mean by that is, when we had tweezer bottom on July 25th, it occurred at support of that uptrend channel but Aug. 24th, it did not.
Last Friday however thats exactly what happened.
We got a tweezer reveral at this very crucial location.  Support of the uptrend channel.  And it also was supported by good volume.
So what am I saying?  I am saying this could be the last chance for the DOW to make another bullish run to $13,300 area this week or even BEYOND.
Moving averages also tells the similar stories and confirms our analysis.
50EMA. Thats where we are resting right now with Tweezer reversal. Again, tweezer reveral is not a strong reversal sign but something to be note of.
Like I've said on my last article, I AM NOT BEARISH until it closes below 50EMA.
This initial bearish run gave the STOCH to have a chance to reset and ready to bounce.
We are at that oversold territories and it is setting up for nice bounce if ineed the DOW bounces this week.
I am still bullish until 50 EMA is broken this week. so we shall find out.
9/4 Tuesday – 2 to 1 on the Indexes
DOW INDEX – two bearish signals today.
1. Possible bearish pennant continuation is forming
2. Bearish harami at support. (It's not a bullish hammer because the body is not small enough)
S&P500 INDEX – Many bullish signals on here at support.
We got two bullish tweezer bottoms with a bullish hammer today.
Tweezer or Hammer both are not strong reversal signs but at least it is giving us slight sentiment of which direction it is leaning on.
NASDAQ INDEX
Two very strong bullish signs there. We have two bullish engulfing patterns and also today and  yesterday we closed with bullish hammers.
CONCLUSION
DOW = BEARISH
S&P500 = NEUTRAL with slight bullish hint
NASDAQ  = BULLISH signs
So I would have to say we are still pretty neutral (we don't have enough data to really say where its going to go) however in the big picture of things, we are still in this BULLISH TREND.  So with that said and with the data we currently have, I must say I am BULLISH in the market so far. (At least until 50EMA is broken on $DJIA)
9/6 Thursday Early Morning – HUGE BREAK OUT
($DJIA CHART BELOW)
This morning, I was watching this thing and as soon as market opened, this thing RACED up there!
Very nice to see $DJIA finally moving.   Around $13,300 is probably next stop.
Mid Afternoon – CONTINUED BULLISH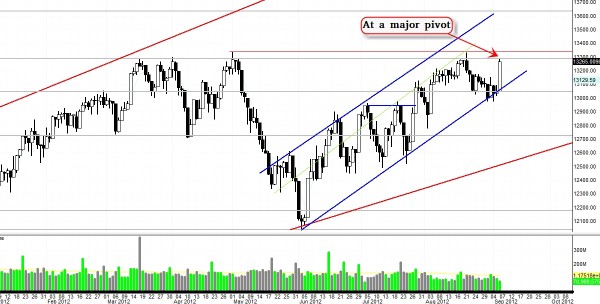 Wow! We gained back our 2-3weeks of loss in one day.  This is amazing.
But the bad news is that we are running into our major major pivot.  This is the spot where we gonna make it or break it.
Because if we fall from here on, we are setting up for DOUBLE TOP reversal which could be very ugly.
I sense that pull back is going to come but the question is how fast or how strong… BE CAUTIOUS tomorrow and next week.