9/2 Sunday
We had some retracement and just filled the gap window and we are now just resting at support.
And it was somewhat expected, we just didn't know we were gonna gap up and then come back down..
Last Friday, we closed with Hammer bullish continuation candle at support.  Well Hammer isn't a strong reversal but at least a sign that we are resting at support.
If we bounce on up, next target would be at around $720 which is the upper trading lanes resistance.
Looking at the Moving Averages, still very much bullish.  Finding support at 10EMA. So we are still hanging around on top of those moving averages.
Let's look at the chart and new fibanocci analysis i've done.
First of all, we had some nice volume last Friday along with that hammer reversal (hammer is weaker sign of reversal) at that gap support.
(Isn't it ironic, that support lines up with that trading lane new support above)
If it close above $682, it would be good place to bullish.
Actually $720 is original 1st target according my Fibanocci analysis but I can't help to think that at $700 we might slow down.
Target 2 would be $720.
Anyhow, overall, $AAPL I am still bullish on it, we still have lot of data that tells us it could continue.
9/9 Sunday – Expecting bullish week
There is no reason for going bearish on $AAPL even though $AAPL hasn't been moving strong like other stocks late last week.   But we are seeing this bullish continuation pattern.  Above $686 is good and safe bullish trigger.
Targets are $720 and $750.
Moving averages are continue to shape up in bullish direction.  Only thing is that we are getting into overbought territories on STOCH and RSI but keep in mind that they can hang out in overbought territories as long as the trend continues.
9/10 Monday – NOT BEARISH YET 20EMA/Trading lanes support
Looking pretty bearish today after close.
However I won't  jump in bearish before it breaks that 20 EMA and the trading lane support. We could possibly be forming a double top reversal but not yet confirmed (neckline has not been broken)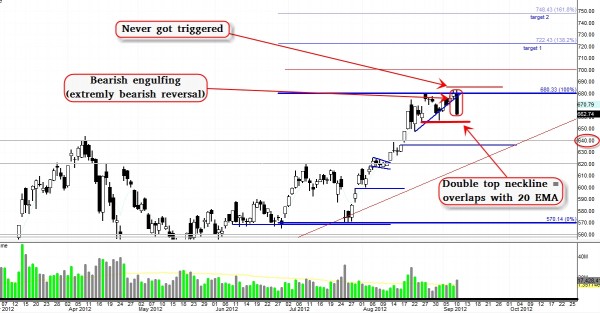 Looking at the candles = looks extremely bearish.   Bearish engulfing at resistance.
The neckline at around $656 must be broken before it confirms the double top.  That neckline also is in-sync with 20EMA and the trading lane support so you know that price level is very significant to see if this thing is ready to move bearish at least for a short-term.
$640 and $620 would be next two targets if it continues bearish.
9/11  Tuesday
20 EMA and the neckline (short-term double top) is holding.  Unless this is broken we are still bullish in the overall things.
But if or when this has been breached and close below those price level, we are looking at $640 in few days.  I do not see that this is going to be a reversal for $AAPL but possibly just a pull back or retracement bearish move before it continues bullish.
So the short-term double top has NOT yet confirmed as long as 20 EMA and the neckline holds. Which also coincides with my trading lanes support.