8/26 Sunday
i want it to close above $188.60 area to be safe otherwise trigger above that area is good too.
Last Friday, we hit that $111 support and closed with a spinning top.
You can see that we hit that point on last Thursday and again last Friday, it shows that it is currently holding.
We must see if its going to hold tomorrow and bounce up from there.
GREAT looking volume last Friday despite of the small spinning top there. lot of bullish optimistic buyers.
Watch out for $124 area, we might slow down there but $135 is very doable target.
Ultimately if this is the start of a new bullish trend, $150 is the ULTIMATE target.
$144 filling the gap probably hectic but we are not even near so let's worry about that when we get there. (or IF we get there lol)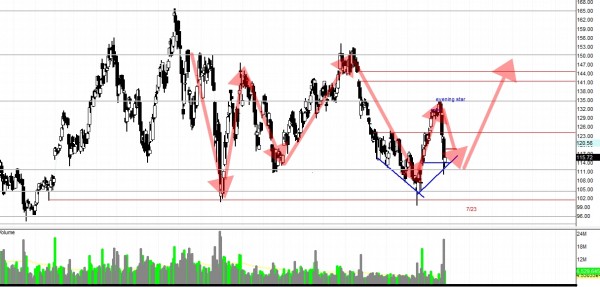 This is just looking at the sentiment of $BIDU and how it likes to move.  It does that corrective move before it really shoots up so that's what I was trying to show you guys.
I mean this doesn't have to happen this way but its just my assumption that it could.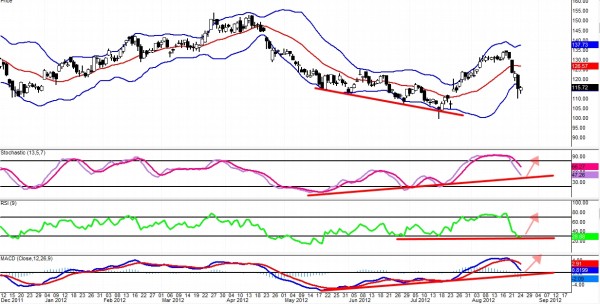 BULLISH DIVERGENCE is still in the picture and support coming from those divergence of the oscillators could be worth noting for.  If we start to move BULLISH this week, those oscillators will DEFINITELY change direction bouncing from those support lines I've drawn.
Well there you have it guys, hopefully we can make some money on this one.
8/28 Tuesday – Looking good~ *_*
so far so good.
I want you to pay attention to today's volume.
You can see that through out last month and half, we really didn't have good bullish volume that supports good bullish momentum.  I mean we did have big spike of volume on 24th of July but that ended up becoming a Shooting Star candle which is bearish.
But today, you can see that, we had nice solid bullish candle with solid volume that engulfs last whole month and half!
Pretty interesting and good for new bullish trend!
But there are obstacles… There always is!
ALL THESE MOVING AVERAGES ARE coming together and its gonna clutter everything! >_<;;
we probably gonna see some consolidation period for a week or so.. maybe pennant, triangle of some sort.. so don't be surprised if we start to slow down on those MA traps.. but i think as long as market stays in bullish trend, we will get to our 1st target at least.
8/29 Wednesday – Looking NOT so GOOD X_X
We have Falling Three Bearish Continuation pattern here! OUCH! =****(
With great volume looks like this thing is ready to continue bearish…
I think i was little hasty on this trade.. Perhaps I could've waited until the close yesterday and put trigger above that.
Anyhow,my stop is still the same and my only hope is that MAYBE that short-term uptrend could hold this FLOOD!
If we see some sort of DOJI or a spinning top, tomorrow that would be a step.
WE DO HAVE RISING THREE BULLISH CONTINUATION on DOW JONES INDUSTRIAL so if we have STRONG Bullish day tomorrow in the market as a whole, we might see some bounce on $BIDU.
Regardless, I feel like I was being little hasty on this trade. but lesson learned!
9/4 Tuesday – I moved my stop and still in this trade
ok so if you look at my earlier post, my stop was just a bit tighter.. but over the weekend, looking at the market indexes finding that there are still bullish momentum on the INDEXES, I've decided to move my stop little further down (just below the Aug. 23rd lower wick).
I am not sure yet if this change is going to hurt me more but I got pretty good positive candle today.
That's what the Analysts call "1 White Solider" which is bullish reversal signal.  It's actually pretty strong reversal signal unlike the Hammer, or Tweezers.  I would consider it stronger than Bullish Piercing pattern.
I would've like to see little bit higher volume but it is what it is… But I am still NOT convinced that we are going to go bullish because of the bearish momentum is great.
As you can see last time it hit that 10 and 50 EMA (after 3 days of bullish run), it tanked with almost Marubozu candle. and it slowed down for two extra days and today with 1 white candle.
Still A LOT of bullish momentum remains and that 1 candle reversal signal is not going to determine what's going to happen tomorrow.
Only hope is that possibly we can have bullish day tomorrow on the INDEXES.
Stoch as overbought territories but that doesn't mean its going to bounce. But at least it showing us that it is slowing down.
RSI – Possible RSI Double bottom might play out.. RSI suggesting bullish move here
MACD is still bearish.
So overall, I still believe that we got this weight of BEARISHNESS on our hands.   If you are in bearish trade, it could possibly continue bearish.. but i would look closely what we close with tomorrow.
For bulls, only positive news is that 1 White Solider bullish reversal but that alone is not enough… hopefully we can figure out what is really going to happen tomorrow.
9/6 Thursday – Got stopped out this morning with loss. =(