8/26 Sunday
Well maybe this might help our bullish trade setup tomorrow! =)   Well let's look at the charts.
Looks like we are forming a Pennant bullish continuation pattern which is normal after about a month of bullish run.
These are continuation pattern which means they USUALLY break on the direction of the stock, in this case bullish.
So my bullish entry is above $677 and my target is at around $720.
I really do think when this thing breaks out of this pennant pattern, we gonna blow through the first target of $690 (Fib. Expansion 138.2%.
So the problem is where we put STOP.  The risk reward ratio isn't so good on this trade because we don't have good place to put a stop other than below $650.
I am going to need more data to really find some good closer stop loss point.  I just don't have that currently.  I will need to see where it closes tomorrow to see where I would put my stop.  If I do get trigger tomorrow, My stop will be above $646.70 or so.
If you want tighter STOP, put your stop just below the 10 EMA (look at the chart below)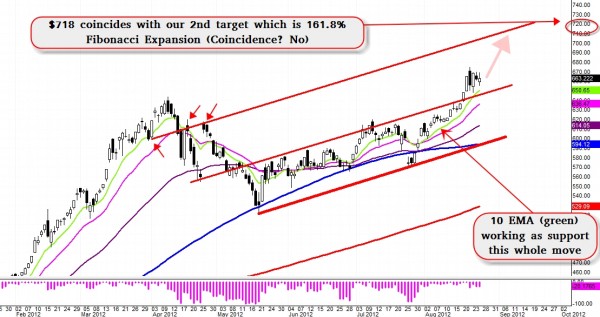 Here are the trading lanes and it isn't coincidence that the resistance coincides with our Fib. Expansion target.  PRETTY COOL! =D
Currently just testing old resistance as NEW support. NORMAL STUFF~ =p
Love the 10EMA working very hard to support this move! 10EMA is good place to put a stop if you want closer stop.
Moving Averages are separating with good angle so still looks good there.
People always talk about the OVER BOUGHT TERRITORIES on oscillators.
As you can see here on STOCH and RSI, Last January through April, WE STAYED AT OVER-BOUGHT TERRITORIES FOR 4 MONTHS! Just because Oscillators are at over-bought territory does not mean it has to come down.  It could but don't have to. IT can hang out there as long as they want.
So no problem here!
But I want to show you something EXCITING on WEEKLY CHART on this!
You see that Bollinger Bands squeezing and EXPANDING? GREAT SIGN OF BULLISH STRENGTH for the long term.
Look at the oscillators, PLENTY ROOM TO MOVE on WEEKLY CHART.
Well there you have it let me know your thoughts.
8/28 Tuesday
Testing old resistance as new support proof of that is we have a doji sitting right on it.
Another support below that (rising window gap) and right below that is my stop.
My 1st target $690 i think we can get there this week. and possibly target #2 next week.